Introducing young people to aviation can open up a world of ideas and opportunities that they might not have considered before. For Airbus Helicopters' head of customer training – North America, Lindsay Cunningham, regular exposure to the industry early in childhood helped inspire her to make education and career decisions that ultimately saw her land the position she holds today.
Growing up, Cunningham's mom worked part-time for American Airlines, and availed of the flight benefits. "We used to travel quite a bit for standby, which was always an adventure," she tells Runway Girl Network. A lover of science and math, she decided at the tender age of 12 that aviation was what she wanted to do. "I always loved physics in particular, and geometry, and I had a physics teacher in high school who had an interest in aviation so we kind of talked."
In high school, Cunningham set her sights on becoming a pilot. "I knew I wanted to become an airline pilot, or thought I wanted to become an airline pilot, so I went to University of Texas first, took as many aviation courses as I could, and knew I had to pursue this at a more aeronautical-based university," she recalls.
She entered a pilot certification course at Spartan College of Aeronautics and Technology in Tulsa, where she became a commercial-instrument rated fixed wing pilot. Thereafter, she transferred to Embry-Riddle Aeronautical University. But in the wake of 9/11, she had a rethink about flying commercial aircraft for a living. "A year after 9/11, I got my pilot's license, which was not a good time at all to be going into the airlines. I had several friends that were flying for regional airlines; it was not the life they imagined or the life I imagined. That is when I started thinking about other opportunities in aviation."
Intrigued by the accident investigation work highlighted on the Discovery Channel, Cunningham started taking more courses on the subject at Embry-Riddle. She graduated with a BS in Professional Aeronautics, and later a Master of Aeronautical Science, Safety Systems & Aerospace Operations from the university. With these degrees under her belt, she obtained an internship at what was then the NTSB's Southwest Regional Office in Arlington, Texas.
"The regional director at the time went to the same high school I did, so the stars aligned," says Cunningham, who obtained "really good on-the-job-training", by going onsite at accidents. But the NTSB regional office was not hiring at the time. "They were not even replacing the people who were hired."
So, she looked elsewhere. Just over five miles away, the Grand Prairie, Texas-based company then known as American Eurocopter – now known as Airbus Helicopters Inc. – was hiring, and happened to be looking for someone in an entry-level accident investigation position. Before long, Cunningham was working with her new boss at accident sites as an associate accident investigator. She took helicopter-specific accident investigation courses, and also got started on a rotorcraft add-on rating at Longhorn Helicopters, which she completed a few years later.
She served in an accident and investigation role at Airbus Helicopters for more than 11 years, providing onsite support to investigative agencies and supporting other activities to help ensure the safe operation of the Airbus Helicopters product line. The firm's civilian helicopters range from the light single-engine H125 to the 11-tonne twin-turbine H225 rotorcraft, and military versions are trusted by more than 160 armed forces worldwide.
During her tenure aiding investigations, Cunningham strongly advocated for the proactive use of Flight Data Monitoring (FDM) programs to reduce accidents and improve safety.
Explains Cunningham:
While I was at the NTSB, which was relatively a short period of time, nine months, I participated in a couple of investigations that had larger fixed-wing aircraft with FDR and CVR on board and saw the value they offered in an accident investigation. After coming here to do investigations on helicopters – most of which did not have any type of recording devices and the same for lighter, smaller fixed-wing airplanes – I saw that as an opportunity, number one to understand what happened in the event of an accident, but [FDM offers] so much more value than that.

When smaller devices became available on the market, I participated in a couple of working groups to develop and promote flight data monitoring equipment and actual programs to improve operational flight safety. So here we worked with a company called Appareo Systems and developed a small FDM Vision 1000, now installed on most Airbus helicopters delivered today.
In 2017, Cunningham was appointed by Airbus Helicopters as VP of civil programs and later as senior manager of ethics & compliance. In January of this year, she officially accepted the position of head of customer training on a long-term basis. In her new role, she leads the customer training department to offer flight and maintenance training to Airbus Helicopters' North American customer base, "and going beyond just the flight and maintenance training in the future to offer courses that focus more on soft skills safety type stuff that might be of use for our customer base as well, and basically leading that training department."
"It's wonderful," Cunningham says of the job. "I can take all that I learned from accident and investigations and provide a service that allows our customers to operate more safely."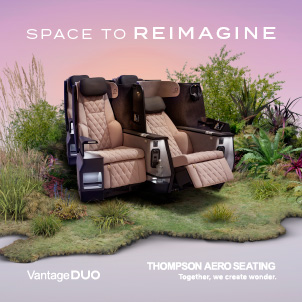 As a mother of two young girls, she says the job also affords her the ability to achieve a better work/life presence than in her prior position as VP of civil programs, which required a fair amount of travel to Europe. Airbus Helicopters has been "very supportive", she says. "I'm expecting to travel once every other month in this new role, which will be a huge relief."
As the need for pilots, technicians and other aviation personnel grows in tandem with the world fleet, it's understandable why industry is seeking to attract young women to aviation careers. While Cunningham is a big believer in exposing youth to aviation early on, she says it's ideal to be inclusive irrespective of gender, race or ethnicity.
She doesn't believe in "pushing women towards technical fields" but rather, providing opportunities to those who show genuine interest.
Did Cunningham ever encounter any pushback or sexism as she pursued her dreams in aviation? Early in her career when she was involved in accident investigations, she recalls that some people "didn't quite know what to think" of her presence. "But I never really let it bother me too much. I just did my job and acted like everyone else. If you do your job and don't see yourself as anything else, others will see you the same way."
And while she admits she has faced minor challenges "those have made me tougher and better at my job and I'm grateful for that."
Related Articles: