With nearly 750 aircraft already operating on Panasonic Avionics' third generation network, the global inflight entertainment and connectivity giant is making progress in bringing a better Internet experience to airlines and their passengers.
"We've taken nine years to get to 2,000-plus aircraft" fitted with Ku-band satellite-supported connectivity, SVP of network operations Ian Dawkins tells Runway Girl Network, "and the plan is this year to convert all of those aircraft to Gen 3."
The Gen 1 network will be switched off once all customers have been converted to Gen 3, says Dawkins.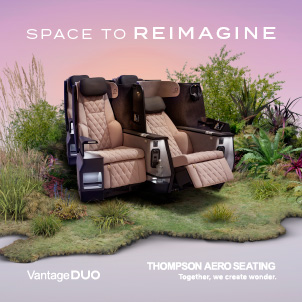 An integral part of the upgrade is the introduction of a new Newtec-manufactured modem for every Panasonic eXConnect-fitted aircraft; this replaces a legacy system that has proven to be a choke point for Panasonic's Ku service.
The new modems are being installed overnight using either the firm's Panasonic Technical Services (PTS) unit or an airline's own MRO organization with support from Panasonic. At one stage, "five and ten" installs per night were being accomplished, confides Dawkins, and they continue to roll out "on a daily basis".
High throughput satellite (HTS) service covering dense mobility traffic areas is also key to the Gen 3 network. "Basically we've doubled the network's capability in the last six months and in the next six months, we're going to double it again, so we're switching on HTS beams continuously and aligning them as we roll out," explains the Panasonic executive. Intelsat, SES and Eutelsat are among the satellite operators with which Panasonic has Ku HTS partnerships in place.
Improved #PaxEx
More Ku HTS capacity combined with the higher throughput modem is resulting in a better user experience, with The Points Guy reporting that United Airlines – among the first to receive the upgrade – "finally has Wi-Fi that actually works", and some passengers expressing the same on social media. There is also still work to be done at airlines that haven't yet received the upgrade.
Southwest Airlines was slated to receive the new kit around the same time as United, but the low-cost carrier is now parting ways with Panasonic under an apparently iron-clad gag order – the likes of which this journalist has never encountered before.
Dawkins confirms that Panasonic has seen "a significant improvement in overall performance" on the near 750 aircraft now on the Gen 3 network, primarily with the uplink becoming "a lot quicker".
Pressing ahead with XTS
Going forward, Panasonic's introduction of extreme throughput satellite (XTS) capacity will be "extremely important", says Dawkins. Last year, Panasonic announced it will be anchor client on the high-capacity APSTAR-6D satellite, which has been jointly designed by China's APT Mobile Satcom Limited and Panasonic. "APSTAR-6D, from our perspective, will be in place this year, and we'll go live with that in Q1 next year," says Dawkins.
The company is also gearing up to announce by Q4 its next XTS commitment to cover Europe and the Americas. Discussions are ongoing, says Dawkins, without divulging with whom, or specifying whether the arrangement will be GEO, LEO or MEO-specific, though perhaps one could presume GEO.
But even as it bolsters Ku HTS capacity and readies for XTS in the same frequency, Panasonic is offering Inmarsat Global Xpress Ka-band connectivity as an option for airlines. The company stunned many in the IFEC world last fall when it announced a strategic collaboration with the London-headquartered satellite operator – a long-time rival.
Dawkins admits that after the announcement dropped, "I think we've had to answer a few questions" for airlines, as some people wanted to understand what it meant given that the nature of the collaboration is "actually quite disruptive".
Work with Inmarsat is going "extremely well"
Since then, the two firms have had a positive collaboration, with a number of teams working to finalize the agreements, thrash out the technology plans, and determine how to move forward in the next couple of years, says Dawkins, who is well acquainted with Inmarsat, having previously lead SITAONAIR, an Inmarsat SBB and GX service provider. "We've had multiple meetings and the primary driver for that is how do we apply our services on a Ka network", and provide a "smart pipe" into Panasonic's operational center.
He reveals that the two parties are "actively working together around three campaigns at the moment" where they're addressing the market as partners. Pressed by RGN about whether these campaigns entail offering GX connectivity packaged with Panasonic IFE hardware, Dawkins demurred saying: "Yes and no."
Inmarsat and Panasonic are also continuing to study the antenna market, with the goal of being able to offer airlines a nextgen GX terminal. Asked by RGN if we should expect a nextgen GX antenna announcement at AIX in Hamburg in April, he says, "No, we won't have an announcement, but the technology teams are working."
Is it safe to assume that the new antenna will be flat panel, phased array? "Not necessarily", says Dawkins, noting that it's really important to have "mature" technology that is ready to be installed on aircraft and perform as expected.
Still selling Ku-based eXConnect
Panasonic previously said GX would serve as a primary offering for new business, but it's clear GX is in the portfolio of options.
Even as it sells GX, Panasonic is "definitely yes" still selling Ku as well, as there are "certain regions where Ku makes a lot of sense, and we're looking at growing" and securing new customers.
"That's why XTS is coming along," adds Dawkins, and why Panasonic has committed to providing XTS capacity in Europe and the US, "so [we're] very serious about that going forward".
Staying flexible on new partnerships
Panasonic is also staying flexible about future creative partnerships, with Dawkins noting that different partners will want to use different constellations, offering "different bandwidth for different regions".
Shared network scenarios should be expected. "You'll hear about small satellites for different regions, LEO satellites, so some of those will be aligned together, whether for aero or another vertical." The goal is to meet the "requirements of future bandwidth we all know is coming", he says.
Is Panasonic pursuing a similar approach to Global Eagle, which has been focused on regional solutions for regional deployments? Dawkins says Panasonic is focused on remaining a global player, but is also pursuing regional opportunities.
"Global is extremely important to us and that's our primary focus, but we also recognize that there are some airlines that are regionally based and if you need significant throughput in another X years, then clearly we'll look at who can provide that capability and capacity and will work with them," he says.
"We're seeing how the landscape is evolving so yes we'll be looking at those [regional] opportunities."
Related Articles:
Featured image credited to John Walton