At a Thales-hosted event in Montreal, the French multinational company shared its vision for the application of artificial intelligence (AI) in aerospace. CEO Patrice Caine said the company has invested over €4 billion in digital technologies, including AI. And AI is already making small impacts in the industry, but in ways that airline passengers are unlikely to see or even recognize.
The Thales approach to AI use is not to let machines do all of the thinking, but to keep human involvement at the center of critical decisions. Planes are already highly capable of controlling most aspects of flight. But are pilotless commercial flights around the corner? At this point, that idea is still a pipe dream, according to Thales management (though Thales is putting some of the building blocks in place should autonomous commercial flight become a reality).
There may come a time where commercial aircraft are controlled by both a human pilot and an AI-driven robot. But the situation is a bit of a catch-22. The ability to simply reduce the number of human pilots with AI would help alleviate the worldwide pilot shortage. But controlling a commercial aircraft for several hours without other direct human interaction could easily lead to boredom and/or complacency. Moreover, a number of pilots have suffered debilitating health abnormalities while aloft, including death. The question of what happens when the human pilot becomes incapacitated remains unanswered.
The implementation of AI in its current state is often unseen, but Thales has been using it in the realm of human performance monitoring. Because accidents are often related to pilot error, Thales has begun using AI to track pilot behavior during flight simulator sessions, recording eye movement and how much time the pilots spend performing tasks such as navigation. These findings can help the company find ways to make its avionics more intuitive and helpful to pilots.
In the cabin, Thales said AI can be applied to personalize the passenger experience. The company will be launching its Inflyt 360 platform this year, with an undisclosed customer, beginning with targeted advertising. "Today, the way the airlines advertise, they really do not have an understanding of the behavior of the passengers and we're aiming to change that," said Peter Hong, partnership development manager at Thales InFlyt Experience. The product, first announced at AIX 2017, will allow airlines to advertise to individual passengers based on their age, gender, frequent flyer status, cabin class, and destination.
The AI part of Inflyt 360 is an inventory forecast tool, which helps both track and predict the number of impressions made by the advertisements. In 2020, Thales plans to roll out a content recommendation engine, in what the company said will be a Netflix-like experience.
Thales is not alone in its efforts. The Airline Passenger Experience Association (APEX) has formed an Airline Advertising and Ancillary Revenue (ARC) committee, of which Thales is a member. The group aims to accommodate new technical requirements to certify ad impression reporting systems.
APEX chief executive officer Dr. Joe Leader is a big believer in leveraging predictive artificial intelligence to improve the airline passenger experience, saying in a statement today that the next steps for the technology will be to enable hyperpersonalization via inflight entertainment.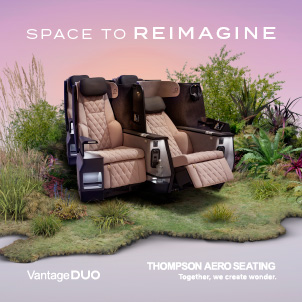 Thales seems to understand the burden of the tasks it wishes to accomplish and during the Montreal briefing, it said the company is working to establish an ethics charter, focused on trust, vigilance, and governance.
Caine said AI is seen as a "black box" insofar as the company believes it is imperative to be able to understand why the machine did its action or made its decision. During a panel discussion with Caine, computer scientist Yoshua Bengio said, "Current AI systems are really, really stupid. Their understanding of the world is very superficial. The machine is not god-like. It's not even human-like. I wouldn't wait for AI to save us." Indeed, Thales calls the AI we know today, "weak AI".
Thales strategy director flight avionics Vincent Megaides believes we face an "upheaval" in the future, with up to 50,000 commercial aircraft in the worldwide fleet, tens of thousands of flying taxis, and freight or surveillance drones. Caine said AI can play an assistive role with air traffic control, monitoring the burden of these new players.
It is difficult to fathom the insertion of so many more aircraft into already crowded airspace over places like New York City. Megaides said, "There must be automation for this to happen." With the painfully slow implementation of the FAA's NextGen program, it is easy to be skeptical of the anticipated upheaval in the future.
Editorial disclosure: Thales covered the airfare and accommodations for the author, under no obligation. All accounts of the event belong to the author and RGN.
Related Articles: