Cathay Pacific's recent admission to RGN that most airlines with inflight connectivity are now "in the priority of trying to harmonize between different portals internally, building to a future that can potentially work across alliances" is very much in line with what Global Eagle management says it is hearing from carriers that have gone dual- and triple-source for IFC vendors.
"The trend I see is airlines have a focus on a consistent customer experience and if you have different philosophies from different suppliers – especially the piece that engages with the passenger like the portal – these are not easy things to get done. So if you have different philosophies in how you deliver that, your customers will have a different customer experience," noted Global Eagle president Per Norén.
Will industry trend towards fewer multi-source arrangements? Norén responded with a "soft yes", insofar as "consistency is a strategic thrust on many airlines' top agenda". He did not point to what might be considered an obvious recent example – the decision by Southwest and Panasonic to part ways. But even here, there is no guarantee that Southwest won't tap another provider to ensure its primary IFC vendor stays on its toes.
Stateside, the IFC programs at United Airlines and American Airlines could also prove instructive.
Consistently inconsistent
United Airlines' highly ambitious IFC strategy sees it working with four providers – Viasat Ka direct; Gogo; Thales with Viasat service; and Panasonic Avionics. So different are these services that #PaxEx data firm Routehappy by ATPCO splits them out in its ratings. The lowest ranking is listed as email and messaging, followed by basic web browsing, then Netflix streaming-capable.
Though United previously sought consistency across the different connectivity services, it has opted to unleash a video streaming class of service on its Viasat Ka-fitted Boeing 737 MAX 9s, which means it garners the Netflix-streaming capable accolade from Routehappy for this subfleet, even as it blocks streaming on its other aircraft.
So it seems that United sees the benefit of differentiating with streaming when and where it can.
American Airlines, too, has a mix of IFC service providers, with some staffers quietly lamenting that the Panasonic Ku service on long-haul aircraft doesn't match what can be achieved with Viasat Ka in North America. The contrast in capabilities at American became more stark last week when the carrier announced it is now offering free access to Apple Music on the 455 aircraft in its fleet that are equipped with Viasat Ka (in the long-term, over 800 aircraft will have Viasat Ka).
Brian Richardson, who serves as senior director marketing customer experience, onboard products & partnerships at American, explained the new Apple Music partnership at the APEX TECH conference in Los Angeles (and noted that American's Gogo 2Ku-fitted aircraft might ultimately offer the same arrangement).
Meanwhile, Global Eagle, whose largest customer is Southwest Airlines (with well over 700 aircraft installed), is comfortable with its decision to focus on being a one-stop-shop for the single-aisle market, quite specifically. That strategy "has really, really played out well for us", said Norén, because it ensures Global Eagle is focusing on "the network, network capacity and network performance where our customers' fleets are flying" and it enables the company to optimize the network "to get the right availability and speed".
This approach has also helped Global Eagle strengthen the relationships within its supply chain – "our partner suppliers and how we manage that. You don't want to fly around with dark airplanes." And it is a key part of the reason why Global Eagle believes it can set a new #PaxEx standard in Europe with the rollout of its latest Ku system on Air France's A320 family aircraft. The service went live on seven Air France aircraft last week, and more than 60 installs are planned for this year.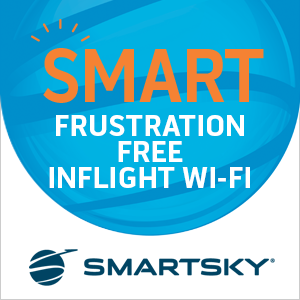 But with Viasat Ka and Gogo 2Ku setting a video streaming service benchmark in the industry, Global Eagle understands that the streaming question is on passengers' minds.
"Air France decides which services to offer passengers. The Orange + Global Eagle solution installed on narrowbody aircraft is proven to support streaming and Air France is likely to make streaming available on narrowbody aircraft in the future," assured Alexis Steinman, senior VP aviation at the firm.
But passengers want more than just words. The savviest of travelers now know enough about the #PaxEx industry that they point fingers at vendors who are seen as offering inferior service.
Related Articles: