As it prepares to receive its Irish air operator certificate, business jet management and charter start-up SONAS Aviation is offering what it believes is a realistic option to owners of UK-registered aircraft concerned over Brexit, and an attractive alternative to the global bizjet community
During the 1970s, Aer Lingus and the Guinness Peat Group established Shannon, Ireland-based Guinness Peat Aviation (GPA), a global aircraft leasing company. After plunging into crisis in the early 1990s, GPA left a pool of talent which, combined with Ireland's aviation heritage and a favorable corporate tax environment, created a hub for lessors.
Against this backdrop, the Irish Aviation Authority (IAA) established the 'EJ' aircraft registry, applicable to corporate and business aircraft with maximum take-off weights exceeding 5700kg; 'EJ' was first applied to an Embraer Lineage in October 2018.
Business jets are commonly registered overseas, but the new Irish registry, being so close to the UK, could prove particularly attractive to owners of 'G'-registered aircraft looking to avoid the worst machinations of Brexit chaos. Now, SONAS Aviation is taking advantage of the 'EJ' registry and awaiting imminent receipt of its air operator's certificate (AOC). It has already signed up a Challenger 605.
SONAS Aviation is a start-up which happens to boast decades worth of industry experience. CEO Graham Williamson comes from a similar leadership role at TAG Aviation Europe and has gathered a high-calibre team, with legal support from the Air Law Firm and its founding partner, Aoife O'Sullivan, which was named by Aviation Week & Space Technology as one of Europe's top ten business aviation leaders.
Speaking ahead of the Corporate Jet Investor's conference in London, Williamson confirmed he's nurturing several further prospects, some involving more than one aircraft.
"At TAG, we first discussed the potential for an EJ registry with the IAA two or three years ago. TAG decided to use Malta as its preferred registry instead, but there are now more than 25 AOCs there, placing considerable demands on the system. Some customers were looking for an alternative and I thought Ireland had a great deal to offer," he told Runway Girl Network.
"The agencies using the Maltese register tend not to have substantial infrastructure on the island, but the IAA wanted to encourage companies who'd come and set up in Ireland. That may have deterred some, but we're establishing our ops center – airworthiness, flight ops and so on – in Shannon."
'Sonas', Williamson explains, means 'good fortune' or 'happiness' in Irish Gaelic and SONAS Aviation is well placed to bring happiness to owners of 'G'-registered mid-size and upwards jets concerned over Brexit and looking to move to an EASA registry close to home.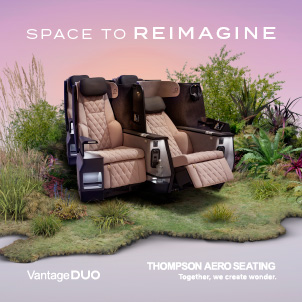 The UK is scheduled to leave the EU on 29 March, but there's still little indication of what form that departure might take and even less on how aircraft operations will be affected. Transferring to the 'EJ' registry under SONAS' AOC will enable private jet owners to avoid the curbs on their operations that Brexit is likely to bring.
It's a fact not lost on Williamson, but gathering Brexit fallout is far from his only motivation. "I guess I was looking for just one more adventure," he says, while agreeing that his team represents a safe and attractive proposition for bizjet owners anywhere in the world. "We're aiming to provide a personal service from a small company. We're not out to rival TAG Aviation or Gama and their large fleets, we're not out to poach customers and we're not targeting anyone in particular. We're just letting people know we're here and what we offer."
So, where does SONAS' first aircraft – the Challenger – come from? Is it a UK jet? "I can't tell you where it's coming from," Williamson says, "but it's not a 'G' aircraft, and that just goes to show our international appeal."
Related Articles: