As Cathay Pacific continues to undergo its transformation program, its inflight dining in business class has seen changes both long-expected and surprising.
Cathay Pacific's previous concept, where dishes are wheeled out on display on a special trolley, replenished by a galley runner, is evolving into an on-demand concept – but initial on-demand trials showed some fascinating results that led the airline to actually pull back its full on-demand offering.
Vivian Lo, the airline's general manager for customer experience and design, sat down with Runway Girl Network at the airline's Cathay City base in Hong Kong to share what the airline learned when designing its services.
"We've done quite a lot of soul-searching, looking at really the foundation of food and beverage for us," says Lo. "As part of the transformation, my team, customer experience and design was first started up about a year ago. We look after the end to end customer experience."
The team thought a lot about the brand design ethos, and how food can be an expression of Cathay Pacific's brand; and it consulted customers and crew.
"The passengers have very clearly told us that they want more personalization, in terms of service, in terms of flexibility, and they want improvement of the food quality, the choice of food, as well as the presentation: the equipment, plating, et cetera," Lo says.
As a result of this research, Lo's team began to design a Hong Kong Favorites line. From char siu pork with dried noodles to beef brisket soup with hor fun, to lobster broth seafood rice and a mango pomelo sago dessert alongside Hong Kong milk tea and Chinese tea, the key is authenticity and saying: this is Cathay Pacific.
When the airline started to deliver on-demand dining, though, one thing became apparent: it wasn't working right. "When we did the original trial it was one hundred percent on demand, but what we have done with it this time is switched off on-demand for the first meal," Lo says, noting that the first meal has returned to a "structured service, or structured timing."
With a relatively open cabin, there is some inevitable disturbance during any meal service, and most passengers want to eat soon after boarding. "A lot of customers told us that they felt quite disturbed, and they preferred to be able to get that over with," explains Lo.
She adds, "We've also come up with more flexible breakfast options where you have sets that you can preview in a cart and then the crew can deliver to you on a single-tray kind of delivery."
In line with Cathay Pacific's overall theme of digitalization, the carrier is also developing an app that is going to be used by the crew for ordering. "We used to assume that this can only be done with wifi, when we have connectivity for the fleet, but we managed to find out that we can achieve that with peer-to-peer communication. We've been working with Apple in terms of the prototypes."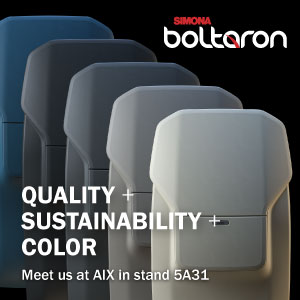 Essentially, it sounds like what many restaurants with device-based ordering do on the ground: transmitting the order directly to the galley to significantly speed up delivery time, as well as reducing the amount of back-and-forth walking, removing the need to wait for the trolley to roll down the aisle, and keep food hotter for longer.
Your author has had that last criticism of Cathay Pacific's business service frequently: the problem is just that even served in the doggy-dish in which it was reheated, the main courses don't stay warm enough a few rows in, let alone at the back of the cabin. This will hopefully fix much of the problem.
Once the airline reaches full widebody connectivity, too, it plans to add further capabilities, including recommendations along the lines of 'Ms Lee, I see you had the beef and chicken recently. Perhaps you would like to try the curry?'
Editorial disclosure: Cathay Pacific provided flights to enable this interview.
Related Articles: