More often than not, when industry seeks to generate excitement about the return of supersonic flight, the proposition entails a premium passenger experience.
That's certainly the case for Denver, Colorado-based start-up Boom Technology, which is developing a Mach 2.2 airliner that will carry up to 55 passengers, and enter into service in the mid-2020s if all goes to plan. A one-third-scale demonstrator, called the XB-1 "Baby Boom" is expected to be flight tested in 2019.
Yet, like the Concorde that came before it more than four decades ago, Boom's slim tube will be space-constrained so passengers should expect the hard product on shorter "long-haul" flights to be akin to today's premium economy or US domestic first class seats, Boom head of global policy and communications Eli Dourado told Runway Girl Network last week at the British Embassy in Washington DC.
"If you are just flying from New York to London, you don't need a lie-flat seat. It's a 3 hour and 15-minute flight. You are no longer doing that as a redeye," noted Dourado following a Royal Aeronautical Society-sponsored panel discussion about "The Economics of Supersonics", which also featured representatives from NASA, the FAA, and supersonic business jet developer Aerion.
Boom is "going to make a very productive environment for people to work" with "lots of work space" and inflight wifi on those speedy transatlantic flights, said Dourado. The company's studies into the various inflight connectivity systems are still "very, very preliminary, but it will be the best that is available. The passengers that we are serving will demand the best and we will make sure it is."
There will also be lie-flat seating options "but that's probably for the really, really long flights", said the Boom executive. For instance, the flight time for Chicago-Doha would be roughly 8 hours in length on Boom's supersonic jet versus 13.5 hours on today's commercial aircraft. This may be a logical route on which to offer flat beds.
Boom has already entered discussions with several aircraft interiors firms to thrash out the passenger experience (#PaxEx) particulars, Dourado told RGN. It is also in talks with "dozens of airlines", and Japan Airlines is an investor, he noted.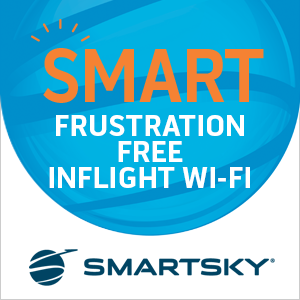 Based on current premium transoceanic service, Boom reckons there are roughly 500 routes connecting major hub airports "that this works on". It believes supersonic travel will prove to be "practical transportation for millions of people", with Boom aiming to sell 100 times what Concorde did, and at a cost of $200 million per plane.
But while supersonic travel conjures up images of well-heeled passengers sipping champagne and eating caviar as they jet across the Atlantic, Boom does not necessarily want airfares to be in the stratosphere for passengers. As such, the firm is targeting the same economics as today's roundtrip business class.
Has Boom given any thought to the economics around supplying a high-density cabin, including possibly semi-standing seats for travelers who would happily forgo comfort if they could leave New York in the morning, arrive in London in time for a business lunch, and commute home to New York that evening? After all, one of the (many) inhibitors to providing such seating today is that it requires a total reimagining of the commercial aircraft cabin.
Jetliner Cabins author and aircraft interiors expert Jennifer Coutts Clay explained to Flightglobal in 2009 that preliminary sketches for stand-up seating "showed structures reminiscent of vertical spray-tanning booths, fun-fair joy-ride cabs, funicular gondolas or avant-garde ski-lifts. Clearly, the technical requirements to develop stand-up seats suitable for use on aircraft would be extremely complicated."
But even though Boom is developing its cabin from the ground up, Dourado said the company is "not giving a thought" to high-density layouts "in terms of how we're designing it".
He stressed that "a lot of those decisions will be up to the airlines" and noted that if an airline wanted to go in that direction, Boom "will sell you the airframe and you put in the interior."
On the ever-important noise abatement front, and as part of its efforts to minimize the negative environmental impact of supersonic jets, NASA said it has sponsored a number of market studies, and is working to ensure the supersonic boom that is created when an object travels faster than the speed of sound is no more than "a rumble or a thump maybe".
NASA has made "tremendous" progress to reduce supersonic boom "to a rumble or a thump maybe" and "if you're not listening for it you might not hear it," says NASA's Dr. Edward Waggoner during an 'economics of supersonics' briefing hosted by @AeroSociety at @UKinUSA #paxex #avgeek

— Runway Girl Network (@RunwayGirl) November 9, 2018
Dourado, meanwhile, assured that Boom's work is an engineering project, not a science project. With 50 years of progress, "we can be better than the Concorde in every way", including being faster, offering lower unit and maintenance costs, bigger windows, more comfortable seats and wifi.
Boom is designing the jet for narrowbody airport gates, and so far the reception from airports "has been very positive", he said.
Related Articles: