Amid growing concern among high-tech players in the aviation industry about industrial espionage by — and the growing prospects of a US trade war with — China, the aircraft interiors side of the industry will increasingly be exposed to this potential conflict.
Runway Girl Network spoke to interiors executives at last month's APEX EXPO to understand their perceptions of how international relations will affect the relationships with key Chinese suppliers.
In context, Chinese conglomerates have been part of the supplier consolidation trend within aviation: while AVIC, for example, is no Zodiac-Safran or UTC-Pratt-Rockwell in size, its work with premium-focussed seatmaker Thompson, components specialist FACC and Fesher, AIM Altitude's monuments business, and economy seatmaker Jiatai, shows ambitions for further growth.
With Airbus selecting Sino-Austrian interiors supplier FACC to continue to supply the bins for the A320 family, including the much-in-demand larger bins on the A320 Airspace family — which are destined for US airlines, including via the Airbus final assembly line in Mobile — RGN asked Airbus' vice president for cabin marketing Ingo Wuggetzer how exposed Airbus feels to the prospect of trade tensions.
"That's the a kind of a very top level supplier question. To be honest, I'm not so close, but from my point of view — especially that case that you mentioned — for me seems not to be critical as the business manufactures it all in Austria."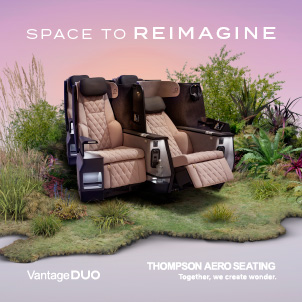 FACC, Wuggetzer says, "was an Austrian company. They bought it. They officially own it or at least the majority, but that is all manufactured in Europe, in Austria, and would be shipped to Mobile."
Despite its European roots, Airbus is of course directly exposed to China via its final assembly line at Tianjin and to the US via its final assembly line at Mobile.
In March of this year, LeehamNews editor Scott Hamilton reported that, "When Airbus announced plans to create an A320 final assembly line in Tianjin, I asked Tom Enders, CEO of Airbus, about the dangers of technology transfer and IP theft. Enders assured those of us in the press scrum that Airbus had plenty of IP protection in place."
"Within a year," noted Hamilton, "the press reported the Tianjin plant had been subject to a half-dozen cyberattacks, probing for IP information."
If FACC-AVIC were, at one of its Chinese manufacturing facilities, to "open up a second line because the demand is so big and we need the volume and capacity, I don't know," Wuggetzer underscores to RGN.
That level of uncertainty is understandable if somewhat concerning. The rise in global instability at the nexus of domestic and international policy in both the United States and the United Kingdom created much uncertainty and a lack of predictability. Who can truly state, at this point in time, that they know which way the United States administration will turn?
RGN also spoke on record with Lufthansa's Paul Estoppey, head of product cabin at the Lufthansa Group, about the situation with Northern Ireland-based Thompson Aero Seating, also part of the AVIC family since late 2016.
Estoppey, previously with Swiss International Air Lines before moving into the centre of the Lufthansa Group, has worked as a customer of Thompson for many years, including when Swiss was an early customer and nearly launch partner of the staggered Vantage seat product, and subsequently ordered an updated version for its Boeing 777-300ER aircraft.
Today, RGN asked, would Estoppey be concerned in any way about the US-China trade war situation in terms of delivery of seats?
"It's an interesting question," Estoppey says, but he suggested that Brexit was a greater concern for the UK-based Thompson. "I don't think that someone would, just because the Chinese have their money in, consider Thompson as a Chinese company."
As an overall impression, and certainly before the revelations in recent court filings, it seems the interiors side of the industry is not as focussed on the potential risks as is the airframe and powerplant side.
However, since speaking to these executives, AVIC was named alongside COMAC in US court filings in the context of alleged industrial espionage targeting companies including GE Aviation.
With increasingly complex seats requiring increasingly costly engineering to develop, certify, quality control and manufacture, it does not seem that this kind of question will be going away.
Related Articles: