After spending what he calls five "very intense and very interesting years" as CEO of Thales Inflyt Experience, Dominique Giannoni is assuming a new leadership position within Thales, and has been replaced by long-time company executive Philippe Carette.
Reflecting on his tenure at Thales' IFEC division, Giannoni told Runway Girl Network that he has witnessed a tremendous amount of change in the connectivity portion of the business, and is thankful that the Thales Group as a whole is so diversified.
"It's true that when I came in 2013 and took the lead, connectivity was in infancy; we were seeing some airlines saying 'we want connectivity on the worldwide market'. And in the US market, there was a dominant player with Gogo and ATG. But also at that time, [there were] rising issues about the future of ATG. And around that time, there was also a company launching Ka called JetBlue, and United was doing the same with LiveTV, and in 2014 we bought LiveTV," recalled Giannoni.
The high-speed Ka-band solution implemented with then partner Viasat was "groundbreaking" and "the best available" at the time and "yes, I think it has created a benchmark for passenger experience" in terms of streaming, he added. But since then, airlines' and passengers' expectations have grown even further, to the point where today when passengers fly "they want an experience that is as good, as reliable and cost-effective – and sometimes free – as on the ground." A stellar #PaxEx is simply expected.
In order to meet these demands, "the level of investment required to be a player in the industry is quite significant and for this, I believe that we at Thales are well-placed," said Giannoni. "Thales Inflyt Experience is part of the Thales Group and Thales Group is very solid. So, we use connectivity in ATM, in different systems and obviously for passengers. We design, develop and manufacture satellites so we know this market and know how difficult it can be."
Acquiring LiveTV did not insulate Thales from losing prime positioning on the JetBlue contract to Viasat – the satellite operator whose high-capacity Ka-band satellites support the inflight connectivity service. But, Giannoni said, "We learned a lot at Thales, and Thales LiveTV from this experience with United and JetBlue, and the level of expectations and usage of the service."
Even with its new SES partnership, which will support high-speed connectivity on Spirit Airlines (and potentially Air Canada, it is rumored), inflight connectivity is "a challenging market for us and requires a long-term view and regular investment in the right technology", added Giannoni.
Indeed, the investment in IFC is constant. In addition to now having its own end-to-end regional Ka-band connectivity solution for the Americas, Thales Inflyt Experience is working with other Thales Group entities on next-generation antenna hardware. "Everyone talks about phased array; we've worked on it on other platforms for years … With us, we have a Group and solutions that are relevant to us. And our duty is to bring our solutions to the market for airlines."
But while investment is key, it is not enough, he attested, noting that money will only take you so far if you don't have the right technology, the right people, and, crucially, the ability to maintain and service the hardware around the globe. Yes, there are publicly traded companies that are for sale on the market, he acknowledged, and "we are always looking at what makes sense for us, but again, always knowing that the Group is always focused on [making sure] any acquisition makes sense on a technology fit, a culture fit, and improving our market position if need be."
As previously reported by RGN, Spirit Airlines has very high expectations for Thales's new Ka-band offering; it expects the solution will be "revenue positive for us and we think that there's a lot of opportunity well beyond connectivity", said Spirit VP sales & marketing Bobby Schroeter during the recent APEX TECH meeting.
While Giannoni declined to comment on financial specifics of the deal with Spirit, he said at the end of the day, Thales is a "very rational company" so its deals with airlines must make sense for Thales financially. "Our goal is not to increase our market share at any cost. Our goal is to deliver a groundbreaking experience to the airline. If you look at the evolution of the share price of Thales over the last few years, it's quite impressive because we are engaged overall in the Group, a digital transformation and the same for IFE."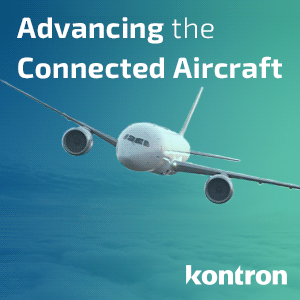 Intriguingly, while Thales Inflyt Experience wants to grow and has "targets to grow", its goal is "not to take X percent of market share. It is to satisfy our customers, and airline customers, we are a key player on IFE and connectivity, we are an aerospace company. You visited Thales ATM [last year] and you know that IFE is not an isolated island in a group. We are really a company [that is] integrated. I mentioned what we're doing with our antenna for another business for Thales. So really  .. we are very cautious but bullish … we want to be the leader and consolidate our strong position in IFE and connectivity, but not at any price or cost. We believe our solutions add value for customers, otherwise we wouldn't be in this market."
While much of Thales Inflyt Experience's messaging around connectivity of late has involved its home-grown regional Ka solution, the company's role as an Inmarsat Global Xpress service provider and integrator is still important to it. "Our strategy on connectivity is to continue working with Inmarsat and continue rolling out the GX solution for long-range [aircraft]. And obviously, America is [an] original market, we signed an agreement with SES where we buy bandwidth and transform the bandwidth for airlines and passengers for a fully integrated Thales solution, but we work with both service providers [Inmarsat and SES] in our portfolio."
To date, almost all of Thales' twin-aisle IFE customers are choosing GX connectivity, he said. Take-up for the GX offering is "where we anticipated it to be" and Thales sees value in being able to offer connectivity over a near worldwide network. "We have good results on the test aircraft we have with the A350 and the first aircraft installed, so it's encouraging."
On the in-seat IFE front, Giannoni said the twin-aisle market is strong "and will continue to be strong".
On the single-aisle market, I would say we are seeing some different evolution of thinking. Remember that American [Airlines] decided not to put IFE on the 737 MAX so there are some airlines going in this direction. However, we also have airlines coming to us questioning this strategy not to have in-seat IFE because the duration of the flights on single-aisle [aircraft] is really increasing. You have airlines flying single-aisle across the Atlantic, and on this we see a strong demand. Air Canada has started to fly to London with the 737 MAX so I see this for airlines flying over the Atlantic, yes.
Just as people multi-task and multi-screen at home, they looking to do the same in the air, and this is good news for a firm positioned to offer both in-seat IFE and connectivity.
Giannoni also confided that Thales is in discussions with the Seamless Air Alliance on potentially becoming a member. "Obviously whatever initiative is [there] to enhance the service, communalize investment or standardize what is happening in this industry is of interest to us. At Thales, we have always been involved in standardization bodies, working with APEX committees. There are opportunities where we get all together for the benefit of the airlines and passengers, so we see it as interesting and are in discussion on how we could join."
The alliance is certainly picking up steam, with satellite operator Intelsat announcing it has joined.
Related Articles: