London-headquartered satellite operator Inmarsat this week posted robust half-year 2018 earnings, with group revenue seeing a near 5% revenue boost to $717.2 million, buoyed by strong growth in aero and solid growth in maritime.
The company's broadband connectivity offering, the Ka-band satellite-supported Global Xpress service, generated airtime and related revenues of $110.2 million during the first half across all target markets, representing a doubling of revenue year-over-year.
Today over 1,400 aircraft are contracted for GX. New airline customers – which have signed airtime contracts while making GX hardware commitments – include newly-announced Citilink, as well as Kuwait Airways, Philippine Airlines and Emirates. Within the contracted aircraft number, a total 280 aircraft have already been fitted with GX, though many are not yet active.
Overall, GX-supported inflight connectivity revenues grew substantially over the first half, up $17 million to $18.7 million. Those airlines which have formally launched the service for passengers – Qatar Airways and Air New Zealand – are delivering meaningful airtime revenue with Inmarsat saying the 50 commercially-active aircraft delivered $1.4 million.
Inmarsat is also spending money to support customers' service-entry, referring to "success-based capex" for inflight connectivity equipment. But it predicts lower capex as the GX solution gains offerabililty on more commercial aircraft types.
Interestingly, GX customer Lufthansa is not yet included in Inmarsat's commercially active tail number "because it is a soft launch without the full weight of Lufthansa marketing behind it", explained Inmarsat CEO Rupert Pearce during a conference call yesterday morning.
Pressed by an analyst as to why connectivity installs didn't ramp in the second quarter as expected, management explained that the timing is simply based on the particular proclivities of each airline, seasonality, and minimizing aircraft coming out of service (airlines do not like to take aircraft out of service during busy travel seasons).
On the plus side, Inmarsat now has the capacity to install "pretty much as and when", and will make a series of announcements about install partners in the coming weeks. But its present partnership status is not a bottleneck. Turkish Technic is a recently-announced partner, for instance.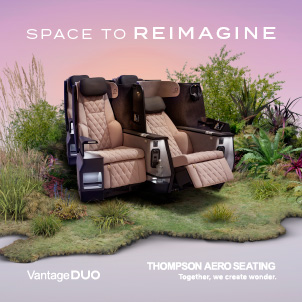 The commercial launch of Inmarsat's European Aviation Network is technically delayed, based on the firm's prior launch guidance. But EAN prep continues apace, with a focus on fitting launch customer British Airways' fleet; the remainder of the IAG short- and medium-haul fleet is expected to be fast followers.
Inmarsat continues to see regulatory approvals for EAN trickle in, and doesn't believe the claims made by competitors (Viasat and Eutelsat) will delay its launch plans. EAN stakeholders have previously told RGN they're gunning for commercial launch by the end of the summer.
Last month, satellite operator EchoStar walked away from efforts to buy Inmarsat after its second bid was rejected by the London-headquartered firm. While mainstream media saw the approach as one satellite operator vying for another, an Inmarsat buy would have seen EchoStar's aero story improve dramatically overnight, giving it prime positioning on various contracts, including notably with Qatar Airways.
Inmarsat believes EcoStar's bid was "very significantly undervalued". It remains highly confident in its strategy and prospects on a standalone basis. "We're not for sale. We don't feel weak about our future. And we don't feel the need to engage in a merger even with someone in our industry at this point in time," noted Pearce.
Going forward, Inmarsat is eyeing continued market capture for GX and EAN, and believes that inflight connectivity will generate "very material revenues for the company and generate very material shareholder value in terms of cash flows" as high-margin airtime revenue continues to grow, and IFC becomes really important to passengers.
Related Articles: