Few airlines in the world are as particular about product consistency as Delta Air Lines. Whether it's the inflight wifi or the seatback entertainment system, Delta goes to great lengths to offer a consistent product to passengers.
On a good deal of its domestic narrowbody fleet, Delta has offered a direct broadcast satellite (DBS)-based live television solution from Panasonic Avionics. The seatback screens, also supplied by Panasonic, are fed about 18 live channels from a dedicated fuselage-mounted DBS antenna on domestic 737s, 757s and 767s.
But when it came time to refurbish the aging Airbus narrowbody fleet it inherited from Northwest Airlines, Delta sought out a solution to provide product consistency without the need for an additional costly antenna installation.
RGN can reveal that Delta has been quietly testing Gogo's recently launched Gogo TV to provide a solution that not only matches the legacy DBS solution, but could exceed it in terms of video quality.
Launched earlier this year with Brazilian airline GOL, Gogo TV pipes in live television over the existing Gogo 2Ku connectivity hardware. While GOL's implementation is limited to six channels, Delta has replicated its entire suite of approximately 20 US-based broadcast networks, ranging from ESPN to the broadcast locals such as FOX and CBS.
"Unlike other systems that are perhaps DBS-based, our live TV signal comes over the 2Ku network," says Mike Moffatt, senior product manager, multimedia at Gogo.
Gogo can provide the TV selection via wireless streaming to passenger-owned devices, but in this case has worked with Delta to integrate it into the Panasonic seatback IFE system. To the passenger, there is no indication that the TV system using 2Ku on an A320 is any different than a 737 relying on a DBS antenna.
"We have a certain amount of bandwidth dedicated to this set number of channels, given the compression and our focus on perceived quality, we make maximum use of that available bandwidth given the number of channels," explains Moffatt. "With 2Ku, there's a reserved amount of bandwidth for IPTV. We only pull down the channels from the broadcaster that the airline has licensed, and so if they license two, eight or 16 channels, that's what we'll pull in and that's what we send up to the aircraft."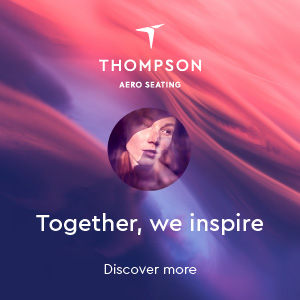 Gogo says it supports both standard and high-definition broadcasts, and the video quality over 2Ku on a recent Delta flight appeared to be of substantially higher quality than the traditional DBS solution, which currently supports standard definition video only.
The actual bitrate at any given time will vary, but Gogo has a certain video quality it always attempts to meet.
As Delta continues to install Gogo 2Ku connectivity across its fleet – with the solution eventually making its way to aircraft without seatback screens – the carrier will be able to provide the same live TV lineup via wireless streaming to passengers as it currently does with the existing Gogo Vision wireless IFE product.
Even as some consumers on the ground transition away from consuming television in its raw and live form, live TV seems to still have a home in the skies for the time being.
Related Articles: