Enjoying fresh momentum behind its cabin connectivity offering now that it can offer broadband capabilities through Inmarsat GX, SITAONAIR says rollout of the service on Singapore Airlines has gone "quite smoothly" since activation last fall on the first 777-300ER.
The subsidiary of SITA, itself owned by the air transport industry, also tells Runway Girl Network that airlines with multiple connectivity providers want competitors to work together to remove the pain points created by diverse offerings. It feels well-positioned to collaborate with competitors, and ultimately with bigger players should the likes of Google and Amazon enter the space.
Pleased with SIA rollout
Noting that SITAONAIR's GX customers are progressively ramping up (at the end of the first quarter Inmarsat had a total 245 GX-installed aircraft via its own efforts and those of its value added resellers) SITAONAIR VP strategy, product portfolio and marketing Dominique El Bez says the feedback received from Singapore Airlines' passengers thus far "is very positive".
GX, he says, "is delivering its promises" around speed, user experience, and low latency. "So, we have reports of customers, passengers saying that they feel [they are] having the same experience as at home in their living room. Being able to do the same things, being able to just enjoy it."
SITAONAIR is also impressed with the repurchase rate for GX, with passengers repurchasing GX inflight connectivity fully "twice as much" as those who've used the firm's Inmarsat SwiftBroadband-supported cabin connectivity offering.
"It's very early days," cautions SITAONAIR chief technology officer Gregory Ouillon.
But you can see that the customers are "going again" through the purchasing process and "consuming more on the same flight. And that's testimony that I think it's delivering the promises that passengers want, and the liberty of usage that they are looking for," says El Bez.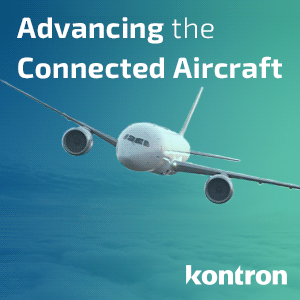 Can SITAONAIR detail SIA passengers' usage habits? "We are analyzing this obviously. As I say, it's pretty much like at home," says El Bez. "So, you have business travelers that would just do their email and professional activities, use … their professional apps through connectivity. You have customers as well that are more for leisure, and that would chat, do some texting, some WhatsApp, as well as stream videos. So it's very diverse. To an extent, there is just no limit. So they are just using it as they feel."
Inmarsat intends to add new payloads to GX in the coming years to keep pace with demand. And SITAONAIR is confident in Inmarsat's plan. "We've got no reason not to do so," quips Ouillon. Clearly, whatever differences arose between the two companies when Inmarsat eyed a price hike on its Classic Aero services, as part of the migration to SwiftBroadband-Safety (SB-S) for the cockpit, have long been put aside.
Good faith with Panasonic
SITAONAIR works with IFEC giant Panasonic in supporting Emirates' connectivity offering, which comprises SwiftBroadband and Ku-band powered solutions from the two firms, respectively, and is part of a broader SITAONAIR personalization program at the carrier. In the future, Emirates will also feature GX connectivity on the Boeing 777X fleet in partnership with Thales.
The "good faith" working-together approach between SITAONAIR and Panasonic for Emirates would have been practically unheard of a decade ago. But Emirates' steer changed all of that.
"When I talk to airlines, especially the ones that have had their initial experience with inflight connectivity, the natural feedback is 'you guys should talk together'. And they don't refer to us and Panasonic, they refer to the different players in the industry that should work together," says El Bez.
Because today, if you take an average airline that is beyond its first baby steps in inflight connectivity, all of them tend to have more than one supplier. They tend to have two, or three, or even four inflight connectivity providers. Be it Panasonic, Gogo, SITAONAIR, Thales, Rockwell, you name it. They are just realizing that this is creating a headache. And it's confirming our open platform, our open cabin vision … They are demanding for it.

They are just realizing that it's a pain to have multiple providers. It's a pain from a technical standpoint. It's a pain from, I would say, a business operations standpoint for them to manage different suppliers, to deal with different experiences, and it's a pain from a passenger standpoint. Because they have to juggle with the different performance possibility, the different user interface. They have to replicate the backend integration, to integrate through frequent flyer systems two times or three times. And they end up having disparity in experiences.

So that's why they're asking us, the airlines are asking that we as an industry work together for the good of the airline and for the good of the passengers. And that's a radical shift. The industries have been working in silos for years.
Ouillon says the fact that Emirates achieved one million wifi sessions in March, via SBB and Ku, underscores the success of SITAONAIR's working-together relationship with Panasonic. He explains:
So with Panasonic, I think it's always been an interesting relationship. It is not governed by any commercial relationship. It's a collaboration on the basis of our relationship with Emirates. And I think that it's … when you realize that the two parties are there for the long run – because we renewed our relationship with Emirates – that the two parties realize that collaboration needs to take place.

Yeah, it is a good faith [collaboration]. And I think that we have improved a lot in a number of areas. We collaborate a lot … if there is any degradation incident, how we exchange flight data etc. So, you know, I would say that on the basis that we want to please Emirates as a customer, we have improved a lot in the relationship.
Outside of what SITAONAIR does with Panasonic to support Emirates, would it ever envision a day where both it and Panasonic pitch to airlines as a team?
"Absolutely," says El Bez. "That's again in the philosophy of our open cabin strategy. Really we need to recognize that if you want to provide inflight connectivity, you need to integrate different capabilities. It's coming with different layers of services and so on. And some of it is competence – [a particular solution] may be best at a given time for a given customer, but not for another one."
He adds that this sort of collaborative approach "is our DNA" so if "working with Panasonic or with anyone else to deliver a successful solution, like we've done for Emirates, why not?"
Panasonic has snatched up SITOANIR's former CEO Ian Dawkins, as part of several changes made to upper management over the last year. Has SITAONAIR yet had the chance to work again with Dawkins in his new role as CEO of ITC Global, the PAC unit covering connectivity for the maritime, energy and mining industry? "Not at this stage. He is still busy lighting up quite a few things at Panasonic and getting into the job so…" says Ouillon
Ready when big names come calling…
Naturally, RGN asked these SITAONAIR executives for their latest thoughts on industry consolidation. "There are still more players", especially regional players, readying to enter the inflight connectivity space, says El Bez, noting that "there's still the perception that the bubble is not big enough, that it can get bigger".
Google's reported interest in Nokia's airborne hardware is an example of how the big names are circling the space. But, stresses Ouillon, "It's big names, speaking Internet in the sky to serve the world and eventually it lands on an aircraft. I think that the play is at just a much different level. And they will happen to be on the aircraft by accident. Just as a side product of a much bigger play."
He adds, "It's just that when they're gonna look into what it takes in terms of the complexity of the value chain for the revenue opportunity, they're gonna say, 'Oh, we're gonna need partners.' And we'll be here."
Related Articles: