Outside of inflight connectivity, the most hotly competitive part of the inflight entertainment industry right now must surely be the portable wireless entertainment space.
Virtually everyone is flogging portable wifi boxes to airlines. And why not? They're cheap, cheerful and – since they're carried on board – don't require a major retrofit and supplemental type certification, though a new plug-in powered option from Lufthansa Technik and Lufthansa Systems (which is touted as safer than battery-only portables) is also on the march.
Hard on the heels of Global Eagle's decision to jump into the space, Runway Girl Network put the question to seatback IFE heavyweight Panasonic Avionics. Will you offer a portable wifi solution as the low-end of your new NEXT ecosystem?
The company's chief technology officer, David Bartlett, responded: "I mean I am open to everything and I have been looking at it but it's like, you know, not much of a barrier to get into that space. It's a different business model. There is a lot of competition in that space. I think our niche is better served in the traditional [in-seat IFE] space we have been in. With that said, I have been working with a lot of low-cost airlines on a lot of different models because, again, if your focus is on helping them with the outcome you have got to be open to it. If we have to do it, we can certainly do it right."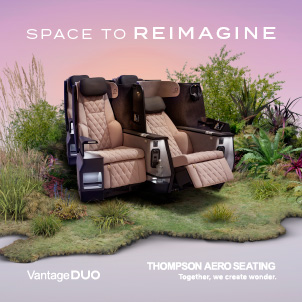 It's true that there are few barriers to entry. With popular server and WAP hardware available from Kontron, Astronics (which acquired Telefonix PDT), Miltope, and others, one need simply develop the software, team with content service providers (CSPs) and content creatives, plus – perhaps the stickiest bit – work out the logistics of bringing the systems on and off aircraft, in order to offer portable wireless entertainment to airlines, and their gadget-carrying passengers. Several firms, including AirFi and Immfly, have made solid gains in the market.
But in Panasonic's view, part of the value of its IFE propositions "is in the content and enabling the infrastructure behind what feeds the airline with that content". Panasonic Avionics senior director – marketing Jon Norris says, "You know we do have the lower-cost offerings, not of that same level, but what we can bring is the substantial infrastructure which makes the content flow and really through things like loyalty and marketplace we can bring more value. Because these, you know, solutions in a bag in the bins only have a certain value that can be achieved through them."
But portable wifi boxes are not the only semi-new IFE offerings on offer to airlines. Last year, at the Aircraft Interiors Expo in Hamburg, Gogo surprised the industry by announcing it is working with Delta to provide tablet-based IFE on the carrier's Bombardier C Series aircraft. At that time, RGN posed myriad questions to all parties as to how difficult head injury criterion (HIC) requirements would be met to achieve certification. And we wondered aloud about whether Gogo and Delta are using plastic OLED screens, for instance. Though our questions remained unanswered, the program is understood to be progressing (and unsubstantiated rumors are circling that tablet-based IFE may land on more aircraft than just the C Series in Delta's fleet).
Delta is among Panasonic's biggest embedded IFE customers. So naturally RGN was curious if the firm might move in the tablet-focused direction. "You know what, again it's kind of like the other question," says Bartlett. "We are open to it if that's what the outcome of what an airline wants us to do. We don't at the current time have a big project around it."
Norris adds that, over the last 10 years there has been a lot of generalizations about how the IFE industry would evolve.
You know we heard that seatback is dead and connectivity was going to kill IFE and tablets were going to kill IFE. There are so many different niches in the market so there are places for those solutions. They are never really going to take on the majority of the market. You know the majority of widebody aircraft continue to have linefit seatback solutions.

I made this adage before – the majority of widebody aircraft will get rid of seatback screens when we remove the TVs from our house.
Meanwhile, as a raft of new slimline seats come to market and NIC (neck impact criterion) is thrown into the safety spotlight, Panasonic says its in-seat systems will be ready. "We comply with all regulatory and certifications requirements. As those new challenges come up, that gets built into our test regime," assures Norris.
Related Articles: