Tuesday, 24 April was a very big day for Norway's Widerøe, but arguably even bigger for Embraer. The carrier's Embraer E190-E2 flawlessly completed its first revenue service, a return from Bergen to Tromsø. The flight was greeted with much applause and celebration, including from airline management.
Embraer has quietly, confidently worked through the E2 development program, delivering what it said it would, on time.
The new aircraft looks surprisingly different to its E1 forebear, thanks to the notably large Pratt & Whitney PW1900G engine cowlings. But there's also a new elegance to the wing and revised stance due to taller landing gear.
Stepping inside, the touchscreen cabin control system immediately impresses. It's a clear statement that this is a jet of a new generation. Before the inaugural, Widerøe's crews had already come to love the system after just a couple of weeks' training.
With comfortable seats at a pitch more than adequate for the 103-minute trip up to Tromsø and a power outlet for every passenger, the E2 cabin makes for a pleasant traveling environment.
One #PaxEx let-down is what your author perceived as a less-than-perfect fit of the alternating PSU and oxygen mask panels; their cabin-long run shows the sort of misalignment one might expect in a well-used or oft-retrofitted cabin but not from an aircraft on its first airline service.
It seemed to be a cosmetic issue at most, and my assessment was confirmed by Embraer when the Brazilian airframer told Runway Girl Network: "This is a design characteristic and the layout of the oxygen mask deployment has been approved by all certification authorities."
It's the E2's only detractor, in your author's opinion, and even if a passenger does notice, they'll likely forget as soon as the Pratt & Whitney engines spool up for takeoff. Because that's when the magic happens. While enthusiastically describing the E2 as 50% quieter than the competition under certain flight conditions, Embraer has avoided describing exactly what those conditions are. Truth is, when those big fans spin-up there's a momentary high-pitched whine before they settle into a deeper, gentle hum that's uncannily muted. They're so quiet, in fact, that it comes as a surprise when the aircraft begins its spirited takeoff run.
In-flight there's the usual air conditioning noise, although even that seems less intrusive. The lack of engine noise is actually something you quickly accept, until you find you're conversing across the width of the cabin without raised voices.
Sitting in 6F and realizing the uniqueness of this cross-cabin comms, your author glanced out the window for a stunning reminder of just how close the massive engine cowling was and how little evidence there is of anything working inside.
Ironically, the taxi out at Bergen was by far the noisiest I've known, thanks to the excited chatter of fare-paying passengers, crew and invited guests, but the cabin was quieter on the return and even then, the engines barely intrude.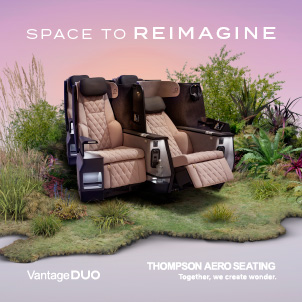 There are moments, especially on takeoff and in the climb when the brain struggles to comprehend how the E2 is managing to fly at all.
Widerøe was especially generous to its guests on this initial service. There were fabulous cupcakes, frosted in Widerøe green, airline and Embraer-logoed luggage tag gifts, a model of the aircraft for every passenger and pairs of tickets to give away.
The aircraft represents not only a significant addition to Widerøe's airline's current, but the beginning of an era of expansion, with new international jet destinations planned. Widerøe personnel had nothing but praise for the OEM's support, while there was an obvious satisfaction in the successful inaugural service.
Note: The author was a guest of Embraer on this inaugural flight.
Image Gallery:
Related Articles: