Representing the culmination of several years of work, Viasat today announced that Embraer has selected its high-capacity Ka-band satellite-supported inflight connectivity service for the Legacy 450 and Legacy 500 executive jets. The Carlsbad, California-based company is also in talks with Embraer to potentially support connectivity on other aircraft types in the Brazilian airframer's portfolio, as passengers have come to expect a high-speed Internet experience on board.
Speaking to RGN this morning from Geneva, where the annual European Business Aviation Convention and Exhibition (EBACE) is about to get underway, Viasat vice president, network services Jerry Goodwin noted that today's arrangement is the first linefit contract for Viasat's new tail-mount Global Aero Terminal 5510, and the first opportunity for Viasat to bring business jets into its new class of Ka-band satellites. That's because the terminal can tap into the current ViaSat-1, ViaSat-2 and Eutelsat KA-SAT platforms available today, and will be forward-compatible with Viasat's future-generation satellite constellation, ViaSat-3 – enabling use of the ViaSat-3 capacity with no additional hardware upgrades.
ViaSat-1 and -2, and Eutelsat's KA-SAT satellite presently support inflight connectivity service in the Americas and Europe, respectively. Near global coverage won't be achieved until the launch of the ViaSat-3 series of satellites. Is Viasat going to offer Ku-band connectivity on the Legacy 450 and Legacy 500 as an interim solution?
"We're certainly capable of addressing with Ku, but we're getting so close to ViaSat-3 that by the time STCs are complete for this Ka terminal, it's not very much time from that point," explained Goodwin. So, rather than confuse the market by offering factory-fit Ku for these Embraer mid-size cabins, a decision was taken to stick with Ka.
"We've had this discussion with Embraer quite a bit, whether to add Ku in the offer or not and they said, 'nah, let's go with the Ka stuff because the timeframe is close'."
Viasat's James Person, who manages business development for the firm, added that Legacy 450 and 500 customers are also overwhelmingly based in the Americas and Europe so while Viasat "could have done either" – offering Ku and Ka or Ka-only – it was Embraer's decision to "go straight to Ka". Initial speeds offered are expected to be 16 Mbps but Goodwin said Viasat plans to "double down on that" and fully "double those speeds" as ViaSat-3 comes online with massive capacity.
Though customers of the Legacy 450 and 500 will not be able to get Viasat's Ku system linefit under the arrangement announced with Embraer today, this doesn't preclude operators from going with a dual connectivity solution on their own accord. Viasat noted that the size and shape of the 5510 terminal enables it to include two antennas to be installed together in the tail, providing a strong back-up communications network via its global Ku-band coverage (previously known as Yonder).
Viasat has also engaged in discussions with Embraer on connecting other types, including the Phenom light aircraft. It is in the midst of developing an electronically steerable antenna to support the O3b mPOWER network. A similar application – but one that would transmit data over Viasat's satellites – is being contemplated "and I think that's probably the right answer for the smaller jets, rather than trying to force-fit a parabolic onto them," said Goodwin.
Given the flat-panel nature of the ESA, it would be "easier to find room for it", he added. Other discussions involve potentially connecting regional jets and even government aircraft. Though the firms have nothing concrete to announce in this regard at this time, "you'll see other activity with Embraer" assured Goodwin.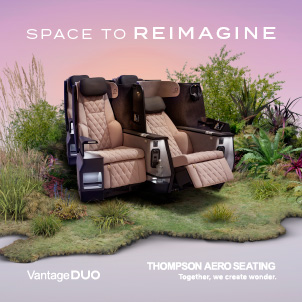 But, right now, he added, "We have this really great relationship. We're excited because it's not just the antenna, we're also working with them on what the cabin experience will be like for the people on the plane. We think it's a good step for us on the business aviation side [of the inflight connectivity industry]."
In a statement, Embraer Executive Jets senior vp, marketing Lucianao Froes said: "We are excited to lead the industry with the Viasat solution as it will elevate the user experience for non-stop business connectivity and in-flight entertainment.
"By adopting innovative technologies that deliver higher performance, we are adding true value to our customers' experience."
Related Articles: