Rockwell Collins is re-imagining the economy cabin experience, from seating to decor and cabin service.
The manufacturer's economy seating line has been well received by airlines. Some 30,000 units of its Meridian single-aisle aircraft seat have already been delivered, with a backlog of 360,000 units remaining on the books. This lightweight workhorse – 9 kilos for the baseline product – was designed with contours that optimize space. A 30" pitch yields a 32" pitch feel, Rockwell Collins said at the recent Aircraft Interiors Expo. Southwest Airlines is among the prominent adopters of Meridian.
Rockwell Collins' long-haul Aspire seat product – 11 kilos at baseline – was first introduced to service on United's 777 aircraft as part of a 55-shipset retrofit program. The firm has orders from four customers, though it is not revealing the names of other buyers at this point.
Like Meridian, Aspire claims pitch-enhancing design as well as a cradle articulation system that enhances passenger comfort and offers greater room for under-seat stowage. And like Meridian, Aspire impresses; journalists who attended the Expo remarked on the living space provided to passengers.
Aspire has also been certified for the Boeing 787, and Rockwell Collins is currently working to certify the model for the Airbus A350 and Boeing 777X aircraft programs.
Rockwell Collins' financials underscore the firm's success in delivering economy class – and indeed premium class – innovation. In reporting its fiscal second quarter earnings results, Rockwell Collins said its Interior Systems segment – which was created with the acquisition of aircraft interiors specialist B/E Aerospace on 13 April 2017 – contributed $701 million of sales and $105 million of operating earnings. This boosted overall revenues.
The three main competitors in the economy class seat sector – Recaro, Rockwell Collins, and Zodiac Aerospace – have focused on balancing airline needs to lower costs per seat and optimize fuel burn while making passengers comfortable. To some degree, each succeeds, but the opportunity to improve the economy experience goes beyond seating.
Like Zodiac Aerospace, Rockwell Collins has developed a smart galley product which could improve meal service. The Rockwell Collins connected galley is designed to receive food and beverage orders from crew devices and queue up orders from a central screen, but could also work with orders placed on seatback screens or passenger devices using airline apps that support ordering on board.
This is an area of cabin service that is ready for disruption. Passengers have limited choices on board and little control. Airlines have been stuck in the "chicken, beef or pasta" on a trolley approach for decades.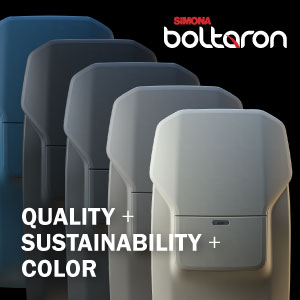 A bit of creative thinking could go a long way to relieve passenger stress, and a number of suppliers – both on the software and hardware side – are already working on integrations that would allow airlines to offer passengers far greater flexibility.
A hot and cold self-service galley, on show at the Rockwell Collins booth during the Aircraft Interiors Expo, uses the Peltier effect to support self-service cold drinks and warm cookies in a single unit.
While the display was intended for the premium cabin (champagne chiller included) the same technology could support new self-serve snack dispensers on aircraft.
Imagine the food automat designed to fit in a cabin, offering warm and chilled foods or beverages with equal efficiency. It would not be a stretch to integrate digital payment solutions and convert these "self-serve" bars into revenue builders.
Rockwell Collins' Crystal Cabin Award winning concepts could also support a disruption of the economy cabin experience. The Secant Luminous Panel can certainly beautify the cabin with a MicroLED rendering of animated images, but could just as easily be used to give passengers information on upcoming service phases in-flight, or become dynamic advertising space on aircraft walls, class dividers – even luggage bins.
Rockwell Collins' Silhouette MOVE class divider, meanwhile, is a particularly elegant solution to a nagging problem of bulkhead economy seating.
While passengers get more room to stretch, they are forced to fight for space in the overhead bin for all of their hand luggage. This is not only difficult on crowded aircraft, it can also prove inconvenient if passengers want to be productive in-flight. By allowing bulkhead passengers to use the space underneath the seat in front of them for storage, Rockwell Collins has added value to those seats.
Whether airlines choose to translate that value into higher fares or reserve them as a prime loyalty upgrade is up to them.
Related Articles: