With passengers expecting an at-home experience in the sky – including accessing the content they want when they want it – inflight entertainment and connectivity company Panasonic Avionics knows it cannot rest on its laurels.
The firm has waved 'goodbye' to the traditional model of simply selling a portfolio of systems and services to airlines and instead embraced a 'digital solutions' approach that sees Panasonic working with its partners "to achieve an outcome", announced CTO David Bartlett at last week's Aircraft Interiors Expo (AIX).
Those outcomes will take many different shapes, with Panasonic remaining flexible and scalable for its partners. But the anchor for this shift is the rollout of its NEXT ecosystem, which was announced at last year's AIX but given meat on the bones when the firm revealed in Hamburg that it will be "the first to put up a cloud on a global level that can scale to what the needs of aviation are".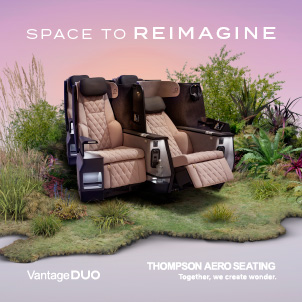 To further this cloud-based vision and reshape the next generation of passenger experience (#PaxEx), Panasonic is opening a new office in Silicon Valley and tapping the assistance of Amazon for analytics and machine learning capabilities.
Moreover, new partnerships, including with inflight catering giant gategroup, will ensure airlines can improve operations via the cloud. Yes, the IoT of inflight catering is coming, and could finally address the problem of massive food wastage in the airline industry.
Initial elements of the NEXT platform will launch in the coming months, with full implementation expected when the Boeing 777X enters service at the end of the decade.
In the following video, Runway Girl Network editor Mary Kirby interviews Panasonic's Bartlett about how the IFEC industry is evolving and what's NEXT for passengers and airlines.
Related Articles: