China recently, effectively, loosened its inflight connectivity restrictions by allowing passengers to use their smart phones in-flight. But while Smiths Interconnect's antenna hardware has supported successful ground tests in China, the firm has not yet seen the China single-aisle IFC market hot up.
"We had several airlines there who witnessed the test. That was a big win for us. But we don't see a lot of movement in the single-aisle market right now. There is not a lot going on there from our perspective," says Ralph DeMarco, VP business development & sales at Smiths Interconnect, which owns the antenna business formerly known as Tecom.
He adds, "The long-range aircraft seem to have it. The ones that leave China, A380s, and other larger aircraft. We see that movement, but the in-country opportunities have been very slow."
Smiths Interconnect is not putting a timeframe on when the China single-aisle IFC market might pick up, with DeMarco admitting, "We are waiting."
The company does have an interest in pursuing opportunities for growth in India, which is moving towards permitting IFC. "It is an area that we intend to explore. We haven't done that yet. I have background in that area and we intend to move in that area," says DeMarco.
When last we checked in with DeMarco, he revealed that the firm was in talks with various stakeholders concerning technology-seeking partnerships. "We are still continuing those conversations," confirms the Smiths Interconnect executive. "Our strategy is to focus on customers who place high value on technology and see technology excellence as an essential component of their success."
Finding a partner to bring electronically steered antennas to market (for hybrid LEO, GEO, MEO networks) makes sense for the firm, but while this is an area of deep study at Smiths Interconnect, DeMarco notes:
We strive to be network agnostic, satellite agnostic, and frequency agnostic. We are going to try to offer whatever the market wants to see. If you want a plain Ku, Ka, we have a solution. Our tail mount product the Ka/KuStream® 5000 can do both. We haven't moved in that direction yet for our fuselage mount because our customer had been Global Eagle and they were a Ku company so we supported that. But, do we have Ka capability? Absolutely, we just need to find the right partner.
At this juncture, it does not appear that Kymeta will be that immediate partner for an ESA, as Smiths Interconnect has "slowly, quietly" parted ways, after announcing a "very loose agreement" with Kymeta a few years ago.
Smiths Interconnect's separate work on the aircraft cabling front puts it in a unique position to support a viable ESA partner. Kai Loh, who serves as assistant product line director at Smiths Interconnect, says the firm is "looking at probably two major new products that are coming down the pipeline in the next six months or so", and one – called "the phase-stable cable assembles" – can support phased array antennas.
When your author visited with Smiths Interconnnect cabling rival Gore in Delaware late last year, Gore highlighted the performance of its PTFE-based cables to support inflight connectivity (including the European Aviation Network). But Loh says Smiths Interconnect's technology is different. "If you look at any kind of flexible cables like the one Gore mentioned, over the temperature the characteristics of that cable go through changes. Let's just say it's a result of using the PTFE," he says.
"We have new materials for a new way of fabricating cables nowadays that will make the changes more stable and less significant. The phase of the cable is actually very stable for the temperature range which make it very desirable for radar applications, particularly phased array radars."
The cabling technology is something the firm would offer "as a kit, as a subsystem", notes DeMarco, adding, however, "I mean ideally we'd like to sell the antenna, the high power transceiver, the radome, the cabling, and the connectors all in one turnkey solution."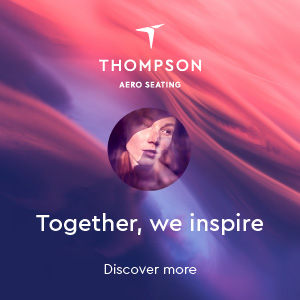 While Smiths Interconnect pursues this work, it is very active right now on its tail mount antenna solution for military applications, with DeMarco saying: "We are talking to a lot of customers about installing that particular system on special mission aircraft in military operations."
On the business aviation front, at NBAA 2017, "we talked to aircraft manufacturers that tend to sell commercial aircraft to the military for training vehicles and also for ISR, Intelligence surveillance reconnaissance. So we sell this application to that airframe and then they militarize it for their use."
In the commercial space, Smiths Interconnect obviously continues to support Global Eagle's use of the Tecom/Qest-developed KuStream 1000 traditional Ku-band antenna on Southwest, Norwegian and others. But have discussions progressed with Panasonic on working together as PAC's solution rolls out at Southwest (now on at least 18 aircraft)?
"I think last we spoke we were working with Panasonic and we're still going through that process and we plan to support both Panasonic and Global Eagle in accordance with their agreements with Southwest," says DeMarco.
Broadly, the larger Smiths Group is a very large company with north of $4 billion a year in revenue. Its Smiths Detection business is one area where the firm engages in cross pollination with Smiths Interconnect "because we do millimeter wave technology. Some of the products that we create are scanning type devices and we do work with Smiths Detection in certain areas".
Related Articles: