Expanding its inflight entertainment product range in order to segment its market, Thales is now offering two IFE system types that bracket the Avant system seen on a number of airlines. A slimmed-down version called Core and a beefed-up system named Prestige are aimed at airlines with different levels of expertise and desire to be engaged with the process.
"On the aircraft, we have three offerings now," Dominique Giannoni, chief executive of Thales' Inflyt Experience IFE business, tells Runway Girl Network. "One is called Core, sharing the same architecture and hardware as Avant, but it's the streamlined configuration. It's designed to go fast to market, and with less interaction with an airline."
Giannoni referred to Core as "prêt à porter", ready-to-wear, with Prestige as "haute couture". He and his Thales colleagues were amused when RGN suggested that Avant might be, therefore, "department store".
For Core, Giannoni says, "We've found out that many airlines want to know: "what is your configuration? What do you propose?" On the hardware side and the GUI, named Select, we've worked with the Native design agency in order to prepare a preconfigured configuration. It is straightforward and cost effective."
Giannoni and his Thales colleagues confirm to RGN that, while functionality (tiling, colour, and so on) will be customisable, fonts and other choices will not. "What we have streamlined is the configuration an airline can choose from.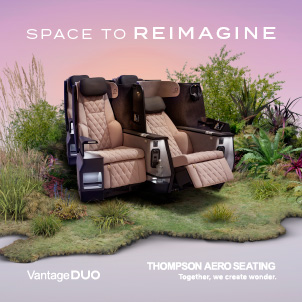 You will see the specific user experience side: we've worked on designing building blocks that the airline can assemble, but really we are driving the process. The advantage for the airline is this is all configured by content, so it is very streamlined."
From an airline resourcing perspective, "it is a very straightforward interaction, so you don't need a lot of people to work on it. It is not a lengthy process," Giannoni notes. "You can change it quite often because it's content-driven. It's really a cost-effective system and way of working."
Core is, in essence, the out-of-the box solution. "Then we still have Avant, where you have a bit more flexibility, passenger control units, you can work on designing the UI," Giannoni says. Thales notes that Avant is flying on more than 500 aircraft.
So, is Core a slimmed down Avant or newly engineered? "It's both. It's built on the legacy of Avant," Giannoni says.
Above Avant, for the airline that wants to customise every aspect of the experience — including, Thales communications exec Marie Remboulis tells RGN, the 2016 fifty 777X shipset order for Emirates — the company offers Prestige.
"Prestige is our brand new system," Giannoni says. "It's 4K, fully integrated, and it's also a way to work with the airline that is like a co-development. We have a number of workshops: they have access to our digital factory in Thales. It's really a partnership."
The difference between the three, Giannoni says, is "a question of how we work with the airline. All of the three solutions, Core, Avant and Prestige, are powered by our digital platform, which is the ground platform Inflyt 360."
Inflyt 360 is "the place where we are collecting and processing all the data we get from the aircraft or from other sources. We prepare personalisation, targeting ads, monetisation and all the content processing, and then we push to the aircraft," Giannoni explains.
In architecture terms, Core and Avant are the same, Giannoni confirms. Prestige, meanwhile, comes with a 10 Gbps backbone as a new platform conforming to Boeing's planned standard for the 777X.
Core and Avant, it's the same architecture. With Prestige, it's a 10 gig backbone, because it's a new platform.
Related Articles: