Having opted to take a dual-source approach to inflight connectivity, Southwest Airlines is now flying with aircraft that have been fitted with Panasonic Avionics' Ku-band satellite Internet and television service.
The low-cost carrier, which is a long-time customer of Global Eagle, currently has "18 aircraft flying with Panasonic service", a Southwest spokeswoman recently confirmed to Runway Girl Network.
RGN sought comment on whether those 18 aircraft represent retrofits on aircraft already fitted with Global Eagle Ku or are brand new birds.
"Those are all brand new aircraft. Panasonic is currently scheduled to service select new -800s delivered to Southwest," she says. "No retrofits of aircraft planned at this time."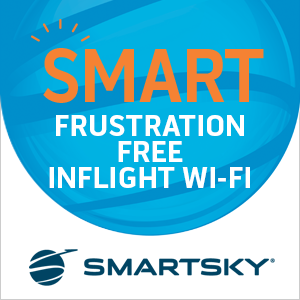 It's not yet clear whether Panasonic or Global Eagle will be the service provider on Southwest's new Boeing 737 MAX 7, which flew for the first time on 16 March.
The Southwest spokeswoman tells RGN, intriguingly, "As for the MAX 7, once we take delivery of that aircraft, we'll be able to confirm the service provider."
Moreover, it's unclear just how many Southwest aircraft will ultimately be fitted with Panasonic's system; those details have been kept secret. But in taking a dual-source approach to connectivity, Southwest is able to keep its connectivity providers on their toes in a bid to offer a good #PaxEx. Global Eagle's connectivity service on Southwest has already improved, on the heels of well-reported Ku capacity boosts by the firm.
The Panasonic connectivity rollout has been stealthy at the airline. Clearly the front-facing portal offering and associated services – free live television and $8 Internet option – is akin to what is already provided via Global Eagle or else passengers would be chattering about it.
The system is understood to be Panasonic's third generation offering, which includes a new high-throughput modem. Earlier this year, Panasonic said United Airlines and Southwest would be the first carriers to benefit from the new technology.
Related Articles: