Having committed to roughly $30 million in buyer furnished equipment for the first few months of 2018, and expecting to order $100 million in BFE for the full year, SMBC Aviation Capital is growing increasingly vocal about its wishes for #PaxEx. The Ireland-based aircraft lessor, which is owned by a consortium of Japanese firms, is eager to see the inflight entertainment and connectivity sector adopt more standards that will permit easy system swaps when aircraft come off lease and are placed with new airline customers.
SMBC is in an increasingly worthy position to make some requests. According to the firm, it boasts a portfolio of 670 aircraft, largely narrowbodies which are "owned, managed and committed" at 100 airlines; is readying to take its first Boeing 737 MAX and Airbus A320neo twinjets at the end of this year; and is edging into widebody leasing with initial sale-and-leaseback deals, including an Airbus A350 arrangement with Asiana.
Head of technical Diarmuid Healy tells Runway Girl Network that SMBC seeks to steer airframers towards standards in the early stages of aircraft development. For instance, he says the lessor was among those who encouraged Boeing "to redesign the avionics and E/E bay to have a simple head-end system for all IFE" so that if an airline wants to change the system, put in a new server and "stream throughout the cabin", it can do so more easily.
This is about ensuring it is "easy and cheap" to take off a system, and replace it. It makes life "a little less arduous", and will get "even less so" over time, he suggests.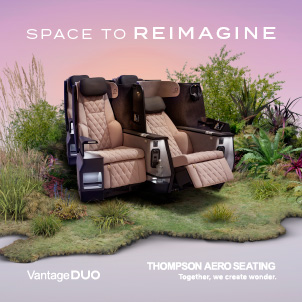 All #PaxEx equipment decisions affect the asset, and given the fact that the average age of SMBC's aircraft assets are 4.5 years old, the firm is paying close attention to retrofit costs. If an airline has a full audio/video on demand (AVOD) entertainment system in business and economy on its leased aircraft, for instance, the system is "likely to be obsolete at the end of the lease", says Healy. SMBC must consider how much it will cost to reconfigure the aircraft and move it to the next airline. "The reinvestment is a key metric."
Company SVP procurement Jerry McCormack notes that narrowbody aircraft which come off lease generally require a complete retrofit before being placed at another airline. Seating configurations are quite different, he points out, with some carriers flying two-class layouts with business class seats for eight, 12 or 16 passengers. "In cases where we have AVOD, we will possibly see that coming out and being replaced, and then on [the] second lease going back to economy and in-seat power and streaming." In general, SMBC is able to secure "one lease of an AVOD" fitted aircraft, rarely more, because of its bespoke nature and obsolescence.
Indeed, obsolescence is a discussion that SMBC has had with all IFE providers, according to Healy. "They are all conscious of it." It's true that IFE stakeholders make money from selling airlines on next generation systems "so there is probably a little bit of conflict of interest", but SMBC is heartened that some standards movement is afoot.
Similarly, on the inflight connectivity front, SMBC's activity "is largely focused around Airbus and Boeing and getting to the point where the mounting is all the same, where you can take off Ku and put on Ka, or vice versa", says Healy.
The notion of being able to "bolt on" a connectivity system with ease is among the discussions being had at Boeing's twice-yearly leasing company advisory board meetings, he says. SMBC wants to make sure the decisions Boeing makes on IFEC will not impact residual value.
SMBC executives are in attendance at the Aircraft Interiors Expo this week in Hamburg. "It's on our calendar every year," says Healy, explaining that the firm needs to understand the trends and all the players. One clear trend is the requirement for in-seat power, with a minimum of USB in economy, on narrowbody aircraft. It has become the cost of doing business, agrees Healy.
Broadly, SMBC has two routes to market. "Our orderbook, [where we] go to Boeing and Airbus, place an order and then start looking for customers … We sit down with them and agree the specifications, all the BFE equipment. Jerry is responsible for negotiating that with the airline. He would then procure all the material, on dock in Toulouse or Seattle, that's one route to market. Another is sale-and-leaseback."
As SMBC's portfolio grows, so too does its voice. "They are listening to us," says Healy in reference to airframers and #PaxEx stakeholders. At any given time, SMBC has several IFE/seat integration projects rolling in support of its customers. But the current, more bespoke nature of this slice of the industry is "nowhere near perfect yet", he suggests.