Panasonic Avionics Corporation (Panasonic) and Turkish Airlines have today announced a major commitment for inflight entertainment and connectivity (IFEC) solutions to be line-fit installed on 50 wide-bodied aircraft the airline has on order, and with options for a further 10.
Panasonic's X-Series IFEC system, along with its rivetMEDIA solution and a suite of connectivity services including inflight Wi-Fi, mobile phone use, and global live television, will be fitted on 25 Boeing 787-9s and 25 Airbus A350-900s, with the first aircraft due to be delivered to Turkish Airlines in June 2019.
This system will further enhance Turkish Airlines' passenger experience with a personalized home theatre experience that includes HD screens for each passenger, audio and video entertainment on demand, capacitive multi-touch screens, inflight shopping and hospitality features, route-based inflight entertainment, passenger survey functions and USB charging facilities.
Hideo Nakano, Chief Executive Officer of Panasonic Avionics Corporation, said: "Turkish Airlines has been a highly valued customer for many years, and we are very honored to be working with them on this long term partnership."
"We believe that our inflight entertainment and connectivity solutions for Turkish Airlines' future wide-body fleet will enhance passenger engagement and loyalty, and deliver greater revenue and brand value."
M. İlker Aycı, Chairman of the Board and the Executive Committee of Turkish Airlines, adds: "Each innovation that we steadily add to our diversified services offered for our esteemed passengers means great prides for us. Today, we're proud again to launch another great comfort that will add a new dimension to our unparalleled flight experience. The introduction of those innovative inflight entertainment and connectivity (IFEC) solutions stands for a substantial part of Turkish Airlines' continued commitment to improve the passenger experience to an utterly different level."
The system will include Panasonic's unique Passenger Data Integration (PDI) service, which will allow Turkish Airlines to add higher levels of personalization to its inflight experience.  PDI will also enable Turkish Airlines to seamlessly recognize the travel preferences of their guests and recommend content, services and amenities specific that will enhance their experience both in flight and in their destination city.
PDI will leverage a custom-designed Companion App that will enable passengers to securely pair their mobile device to the IFE system and personalize and enhance their entertainment experience through capabilities that include custom playlists and a 'second screen' environment.
rivetMEDIA, which combines one of the aviation industry's most advanced inflight marketing platform with a dedicated sales and service team, will deliver all the key advertising services needed by Turkish Airlines, their external partners and paying advertisers.
The technology enables airlines to target by seat class, route, device, language, and passenger data. This can allow Turkish Airlines to optimize promotions for a wide range of optional services, partnerships, loyalty programs, and paid advertising all within a comprehensive passenger experience. The platform delivers video, native display, and sponsorship options for high-impact, fraud-free marketing with best-in-class targeting and results.
Turkish Airlines' aircraft also will be fitted with Panasonic's new satellite modem which offers bandwidth up to twenty times greater than previously available, enabling a host of next generation inflight connectivity benefits from high quality live television programming to fast internet, video streaming, inflight mobile phone service and greater bandwidth for crew applications.
This will also include seamless delivery of live TV channels including Sport 24 and Sport 24 Extra, which offer live coverage of the world's most popular sporting events; CNN International; Euronews; CNBC; NHK; Sky News Arabia and BBC World News. The television service will also feature TRT World Turkish News Channel — a new channel from Turkey's national public broadcaster, TRT.
Passengers will also receive live text news customized for Turkish Airlines by Anadolu Agency (AA), a Turkish News Agency.
The new modem and connectivity solutions are an integral part of Panasonic's third generation network, which uses advanced satellites to cover all high air traffic areas across the globe with high throughput and extreme throughput spot beams and wide overlay beams that support Panasonic's global television service.
This global, high bandwidth connectivity will enable Turkish Airlines' passengers to stay continually connected throughout long-haul flights across all parts of its global network.
As part of the contract, Turkish Airlines has the option to equip the A350 aircraft delivering beyond 2022 with its own direct affiliate's IFE system, pending line fit offerability. The connectivity for those aircrafts will still be equipped by Panasonic.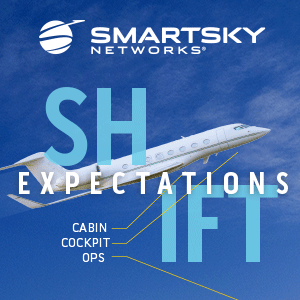 About Panasonic Avionics Corporation
Panasonic Avionics Corporation is the world's leading supplier of inflight entertainment and communication systems. The company's best-in-class solutions, supported by professional maintenance services, fully integrate with the cabin enabling its customers to deliver the ultimate travel experiences with a rich variety of entertainment choices, resulting in improved quality communication systems and solutions, reduced time-to-market and lower overall costs.
Established in 1979, Panasonic Avionics Corporation, a U.S. corporation, is a subsidiary of Panasonic Corporation of North America, the principal North American subsidiary of Panasonic Corporation. Headquartered in Lake Forest, California with over 5,000 employees and operations in 80 global locations, it has delivered over 9,000 IFE systems and 2,000 inflight connectivity solutions to the world's leading airlines.
For additional information, please visit www.panasonic.aero
About Turkish Airlines
Established in 1933 with a fleet of five aircraft, Star Alliance member Turkish Airlines has a fleet of 326 (passenger and cargo) aircraft flying to more than 302 destinations worldwide with 253 international and 49 domestic. More information about Turkish Airlines can be found on its official website www.turkishairlines.com or its social media accounts on Facebook, Twitter, Youtube, Linkedin, and Instagram.