Kontron, a leading global provider of embedded computing inflight entertainment and connectivity (IFE&C) equipment, today announced the addition of the ACE Flight™ 1600 Gateway Router to Kontron's best-in-class and highly reliable ACE Flight product line.
The ACE Flight 1600 Gateway Router is a small form factor, avionics networking platform, purpose built to provide enterprise-class security and connectivity to and throughout the aircraft. Consolidating wireless connectivity, switching, routing, and security, means airlines, business jet operators and service providers can economically deliver new applications and services to the aircraft within a single securely connected platform.
Like all of Kontron's avionics products, the ACE Flight 1600 Gateway Router is based on an open architecture, standards-based building blocks that support long life and maximum product flexibility. Two software options are available from Kontron for this product:
Turnkey software application installed that supports network routing, wireless, security, and operator interface functions. No user software development is required.
Application-ready solution with integrated Linux operating system, board support package, drivers, libraries, APIs, Built-in-Test and example code. Users are able to install third party applications or develop their own
With either of these options, Kontron accelerates time-to-market by providing hardware and software components that can be rapidly integrated. Long-term service contracts are available from Kontron for extended hardware warranty, software support and security module updates.
Features of the ACE Flight 1600 include the latest in wireless standards: 4G LTE Advanced-Pro cellular which supports on-ground connectivity throughout the world; and 802.11ac WiFi for connectivity to passengers, crew, pilot and ground operations. The platform also supports routing for both wireless and wired network connections, and has an internal L2-managed Gigabit Ethernet Switch. A typical routing application is the secure interface from client devices onboard the aircraft to SATCOM or Air-To-Ground connectivity links. The ACE Flight 1600 also supports other important communication channels such as ARINC 429, ISDN, aircraft discrete I/O and USB ports.
The ultra-small form factor and fanless design of the ACE Flight 1600 gives installers maximum flexibility. Product integration and maintenance considerations on the aircraft have been optimized. The aircraft connections feature quick installation locking connectors for the I/O interfaces and quick-connect RF connections for the cellular and WiFi RF interfaces. The front I/O panel of the ACE Flight 1600 allows maintenance access to the dual mini-SIM slots, USB, serial, Ethernet and Display ports.
"The ACE Flight 1600 Gateway Router accelerates time-to-market by providing integration-ready network functionality to the connected aircraft.  With it, airlines, business jet operators and service providers can solve a broad range of secure wireless connectivity and routing issues on the aircraft within a single platform," said RJ McLaren, Avionics Product Manager at Kontron.
"When we conducted our original market requirement analysis for the ACE Flight 1600 product," McLaren continued, "we realized that Kontron had a unique opportunity to create a new secure routing platform at half the size and half the cost of existing solutions. The response from our launch customers and others in the market has been overwhelmingly positive."
Kontron has secured initial program commitments for several hundred ACE Flight 1600 production units from two major aerospace customers, with installations ramping up in the second half of 2018.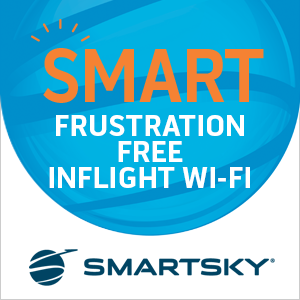 Kontron will showcase the new ACE Flight 1600 Gateway Router and the company's complete product line for the commercial aviation market at Aircraft Interiors Expo in Hamburg, Germany, April 10-12, in Kontron's booth #E24, Hall 2.
For more information on the Kontron ACE Flight AF1600, please visit: https://www.kontron.com/products/systems/aircraft-computers/servers/ace-flight-tm-1600-gateway-router.html
Follow Kontron:
– Kontron on Twitter: https://twitter.com/kontron
– Kontron on LinkedIn: https://www.linkedin.com/company/kontron
– News about Kontron can also be found in the official Kontron blog: http://www.kontron.com/blog
About Kontron – An S&T Company
Kontron is a global leader in IoT/embedded computing technology (ECT). As a part of technology group S&T, Kontron offers a combined portfolio of secure hardware, middleware and services for Internet of Things (IoT) and Industry 4.0 applications. With its standard products and tailor-made solutions based on highly reliable state-of-the-art embedded technologies, Kontron provides secure and innovative applications for a variety of industries. As a result, customers benefit from accelerated time-to-market, reduced total cost of ownership, product longevity and the best fully integrated applications overall.
For more information, please visit: www.kontron.com