Inmarsat, the world's leading provider of global mobile satellite communications, today announced a major milestone for its next-generation GX Aviation inflight broadband service, after completing its 250th installation with airlines worldwide.
Within only a year of entering commercial service, GX Aviation has been installed on a wide range of different sized aircraft, from Airbus A320s to Boeing 777s, and the Airbus A380 superjumbo. Airline customers with installed aircraft include Lufthansa, Austrian Airlines, Eurowings, Qatar Airways, Singapore Airlines, Air New Zealand and Air Astana.
GX Aviation has also won a string of prestigious awards for offering state-of-the-art, uninterrupted, global inflight connectivity. The service enables passengers to browse the internet, stream videos, check social media and more during flights, with connectivity that is comparable to the mobile broadband services they may receive on the ground.
Accolades have been received from the likes of Inflight Middle East, Inflight Asia Pacific, and the Civil Aviation Administration of China. In addition, Inmarsat Aviation was recently named the 'World's Leading Inflight Internet Service Provider' at the World Travel Awards.
Philip Balaam, President of Inmarsat Aviation, said: "GX Aviation continues to be a major success story, not only for Inmarsat, but for the global inflight connectivity market. We're still within our first year of commercial service, so the fact that the service has been installed on 250 aircraft speaks volumes for its acceptance as the gold standard by airlines worldwide.
"Reaching this milestone so early in the launch of GX Aviation is testament to the industry-leading service levels that airlines and their passengers are experiencing with the service. We celebrate this milestone with our world-class Value Added Resellers (VARs), Rockwell Collins, SITAONAIR and Thales, and ecosystem partners such as Honeywell and Zodiac Inflight Innovations. Together, we are committed to keep developing GX Aviation, keeping us ahead of other aviation connectivity solutions in the market."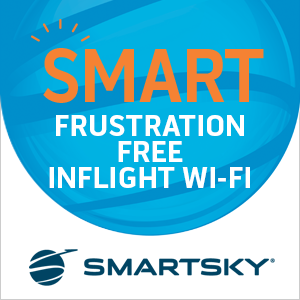 GX Aviation is the world's first and only globally available, high-speed inflight internet service delivered through a wholly-owned and operated network of High-Throughput Satellites (HTS).  As the world's leading mobile satellite communications operator, Inmarsat continues to invest and further develop its advanced network. The company will be launching three next-generation very high-throughput (VHTS) satellites, starting next year with its fifth GX satellite (GX-5). This strategy is focused on layering additional capacity to the GX global network to meet escalating demand from airline customers in specific regions.
Airlines connect to the GX network using exclusive new JetWave terminals produced by Honeywell Aerospace. The terminals are designed for ease of installation and maintenance to assure the lowest downtime for any cabin connectivity solution in the market, allowing installation with minimal labour and using standard tools available in maintenance hangars.
About Inmarsat
Inmarsat is the leading provider of global mobile satellite communications services. Since 1979, Inmarsat has been providing reliable voice and high-speed data communications to governments, enterprises and other organisations, with a range of services that can be used on land, at sea or in the air. Inmarsat operates around the world, with a presence in the major ports and centres of commerce on every continent. Inmarsat is listed on the London Stock Exchange (ISAT.L). For more information, please visit www.inmarsat.com.
The Inmarsat press release newsfeed and corporate updates are on @InmarsatGlobal.