Eurowings is set to take off from Düsseldorf for New York this Saturday as the first low-cost airline with a business class – BIZclass – that also promises sophisticated, high-quality catering.
The new BIZclass concept has been co-developed by Retail inMotion with the support of its sister company within the LSG Group, LSG Sky Chefs.
The high-quality three-course menu, which Eurowings will serve its BIZclass passengers high above the clouds, will impress flying gourmets who value sophisticated, healthy cuisine with a modern twist. From poke bowls with salmon or tuna to soba noodles with shitake mushrooms or a traditional beef goulash, BIZclass passengers will experience a well-chosen menu.
Healthy, tasty snacks from the Hamburg start-up Foodist, such as apple and kale crisps, and licorice specialties from Denmark by Lakrids round off the new food and drinks concept of the Eurowings BIZclass.
When booking, Eurowings BIZclass passengers can already look forward to a cold craft beer from the Munich brewery "Crew Republic", a dry Sauvignon Blanc from the Mainz start-up "Geile Weine" [Wicked Wines] or an organically grown wellness tea with an intense aroma from Pukka.
In addition to the catering concept, the new BIZclass features a spacious seat which, at the touch of a button, can be converted automatically into a two-meter bed with a horizontal reclining surface (full flat).
Katrin Rieger, Vice President Customer Experience & Product at Eurowings says, "Having presented our new BIZclass seat for the first time at the ITB in Berlin in March, now, just ahead of our first BIZclass flight to New York, we're really looking forward to surprising our guests with a high-quality service which will be much more modern and laid-back than you'd expect from a classic business class."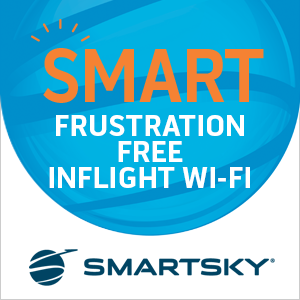 "We are pleased to have been instrumental in the conceptualization of the new BIZclass offering from Eurowings," commented José Lirio Silva, Retail inMotion's Head of Onboard Retail Europe. "By leveraging the expertise of the LSG Group, we have been able to help Eurowings create a truly remarkable concept for their guests."
Retail inMotion, based in Ireland, became a fully integrated member of the LSG Group in 2016. The company's culture of collaboration and innovation continues to help it to steadily strengthen its position in the global onboard retail industry.
Retail inMotion offers propriety products, solutions and services in onboard retail IT technology, crew training, product distribution, inflight entertainment, and fully outsourced onboard retail services.