Yet another airline – Virgin Atlantic – has rolled out a layered version of prices and amenities for those traveling in economy class.
The London-based carrier announced Wednesday that, beginning Spring 2018, it will offer three different economy class fares: "economy delight", "economy classic" and "economy light".
The new economy cabin fare categories come at a time when full-service carriers are striving to compete with low-cost, budget carriers; they allow Virgin Atlantic to offer the frills-free basic economy fares that mimic those of Delta, its joint venture partner.
Here's how the products and categories differ:
Economy delight, the top level of economy class tickets, will offer passengers a seat with 34″ pitch, free advanced seat assignment, priority check-in, priority boarding and a free checked bag.

Economy classic offers the current 31″ economy seat pitch, a free checked bag, and adds free advanced seat assignments.

Economy light ticket holders will get a seat with 31″ pitch but will have to wait until check-in to get a seat assignment and will be charged for any baggage beyond hand luggage. Economy light tickets will also be non-refundable and non-changeable.
Along with these new economy cabin ticket categories, Virgin Atlantic will remove the word economy from its proper premium economy service, which includes amenities such as wide leather seats with 38″ pitch.
"Increasingly customers want more value and more choices," suggests Craig Kreger, CEO of Virgin Atlantic. "They want a more affordable Virgin experience and millennials, particularly, tell us they want a cheap entry product."
The three new levels of economy class tickets do that, says Kreger, but don't require the airline to skimp on service in the sky.
"We didn't want to make cabin crew have to differentiate between customers in economy" so no matter which type of economy class ticket a passenger has purchased, everyone still gets a three-course meal, snacks, complimentary drinks, a USB charger at every seat, inflight entertainment and access to (paid) wifi next year, says Kreger.
To accommodate the new economy class seating, Virgin Atlantic is retrofitting its fleet to provide up to 36 "economy delight" seats (with 34″ legroom) on every flight.
In addition to the onboard changes, Virgin Atlantic is introducing automated bag drops at London Heathrow and Gatwick airport and has created its own custom scent.
"We wanted walking onto a Virgin Atlantic aircraft to feel different than walking on board any other aircraft and we recognized that scent really complements the other ways we differentiate our product and brings it to another level," says Daniel Kerzner, Virgin Atlantic's VP for customer experience.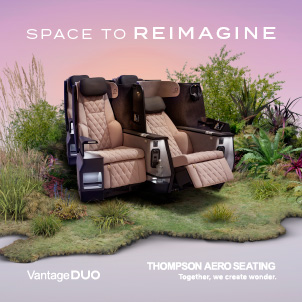 The scent is appropriately named "Air" and was developed by British candle maker Rachel Vosper.
"She thought about the four continents we fly to and she looked at the destinations we serve and she started bringing back ingredients and spices and fruits from those destinations," says Kerzner, "We then did smell exercises and smell tests to find the ones we felt represented and embodied the airline."
Candle maker Vosper then created a custom scent inspired for Virgin Atlantic that has notes of lemon, rose and vanilla, as well as essential oils such as lavender and eucalyptus.
Passengers will begin noticing the scent at Virgin Atlantic check-in and gate areas, in the airline's Clubhouse lounges, on jet bridges and at boarding. Those who really like the scent will also be able to purchase "Air" candles for their home.
Related Articles: