Inflight entertainment and connectivity giant Panasonic Avionics last fall announced plans to enter into a strategic partnership with biometrics and identity innovation company Tascent to bring biometric passenger identification to every stage of the passenger journey – pre-flight, in-flight over IFEC systems, and on arrival.
Though Tascent is a relatively new name in the industry, it has a strong heritage in iris recognition and multimodal high-throughput and mobile biometrics stemming from its acquisition of AOptix Technologies' Identity Solutions business unit. "Building on this foundation, Tascent's identity solutions are designed to offer intuitive end-user experiences through a flexible 'open-architecture' technology approach, enabling adaptable and familiar interfaces that can be readily integrated into real-world applications," says Tascent founder and CEO Alastair Partington.
"Panasonic Avionics has an outstanding track record of air travel innovation. They're at the forefront of shaping the future of air travel, and their vision is that the future will be driven by an amazing customer experience. We're excited that biometrics generally, and Tascent specifically, is a part of this visioning. Through this partnership, we're headed towards a future where biometric technologies can improve the air traveler experience for all."
During last month's CES show in Las Vegas, your author got the chance to see Tascent technology in action at Panasonic's stand; the so-called Tascent Insight One and Tascent Mobile devices used iris scanning and biometric sensors to recognize this traveler based on individual biomarkers. In the following interview with Runway Girl Network, Partington details what the Panasonic partnership means to the firm, and how he sees biometrics evolving in #PaxEx.
Runway Girl Network: At what stage are Tascent and Panasonic in terms of development of this product? And are you in discussions with any potential partners to launch a trial?
AP: The Tascent Insight One and Tascent Mobile devices that you saw at CES are innovative, easy-to-use biometric scanners that are available today. What Panasonic and Tascent are doing is to look beyond endpoint devices to consider how to make air travel as seamless, effortless, and enjoyable as possible. In the current stage of this partnership, we have a few undisclosed relationships and trials in discussion to ensure that the next generation of embedded systems is equipped to support identity applications that enhance the passenger experience. As we continue to look at the entire passenger journey, the applications for biometrics are endless – with streamlining customs and immigration processing being just one of the use cases.
Today, Tascent is involved in several projects that aim to enhance aspects of the passenger journey, and we are expecting to see further deployments "go-live" in 2018. One example: Tascent's mobile biometric device was recently used by specialist airport integrator Human Recognition Systems in a proof-of-concept at London Gatwick and Dubai airports: passengers transiting through Dubai could opt to have their biometrics enrolled into a secure database and used as a single token for authentication at immigration. It's great to see biometric technologies finally beginning to deliver on the promise of seamless end-to-end travel!
With the strategic partnership between Panasonic and Tascent, we're creating an end- to-end vision of seamless travel, demoing concepts that can help to turn that vision into a reality, and seeking opportunities to partner with airlines and airports for innovative deployments.
RGN: Is iris scanning and facial recognition the ideal duo for the customs and immigration clearance in your opinion, or are you testing other biometric systems (finger prints, other finger geometry, vein recognition, retina scanning, voice recognition)?
AP: In general, yes – we feel that touchless biometrics are most suitable for passenger authentication. Touch-based systems can vary widely in real-world performance due to finger and/or platen conditions, and come with hygiene concerns that are undesirable for the travelers. Regarding touchless biometrics, iris and face are an ideal combination, as they can be collected simultaneously, in one simple process that is intuitive for travelers regardless of their background. Iris recognition provides outstanding biometric identification strength, enabling tokenless travel, whereas face recognition is ubiquitous and common to many systems (including being stored on electronic MRTDs). Used in combination, they provide the level of flexibility, usability, and accuracy that the air travel experience demands – and deserves.
Voice recognition, while touchless by nature, is not well-suited to the passenger journey due to challenges around background noise, speed of capture, and customer perception. Another option might be touchless fingerprint capture, which is an emerging capability now offered by a couple of vendors. However, this technology is new, in many cases is non-intuitive for non-technical or non-acclimated travelers, and fingerprint capture retains a stigma due to its use for criminal background-checking.
RGN: One of the most fascinating parts of my conversation with Panasonic at CES was discussion around the possibility of potentially bringing Tascent technology to in-seat IFE systems so that passengers could clear customs and immigration before landing. It would be such a coup not to have to wait in a long line post landing. What type of regulatory hurdles would need to be surmounted in order to make this happen? And from a tech perspective, is this sort of scenario envisaged as being tied to the Panasonic companion app for airlines? And do you think passengers – perhaps particularly the millennial passenger – is ready for this tech from a privacy standpoint? What about the older demographic?
AP: The value proposition for integrating biometrics into IFE systems will be constructed from multiple use cases, which will combine to offer a superlative travel experience. These use cases may include customs and immigration clearance, but our intention is to go far beyond it and consider many different aspects of the passenger journey – consider, for example, how your journey could be transformed through the use of in-seat biometric recognition for transparent personalization, payment authorization for in-flight purchases, and customized IROP handling?
With customs and immigration clearance being a common touchpoint in all international journeys, we believe that it makes sense to offer passengers a range of convenient choices to expedite these processes. In-seat clearance could well be one of those options: different traveler demographics have different preferences and different privacy concerns, and these will be best accommodated by offering them different clearance options. For example, my mother would feel extremely uncomfortable using a smartphone app to clear customs and immigrations, but she'd more than happily follow clear instructions on a trusted seatback unit at 38,000 feet!
Tascent is working with Panasonic to help provide passengers with options. Biometric technology is coming to IFE systems, but passengers will individually decide how they want to be served.
RGN: What's the next steps for Tascent and Panasonic's partnership?
AP: Panasonic Avionics and Tascent are collaborating on the development of a strategic vision that describes how the creation of a flexible biometric identity ecosystem might enable the customer journey of the future. In support of this, Tascent has had the pleasure of speaking with Panasonic Avionics' customers at a number of global tradeshows, seeking their input on business priorities and technology preferences. It's a very exciting space, and there is huge potential for biometrics to transform the air travel industry in the coming decade. We're expecting to announce next steps in our collaboration later this year!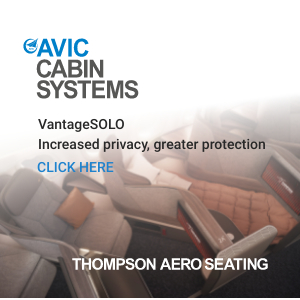 RGN: Is Tascent working with any other companies in the inflight #PaxEx sector (or indeed pre- or post-flight realm) that we should be aware of?
AP: Tascent is working with a variety of global partners to deploy solutions that enhance the passenger experience across both the pre- and post-flight applications. With a geographic focus in the US, Middle East, UK, and Asia-Pacific, we're working with integrators and aviation specialists such as NEC, Human Recognition Systems, Emaratech, and others to deploy biometric solutions across air travel applications. These partnerships complement the same vision that drives the partnership between Tascent and Panasonic Avionics. Each effort strengthens the same ecosystem that will help drive innovations to enhance the passenger experience.
Related Articles: