Anyone who has children can tell you that there is a fine, ever-shifting line in the sand between so-called "cool" stuff and "little kiddish" stuff, and heaven help the parent, brand, television show, or movie who veers too far in either direction.
But every once in a while something comes along that ticks all the right boxes with kids of all ages at the same time and Disney Tsum Tsums are just that something.
Based on characters from Disney Tsum Tsum, the best-selling Japanese mobile app stacking game which has spawned toys, stuffed animals, and even an animated series, Tsum Tsums are stylized, oval-shaped heads of Disney/Pixar characters that have proven to be hugely popular with Disney fans of all ages.
Tsum Tsum products and collectible toys are particularly popular with children, which makes Saudi Arabian carrier Saudia's Disney Tsum Tsum kid kits among the hottest airline amenity offerings for children in the sky.
Recently honored with the Parent's Favorite Products prize at the International Tillywig Toy & Children's Product Awards, Saudia's kid kits were designed for the carrier through a partnership with the award-winning team of inflight experience specialists at Buzz.
"The Tillywig Award assesses entertainment and educational value, ease of use, replay value, quality, fun factor, creativity, and if the product encourages new ways of thinking or promotes physical development," says Leonard Hamersfeld, director of Buzz.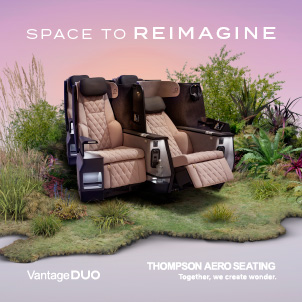 "At Buzz, we challenge ourselves to develop products that continually push the boundaries of design," he adds. "We are extremely passionate about the work we do, and the collaborations with our clients. So to be acknowledged with an award is a great achievement for our airline partners, as well as our teams. Saudia places high value on the family travel experience and are industry leaders in providing kid's products that are retail quality, functional, and innovative."
Hamersfeld points out that the award comes from parents, who can be just as fickle, if not more so, about their amenity kits than their kids.
Perhaps the coolest feature of Saudia's new Disney Tsum Tsum kid kits is how they cleverly bridge the gap between digital and analog inflight entertainment for children.
"We understand that technology is as predominant with children today as it is with adults, and is now a key part of entertaining kids on-board," says Hamersfeld.
"Integrating physical products is an important focus in children's development and play patterns. With the Saudia Disney Tsum Tsum kits, we wanted to ensure a balance of both tech and multifunctional activities to keep kids engaged on-board. One of the kits contains a tech stand that can hold various sized devices, and doubles as a game and drawing board with electrostatic stickers, dry erase pencils and microfibre wipe. The tech stand is ideal for multi-tasking kids who work and play with both tech products and enjoy drawing."
The fact that the kits are both insanely cute and highly collectible doesn't hurt much either, jokes Hamersfeld.
"Children love collecting and the notion of collectability is stronger than ever [with them]. We also find that as children are always engaging with the world around them, it is important that we stay ahead of the global play trends to develop dynamic products. Our team is constantly tracking trends [and] conducting detailed research before developing our product innovations. Our research spans trend analysis, customer insights and online research. We also rely on conducting focus groups with real kids to do on-the-spot observational reviews and product testing to validate our findings."
And, not surprisingly, notes Hamersfeld: "The kids provide invaluable and incredibly honest feedback!"
Related Articles: