Delta Air Lines' senior vice president – inflight service, Allison Ausband, originally wanted to be a radio announcer when she studied journalism in college. "But something was missing. I wanted to be a part of a larger corporation, one with a highly respected culture," she recalls. Being from Atlanta, she set her sights on Delta, in the hopes of securing a public relations job at the carrier.
When Ausband began working at Delta 33 years ago, employees had to start in a frontline position, such as flight attendant, reservations, or airport agent before applying for administrative jobs. "Having flown several times and having a love for people, I decided to apply to become a flight attendant," she tells Runway Girl Network.
"It was a pretty big jump moving from my radio morning show to working at 35,000 feet."
While serving as a flight attendant, Ausband became intrigued with the business side of aviation. "My ambition went into overdrive as to how I could learn more. So when a position opened up as a frontline leader, managing a group of 125 flight attendants, I jumped on it," she says.
From there, Ausband moved up the ranks at Delta. When a VP-level position opened up in the Reservation Sales and Customer Care department, she pursued it. Promoted to the role, Ausband assumed responsibility for 10 customer engagement centers in four countries with approximately 5,000 employees. The department handled an average of 37 million customer contacts each year, and generated approximately $2.2 billion in annual revenue.
Ausband later assumed her current role as SVP, inflight service, in which she leads a team of 23,000 Delta flight attendants. She keeps her flight attendant qualifications current so that she can work flights, which she says helps her better support the team.
"That's what is so unique about my job – each day brings exciting new challenges," says Ausband.
Her biggest challenge at the airline was being charged by Delta CEO Ed Bastian to take on the issue of human trafficking. "With about 2.5 million victims affected at any given moment and tens of millions of known victims, human trafficking is one of the fastest-growing crimes in the world, and it's happening on board planes and in airports," she says.
Under her leadership, Delta partnered with Polaris, which operates the National Human Trafficking Hotline.  Polaris has been working with various aviation industry stakeholders to aid trafficking victims who are transported by plane.
In 2018, Delta joined others in rolling out signs in airports to raise awareness for human trafficking, and highlight the National Human Trafficking Hotline number, says Ausband.
"It was a big task to take on, but we are determined to continue to raise the bar on this issue and fight for those who can't fight for themselves."
Among Ausband's career accomplishments, she has helped ensure employees are heard. "What we call the Employee Involvement Group has grown to drive huge wins for flight attendants. They share feedback on everything from their work rules and how catering is provisioned, to safety enhancements and service procedure suggestions," she says.
While Ausband worked her way up to become a senior executive at Delta, she admits that for decades, women didn't have a seat at the table. "Even though we do today, there's definitely a lot of ground left to cover. At Delta, we are working to empower aspiring female leaders at all levels, offering leader development programs, mentoring and other opportunities."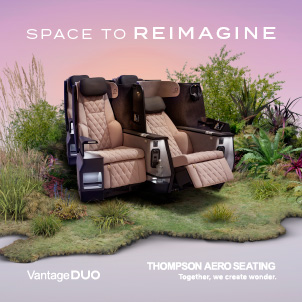 There is so much opportunity in aviation, says Ausband. "Our operation is very complex, and there's a wide range of skill sets needed to support the variety of work streams that comes with it. From maintenance technicians and dispatchers, to pilots, flight attendants, financial analysts and so much more, the opportunities to find your passion are endless with an airline. Plus, you get to travel the world." She hopes more women will start taking notice of the opportunities the industry has to offer.
As for how to get into the C-suite? "My best advice for women is to raise your hand and take on that assignment you may not feel quite ready for, but you really are," she urges. "Also, learn from your mentors. When someone offers you the opportunity to grow your experience, whether you're leading your company's anti-human trafficking efforts or moving into management, if you think it could make you better, go all in.
"Get out of your comfort zone and build new skills. But don't just attempt to figure it out on your own. Build a network of mentors and mentees that you can learn from."
Related Articles: