Norwegian Air passengers will have a chance to have their funny bones tickled in-flight as the low-cost carrier launches an all-woman comedy channel on 1 March.
Online comedy platform PYPO (Put Your Pretty On) has been tapped by the airline to develop sketches that will be shown exclusively on board, some before they are accessible to PYPO's own platform.
Anders Lindstrom, director communications USA at Norwegian, is the project manager for the new partnership. He tells Runway Girl Network that he met Stephanie Laing, the creative force behind PYPO, about a year and half ago. They hit it off, and they spent time brainstorming ideas.
"I think female comedians are funnier than male comedians. I saw some videos and thought this is something we should have on board," says Lindstrom. "We didn't have any qualms. We looked at a lot of sketches and picked the best ones that would be suitable. The comedy is smart, sharply written and it is witty."
The PYPO name comes from Laing's young daughter who once told her mother she needed to 'put her pretty on' before leaving the house. That became PYPO's mantra for how they should live their lives – pretty from the inside out – and give back to the world.
The inflight comedy channel will be available via the Panasonic IFE systems on all of Norwegian's Boeing 787 Dreamliners operating on long-haul flights, including to the United States.
A quick look at some of the PYPO work shows it is edgy and brilliantly written, poking fun at the foibles of modern life and relationships.
Some of the sketches show women comparing the mistakes they've made in life – a woman trying to return a wedding dress because it "didn't work" after her husband of five years files for divorce; and a group of men developing a complex algorithm that make no sense for sizing women's clothing. Viewers may find themselves nodding their heads in bemused understanding.
"My main goal is to say something about the world we live in through our humor," said Laing, who launched PYPO in 2015. "It has to be funny, but it has to be meaningful. We are equal opportunity joke tellers across the board."
PYPO features the work of women in front of and behind the lens. Laing describes her work as "comedy without borders".
Her approach to humor is never political or mean spirited. "It's definitely not intentional to make someone the butt of a joke. We should all be celebrating our absurdities – flaws and all. It brings everyone together."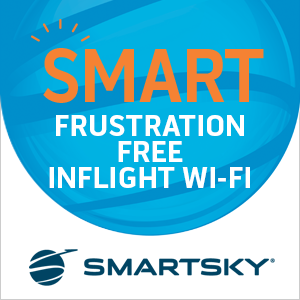 The comedy producer/director's first movie premiered on Netflix (Irreplaceable You) in February. She also is responsible for award-winning television shows (Veep, Eastbound & Down, and Divorce). Her work has earned two Emmy wins and eight nominations.
The partnership with Norwegian "is so intriguing. We are excited about it," says Laing, adding that this allows PYPO to offer its comedy to a global audience and showcase female comedic talent to new audiences. "Scandinavians, Norway are so progressive and more about gender equality than the [United States] have been. We think we're groundbreaking."
Meanwhile, Norwegian will be looking at other exclusive, groundbreaking IFE offerings in the coming months, says Lindstrom.
Related Articles: