Over ten years ago, inflight GSM had a moment, as OnAir (now SITAONAIR) and AeroMobile (now a Panasonic Avionics subsidiary) began rolling out their first standalone mobile connectivity solutions.
There was excitement around these products, partly because mobile connectivity was arguably a better way to use Inmarsat's low-bandwidth SwiftBroadband pipe than wireless Internet, and partly because of their ease of use – passengers simply connect to the onboard network and are billed by their home mobile provider. Plus, big-name airlines like Qantas conducted early trials, which created buzz.
Though the United States disallowed inflight cell phone calls at the time (and still does), there was hope that the US would change course once educated. Industry stakeholders funded a dedicated lobbyist on the Hill whose goal was to advocate for the technology.
But the land of the free didn't want passengers to have the freedom to make inflight voice calls, due in part to the efforts of the Association of Flight Attendants-CWA, which was – and is – concerned about security risks and impolite passengers; and outcry from passengers themselves. And so, even though voice is just one facet of inflight mobile connectivity, and can be disabled, the country's immovability on the issue of voice stymied growth of the service overall in the US.
Since those early days, SITAONAIR and AeroMobile/Panasonic have continued to support mobile connectivity for non-US customers. SITAONAIR uses the SwiftBroadband pipe and lately Inmarsat Global Xpress (GX), and AeroMobile uses SwiftBroadband but now mostly transmits over Ku-band satellites as part of Panasonic's Global Communications Services (GCS).
SITAONAIR said recently that more than 550 aircraft have been fitted since OnAir's first cellular data transmission on 17 December 2007. As of six months ago, Panasonic said the AeroMobile service was in use on over 500 aircraft. But even if AeroMobile's install figure has moved to the right, as is likely given that the solution is offered in the GCS suite, it might be a bit of a stretch to call inflight mobile connectivity a raving success. Indeed, inflight wifi equipage tracker Routehappy, which is scheduled to present this week at the APEX Tech committee meeting in Los Angeles, stopped tracking inflight GSM-only installs a while ago since, in classic Americentrism, nobody seemed to care or really even understand what it was.
But SITAONAIR still sees value in mobile connectivity, and believes market forces have shifted in the technology's favor in recent years. Company VP of strategy Dominique El Bez tells Runway Girl Network that retail pricing from 2007 until 2013 was admittedly "scary", and passengers got sticker shock after seeing the post-flight bills from their providers (your author experienced this shock first-hand). From 2014 until now, he says, "we are seeing on the ground more and more unlimited data bundles" and the rates for using voice, SMS or data internationally "are nowhere near what they used to be".
He adds, "The rates keep going down from a consumer standpoint in order to stimulate usage. Even in places like Europe, there is regulation now to harmonize agreements, a trend to bring the roaming prices closer to the home rate. We'll see more of that."
And, believe it or not, SITAONAIR still sees "a lot of demand for using voice calls" even when passengers are offered (in some limited instances) a VoIP option, according to El Bez.
An average voice call lasts around 2 minutes so I think people realize it's not the moment in-flight to have a one hour conversation with friends. It's more succinct, like parents wishing 'goodnight' to their kids, business travelers [having] a quick call with the office or a customer to engage. We still have a few exceptions, where people spend 30 minutes on the phone for a voice call, but overall people have more concise calls.
It's also true, however, that inflight usage is reflective of what's happening on the ground, and so while passengers using the Mobile OnAir-branded inflight GSM product do make voice calls, they are more inclined to use it for "the data side of the service, especially through apps like instant messaging, chats, emails, social media", says the SITAONAIR executive. "The feedback we receive from the customers on why they like the mobile wifi versus traditional wifi service [was] …. you don't have to subscribe to an Internet package."
SITAONAIR is also facilitating new installs of Mobile OnAir. In its recent press release to celebrate 10 years of mobile connectivity, the firm mentioned that Inmarsat GX is now supporting 3.5G mobile network services on board aircraft. El Bez points to Singapore Airlines as the carrier which is offering both Mobile OnAir and Internet OnAir via GX "simply because they want to give that choice to their passengers because there is demand from the consumers".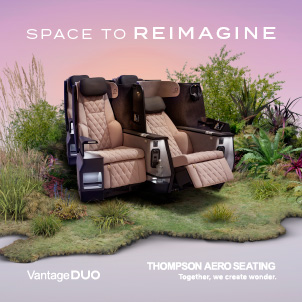 The GX-supported 3.5G version of Mobile OnAir is "definitely" an improved service from a performance standpoint over what is offered via SwiftBroadband, he says, "but I would have to say that, even on SBB, we made some arrangements on SBB that means improved experience as well.
"If I compare the volume of usage, the usage has doubled over the last 12 months over SBB, because we managed to build up a number of network capabilities that maximize the use of the current bandwidth. This being said, you can imagine when you have high-speed like GX, you have a different connectivity experience, a different league so it's really exponential …."
As of 19 January, there are also new mobile connectivity opportunities to explore, as India has finally taken a step towards allowing both mobile and Internet connectivity in-flight.
Meanwhile, despite a lot of back-and-forth on the issue in recent years, the US remains rather immobile on the issue.
Related Articles: