SmartSky's best-in-class, future-ready airborne network got a boost today from the Federal Aviation Administration (FAA). Avidyne Corporation, SmartSky's avionics manufacturing partner, was awarded the first supplemental type certificate (STC) that provides for the installation and operation of a SmartSky 4G LTE system, in this case, on a Cessna Citation Excel. 
Avidyne CEO Dan Schwinn stated, "With this pioneering first STC in hand, we expect to receive Parts Manufacturer Approval (PMA) from the FAA shortly. PMA is the catalyst for SmartSky's partners to complete their STC commitments on many other popular business aircraft, and that then enables customers to install and use the system."  
SmartSky expects these follow-on STCs to begin to be available this summer. That timing aligns well with the planned completion of the majority of the network coverage expansion effort currently underway across the continental United States. 
SmartSky 4G LTE Significantly Improves Performance While Lowering Costs 
SmartSky's patented beamforming technology delivers multi-gigabyte per hour data throughput at the industry's lowest latency, both to and from an aircraft, setting a new airborne performance standard, all at the lowest cost per bit.
"The recent FAA approval of the SmartSky 4G LTE-based network equipment is a clear indication of the fast pace in which the in-flight connectivity market is evolving," says Nate Klenke, Modifications Sales Manager for Duncan Aviation in Lincoln, Nebraska. "We are excited to offer the SmartSky solution to our clients as one of their options for in-flight connectivity."
Network Live, Coverage Expansion Continues
SmartSky's 4G LTE-based network has been live since 2017 and coverage expansion remains on track to support launching service nationwide in 2018. The long lead-time steps of onsite viability testing, permitting and backhaul-connection have all been completed at over 96% of the planned nationwide ground sites. More than 40% of those sites are already in their final stages of deployment or are already on air.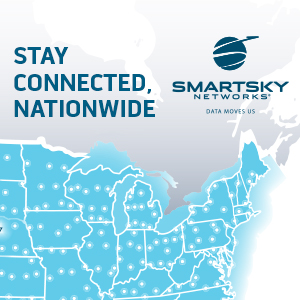 Upcoming Showcase at SD's Annual CwC
Satcom Direct (SD) serves as SmartSky's exclusive customer service and support provider. SD's popular Connecting with Customers (CwC) seminar will be February 19-22, in Austin, Texas. Now in its 14th year, the event will be packed with industry leaders who are there to learn about updates and innovations such as SmartSky 4G LTE.
"The now FAA-certified, future-ready performance afforded by SmartSky 4G LTE will be a key part of the conversation," says Jim Huntoon, SD's Director of Sales-Strategic Partnerships. "We are excited to see this new technology come to market in 2018, bringing a new level of speed and reliability to business aviation connectivity."
ABOUT SMARTSKY NETWORKS – www.smartskynetworks.com 
Headquartered in Charlotte, North Carolina, SmartSky Networks was formed in 2011 by senior aviation and telecommunications executives seeking to transform aviation using disruptive communications technologies and related information tools. Working with leading aerospace and technology partners, SmartSky has begun the rollout of its innovative, air-to-ground network, SmartSky 4G LTE. The network takes advantage of patented spectrum reuse, advanced beamforming technologies and 60 MHz of spectrum for significantly enhanced connectivity. SmartSky 4G LTE delivers forward-link data to the aircraft at speeds comparable to next-generation satellite solutions and provides unmatched return-link speeds for data transmissions off the aircraft. This real-time, low-latency, bidirectional link makes SmartSky 4G LTE a key enabler for the new and enhanced apps, services and hardware that will usher in the digitization of the aviation industry.