W. L. Gore & Associates, the private company that boasts a rich history in military and space but which is best known for Gore-Tex fabric, is gunning to grow its revenues from over $3 billion annually to $5 billion per year, and believes "tens of millions" can be secured in the fast-growing – and increasingly fast-turning – inflight entertainment and connectivity sector.
Gore already has content on commercial aircraft, including the Airbus A350 and Bombardier CSeries, given the myriad ways it has managed to stretch PTFE, including to serve as abrasion-resistance and buffer applications for aircraft components and attachments.
In IFEC specifically, Gore is the most prominent provider of leaky feeder antennas, which are used by Panasonic Avionics and SITAONAIR to provide picocell-based mobile connectivity to airlines. "We're linefit on many Airbus aircraft, and fitting through some other [packages for] Boeing," Gore global product manager – civil air cabling and aircraft connectivity products Adrian Milne told RGN during a recent visit to Gore's Capabilities Center in Newark, Delaware.
But Gore is now gearing up to grow its footprint in IFEC by providing lightweight, high-speed, flexible, digital cables and solutions "both in the copper and the fiber optics side", says Milne. "So that is where we're focusing our time, efforts and really putting most of our investment."
In terms of IFEC market opportunity, he adds, "I think it's in the tens of millions of dollars. Like everything else, the ultimate opportunity size and what we can capture may be two separate things. But I think the industry as a whole is growing extremely fast and I think it's growing into new areas beyond. So we used to talk about IFE and now we say IFEC. I think the connectivity side is an extremely exciting part of [this] generation of aircraft technology, as far as from an electrical and electronics side. And the quantity of installs that are going out there globally at the moment is quite incredible."
Industry consolidation will doubtlessly happen, suggests the Gore executive. "I think everybody in the industry agrees that. How it will actually end up, I think, I don't know if anyone truly knows. But there are some ideas where you could place your bets if you wanted to…
"But from that perspective, our focus is really to be the friend of many within the industry. So we believe our products are applicable across all these different companies and we can offer a level of value where we believe our competitors can't … in the areas of performance [and] installation performance."
Gore's reputation across many industries is in providing high-quality, long-lasting products at price points which are often higher than competitors.
Gore is intent on offering high-quality products in commercial aviation as well. That's why it's keen to educate industry on why every part of the inflight connectivity chain is important.
Milne explains: "One of the big challenges is how you can get these products from a manufacturing environment onto an aircraft and have them functioning correctly. And these are some of these hidden items where it's not always apparent how that can work. So we spend a lot of time talking to our customers, and talking to our potential customers and saying to them, 'What are your pinch points? What areas do you want to improve?' And also in some ways, bringing some insight to our customers, and saying, 'Were you aware that we have heard these issues in the industry as far as installation yields and performance levels? Did you know that a cable performance could make a difference in the routes that your aircraft may be able to take as far as still being able to be connected into a satellite constellation?' All these kinds of things."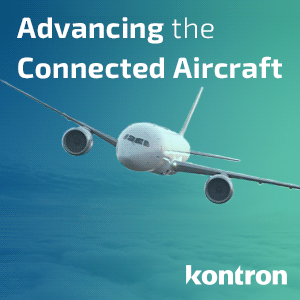 He continues, "So if you look at it from a straight technical perspective, from a loss perspective, when you're flying further away from where a lot of these geostationary satellites are, it becomes more difficult for the system to actually connect into the satellites. So as the angle changes within the earth and where you're flying, the loss and the actual ability for the two parts of the signal – from the satellite to the receiver – to talk to each other becomes very critical. Now every part in that chain is key from a loss perspective.
"So the power level between the satellite and the aircraft are very important, but once you get to the aircraft, taking that signal into the antenna and then down into the transceiver – which is ultimately receiving the signal and communicating – the loss level is almost like if you're talking across a room very quietly or whether you're shouting … So on a very basic level, the loss performance, especially in the microwave cables, is very important."
On the design side, Gore "absolutely talks to the major OEMs" about how a higher quality product will equate to a better passenger experience. Representing an important recent win, Gore's microwave sealed airframe assemblies, pictured below, were selected to support Inmarsat's roll-out of the European Aviation Network (EAN).
Gore is also "on some of the initial Inmarsat installations going through EAD Aerospace" for Qatar Airways, reveals Milne, who notes that Ka-band connectivity, in particular, is fertile ground for Gore because signal loss is one of the bigger considerations.
But Gore also talks to airlines directly to make them aware there are differences in cable systems because the differences are not always obvious in the realm of a standard operating area.
"Where the differences come into play is how you install that cable, and whether what you think you get on the desk, whether that is the same performance when the cable is actually installed when it has been bent and turned and basically squeezed around and positioned. And ultimately once it's in play, will it do exactly what you need it to do repeatedly with all of the environmental situations you have," says Milne.
The aircraft environment is harsh – climbing and descending creates a lot of pressure changes; the belly is not always clean; there are changes in temperature, and fluids can seep into cables and cause problems that result in the wifi not working for passengers, or the aircraft being grounded in order to make a change.
A lot of what Gore has learned in terms of down time "is actually through installations on military aircraft", notes Milne. Though military jets climb faster and operate in more extreme conditions than commercial aircraft, Gore's studies revealed that 10%-plus of everything that was delivered fails within a short period of time.
"When you look at who cares about that problem [on the commercial aviation side], it might not be the initial system integrator, which has to meet performance specifications versus reliability specifications." As such, Gore is exploring the barriers in industry to buying higher-quality up front. But it is not interested in creating products that aren't deemed superior. "We… don't want to get into battle purely just based on me-too. It just doesn't bring value to the enterprise. It isn't the ethos of what we want to do."
More broadly, the company which has its fingers in seemingly countless pies has "a general idea of when we'll get that $5 billion, but we have a lot of flexibility of how we get there, and the ability to adjust as obviously some of our assumptions don't pan out", says CEO Terri Kelly. One direction it won't pursue is going public. The hugely successful family-owned business will remain just that, she assures.
Related Articles:
Featured image credited to istock.com/shironoso