Some companies operating in male-dominated fields talk about gender diversity. Others make a concerted and meaningful effort to bring women into their ranks. Growing at a fast clip to support the aircraft interiors industry, thermoplastics specialist Boltaron can lay claim to being in the latter category, having made gender diversity a major priority in recent years.
Actively recruiting women for management, sales, and plant positions is good business, according to Boltaron president Dean Li. "Women have a great way of making this business always seem happier, more calm and more organized," he says.
And at a time when Boltaron is moving from strength to strength – seeing "huge" growth in aircraft interiors, in particular, "we feel that synergizes" the business, adds Li.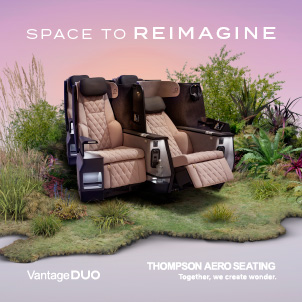 Autumn Hill, a former Boltaron project engineer who now works at rubber and plastics firm Laurel Manufacturing, can testify to Boltaron's staggering increase in production volume, and the opportunities it provided her. As Boltaron's thermoforming department sales volume grew, "I worked hard to ensure production ran as smooth as possible during a 400% increase in departmental revenue from 2015 to 2016," she says in an online bio.
An example of the specialty thermoformed parts that Boltaron manufactures is the shroud for the Rockwell Collins (former B/E Aerospace) modular lavatory on Delta Air Lines' new Boeing 737s. The shroud features a lot of unique undercuts so Boltaron brought the work in-house rather than risk high scrap rates at other thermaformers.
Once the shroud becomes Delta's equipment, the airline itself "is actually contracting to have that built under their owner/operator certificate", explains Boltaron director Adam Mellen. It's not a Rockwell Collins spare or even a Boeing spare.
He adds, "We are not the guy that is going to make tray tables, but if there are characteristics to the product that we feel are best suited to be formed here, then we'll form the more exotic parts because we know the material, we know the finished design, we know the scrap rates and it's just a much more efficient way to get the parts to the customer correctly."
But with new and enhanced proficiencies comes the need for translating that message internally and externally. That's why Boltaron, a Simona America company, has been bolstering its marketing and communications team led by Adam Mellen and marketing communications manager Molly Bridger, who joined the firm in January 2016 and is based out of its Archbald, Pennsylvania facility.
Bridger uses virtually all tools at her disposal to enhance Boltaron's brand recognition, including social media, email automation and other digital resources.
When your author visited the company's Newcomerstown, Ohio facility recently, Bridger had even built a makeshift "scale of justice" to demonstrate how Boltaron's 4330 material, which offers high impact strength, has been engineered to significantly reduce weight in aircraft interior components, which in turn drives out long-term costs for airlines, including fuel. The new lightweight '4330L' product is marketed as a premium product given the long-term cost savings.
Boltaron management is nothing short of effusive about the creativity Bridger has brought to the team at this key time in the firm's growth. She is "genius", enthuses Li.
Beyond its dedicated recruitment efforts, Boltaron has taken a pretty big leadership role in the International Association of Plastics Distribution (IAPD) community "and four or five years ago, we formed a very small little group called the Women in Plastics." explains Boltaron's Mellen.
"The idea was just to kind of provide sort of a networking forum for some of the ladies to come that don't maybe get to come to all of the seminars and the annual convention. And that's really grown pretty significantly."
Open to members, plastics industry professionals and students, the IAPD Women in Plastics group says it is committed to supporting women through mentoring, education and personal and professional development to attract, retain and advance women within the plastics industry.
For the last two years, Boltaron has been a primary financial sponsor of the Women in Plastics events, and also sends "as many people – men and women – as we can to go to these events", notes Mellen.
"The whole idea is just to promote getting more women involved in the business." And on that front, Boltaron is making great strides.
Some of the women of Boltaron:
Related Articles: