Airborne Wireless Network, the company that wants to create a high-speed airborne mesh network for use by telco customers, is gearing up for a new round of tests. This time it will use its radio mesh to aim a laser between two airborne Cessna 172s.
"We are on track to complete the free space optics synchronized with Radio Frequency (RF) test in the January/February 2018 time frame," Earle Olson, Airborne Wireless Network's VP industry affairs, told Runway Girl Network. This test will serve as the proof of concept for a new patent.
The laser terminal will be provided by Germany's ViaLight Communications, which has aimed lasers at satellites, facilitated lasers between fighter jets and the ground, and from drone to ground, but never airborne to airborne, said Airborne Wireless Network VP of technical affairs and development Marius de Mos, who lays claim to being part of the development team for the original Airfone inflight telephony system.
"This would be the first time we take the laser to the sky. But everything we've tested and emulated so far tells us it will work. The models say everything will work but until we do it and run this laser between two aircraft and run huge data files, it's all in theory until we have it."
Airborne Wireless Network has already conducted airborne radio link testing utilizing two Boeing 767s and a temporary mobile mast system, which emulated a ground station. As reported by RGN earlier this year, it had previously intended to use two ex-American Airlines Boeing 757-200s and a van to perform the test, but the 757s had been sitting in the Roswell, New Mexico desert for three years and "the FAA would not let us fly them in a circle. We would have had to comply with all airworthiness directives, which was too expensive," explained de Mos. "So it was cheaper to get two 767s that were active."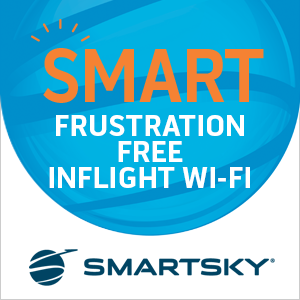 The main purpose of the 757 test was not about data. "We did a couple of megs of data but that was not the primary purpose. We borrowed a military modem not capable of running more than a couple of megs, and that had to do with the FCC license we could get. The primary purpose was to test the mesh so the data rates are whatever the modem is," said de Mos. Completed on 31 May, the tests determined the feasibility of an air-to-air and air-to-ground network, he said. "We had the best test pilots to aim our antennas."
In terms of funding, Airborne Wireless Network has been "successful in raising enough money to get us to the next test and next test", according to de Mos. But in the lead-up to the APEX EXPO this fall, the company made known it is on the hunt for partners, and has engaged with inflight connectivity providers.
"Airborne Wireless Network is still in active discussions with meaningful partners and will be announcing these in the near future," Olson said. The firm already lists Concept Development and Inflight Canada, known IFEC entities, as partners on its website.
To be clear, the primary purpose of Airborne Wireless Network is not to provide service on the aircraft. Stressed de Mos:
We want to be the pipeline that the telco companies use to augment. Our primary purpose is to create a pipeline so the aircraft is really our little satellite that we're feeding … and [for instance] Gogo or another subscriber would be a customer to our service as a wholesaler.

We want to concentrate on the large volumes of data and being the toll keeper on the pipeline. We could enhance Gogo's business model significantly by having fewer refunds and having much greater throughput. We're not here to compete, we're looking for partners over the long run.
He added, "We intend to provide a spigot."
Once the laser test is completed, "and then probably right after summer next year, quarter three, we would be doing a 20-plane test [involving] our production hardware with interim antennas", said de Mos, ambitiously. The antennas, which will be "significantly smaller" than satellite systems, will initially be based on "modified off the shelf" technology but "down the road, customized".
There is a growing discussion in the IFC industry about mesh networks (Airbus' start-up lab features a firm which is developing mesh tech as well). Does Airborne Wireless Network see any viable competitors to what it is doing or able to do?
"Given Airborne Wireless Network's patent position for the mesh net, pending patent application for associated technology and in effect extending the current patent's validity we feel confident that our position for an airborne mesh net is strong. Airborne Wireless Network is not aware of any system that is a viable competitor at this time," said Earle Olson.
Related Articles:
Featured image credited to AWN