With equal parts excitement and trepidation I said yes to the invitation from United Airlines to fly on the carrier's inaugural flight from Los Angeles to Singapore on 27 October.
The journey is scheduled at a whopping 17 hours and 55 minutes and, at 8,700 miles, enters the record books as the world's longest flight to anywhere from the United States.
The excitement part was a no-brainer: the Boeing 787-9 flight would be both an inaugural and a record-breaker. The destination – Singapore – is a place I'm always happy to return to and, as a bonus, Singapore's world class Changi Airport was due to open its new art and technology-rich terminal while I'd be there and, yes, as the creator of the StuckatTheAirport.com blog, I'm happy to fly half way around the world to see any new airport terminal.
Trepidation kicked in when I thought about that 18-hour flight. I'd start the day in Seattle and spend several hours at Los Angeles International Airport before even getting on the plane, so the trip there was going to be one extremely long day.
I was ready for the challenge.
The prep
Before boarding any long flight, especially super long-hauls approaching 18 hours, the consensus from experts seems to be 'get in shape', 'get comfortable', and 'get in step with the time zone of the place you're heading to.'
I tried that.
In the week before the flight I upped my workout routine. I made sure I rested and stayed hydrated. I cut out alcohol (but not caffeine, it was one or the other…). And I checked the time zone difference – 15 hours – between Seattle and Singapore.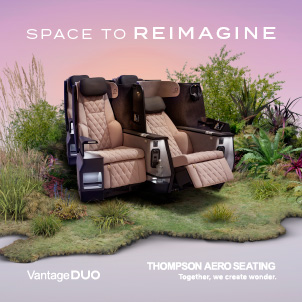 To fight jet lag, experts say it's a good idea to start shifting your body clock to the new time zone a few days (or a week) before your flight by going to bed earlier (or later) so that you're in sync with the new city. That's great advice if your work and home schedules are flexible, but mine – especially before a big trip – are not, so I figured during 18 hours on the plane I'd get the equivalent of a full night's sleep and be awake to enjoy the day after the 6 a.m. arrival.
One more excellent piece of advice I made note of was to dress comfortably. I knew I'd be flying in the business class section on a special flight, so super sweats were out of the question, but I set aside a non-wrinkle outfit that was still a bit dressy.
I also made a list of all the things I could accomplish on an 18 hour flight.
Between my ideas and those sent to me by others, including United Airlines, the list got quite long. Here's just a sampling:
Buy a flight-long Wi-Fi pass and get to inbox zero;
Clean-up and organize all those photos on my phone and on my computer;
Write a will;
Watch a few movies and a full season of … anything;
Read a big book from cover to cover;
Learn some Italian for that Thanksgiving trip to Florence;
Do exercise: walk the aisles and get my daily 11,001 logged Fitbit steps;
Finish the outline to my next book;
Talk to other travelers.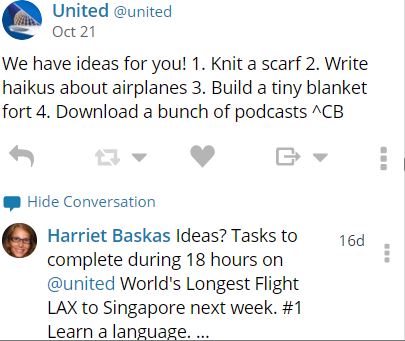 The reality
For better or worse (and for me it got worse towards the end of the flight), the way I spent what turned to be flying time of "only" 16 hours and 20 minutes, turned out to be a bit different than I imagined.
I fully expected to make a serious dent in the to-do list above, but ended up checking off only a few items.
Hours 1 and 2 went fast: I chatted with my seatmate and some of the other invited guests on the flight. I studied the menu and placed my orders for dinner and breakfast. I learned how to work the seat, found my most comfortable resting and sleeping position and began planning what to watch from the in-flight entertainment system.
Hours 3 and 4: I watched a movie (one of those comedy/romances whose title and plot I immediately forgot), ate a little bowl of those decadent warm nuts and had a glass of bourbon. Then, as slowly as possible, I nibbled my way through each course of a four-course meal: appetizer (with shrimp), vegetarian entrée, a cheese and fruit plate and (who could resist?), ice-cream from the rolling ice-cream sundae cart.
Hours 5, 6, 7: I watched another movie (Moneyball, with Brad Pitt) three times. Not because I love Brad Pitt or baseball that much, but because I kept falling asleep. Finally I got up to walk around. Six times through the aisles of the Boeing 787-9 gave me 985 steps and some odd looks from passengers I passed multiple times
Hours 8 and 9: I walked a bit more, stopping to chat with fellow travelers, and got some tips from a flight attendant on how to survive long flights. "Wear compression stockings," she said. "Drink lots of water. Move around. And stay away from alcohol," she added moments before taking the drink cart down the aisle for a second or third time.
Hours 10 and 11: Realizing I hadn't tackled much of my 'to do' list, I pulled out my computer to get busy.
By this part of the flight the Wi-Fi wasn't working very well and it seemed expensive at $14.99 or 2,310 miles for 1 hour; $20.99 or 3,240 miles for 2 hours, and $35.99 or 5,500 miles for the full-flight pass. My Gmail offline program wouldn't kick in, so my "get to inbox zero" line item wasn't going to work out.
Neither was learning Italian, as I realized I'd forgotten to download a course before the flight. Instead I opened up my iPad and finished reading a book.

Hours 12, 13 and maybe 14: Decision time: Write a will, outline a new book or watch a TV show I can't get at home? I kept my computer open, but gave the TV mini-series 'Big Little Lies' (with Nicole Kidman, Reese Witherspoon and notable others) a try.
I ended up watching the entire season.
Hour 15 and 16: Breakfast? No thank-you. Dinner was mighty big and by this time I wasn't feeling too perky which, in retrospect, I blame on that bourbon early on and the excitement of over-planning how to survive such a long flight.
Image at top credited to United Airlines
Related Articles: