Aircraft avionics and interiors powerhouse Rockwell Collins' orderbook for nose-to-tail inflight connectivity continues to grow, with the firm recently adding 100 new Boeing 737 MAX aircraft to its backlog for Inmarsat Global Xpress cabin connectivity and other services.
With an eye to the future, the company has also unveiled a new phased array antenna to support the forthcoming OneWeb low earth orbit (LEO) constellation's aero service, as well as other networks. It believes the technology – informed by its prior military and government work – will prove disruptive to the industry.
But Rockwell Collins has largely stayed out of public spats in the connectivity space. Senior director, global marketing Richard Nordstrom readily admits that Rockwell Collins is operating in "stealth mode" for its airline partners on that front.
"I think basically because, first off there is a lot of noise in the industry and you find when you join the cacophony of the noise you end up just being part of the noise and so it is better off to take who we are, our 87 years, [our] extensive existing relationships with the airlines that are very deep – we have a broad depth of knowledge within each of the airlines where we have business with them already – [and to] really try to work in that fashion rather than try to be part of the noise because it really comes down to, you just end up yelling louder and louder," he told Runway Girl Network last week at the APEX EXPO in Long Beach.
"And you know what? The airlines actually appreciate that because they feel the information they are getting from us is not part of the noise but part of how we are really going to benefit them."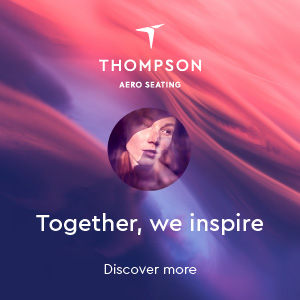 Rockwell Collins' new MAX nose-to-tail connectivity customer is a "large Asia Pacific-based airline" which has opted for its CabinConnect wireless inflight entertainment and connectivity solution (the connectivity portion is supported by Inmarsat Global Xpress service). Included in the deal is Rockwell Collins' ARINC GLOBALink services – including a "unique" multimedia ACARS communications package with VHF, HF, and SwiftBroadband-Safety Services (SB-S) – for secure voice and data communications in the cockpit. The undisclosed airline will also be able to monitor its aircraft fleet anywhere in the world using the Rockwell Collins' MultiLink flight tracking solution.
Pressed by RGN for the name of the customer, Nordstrom said, "You know how customers are. You look at Boeing or Airbus; they do the same thing. They'll have large customers that make buys but the customer says, 'we don't want to announce it yet publicly because it's a competitive thing and we are not in a position to talk specifically who it is.' I think everything you need to know is actually, you know the region and everything else and you guys are smart."
Safety first
Some of Rockwell Collins' competitors in the avionics space, including Thales, are eager to exploit broadband cabin connectivity on next generation flight decks. Is Rockwell Collins doing the same? "Well if you are going to do that, the moment that you have any of what we call 'common usage' of the big pipe in the back [used in] the flight deck, you have to think about security. And that's number one," said Nordstrom.
"So we have an SSR system which is a secured server router system, which really is on a lot of aircraft already as part of an SFE [supplier furnished equipment] or BFE [buyer furnished equipment] application. It does a good job of protecting the flight deck so to speak. But I think if you are going to look at the airlines, they are the ones who are going to put the pressure forward for least-cost routing. So we will have eventually more least-cost routing. You are not going to see safety going over it. That is a whole different ball game."
Indeed, he believes safety services – as supported by Inmarsat and Iridium – will remain segregated on L-band "for the next five to ten years" at least. Thereafter, is it conceivable that the likes of Inmarsat Global Xpress connectivity might ultimately be deemed acceptable for safety? "Well if you had asked me this question five years ago we'd be talking about SwiftBroadband, and the I-4 constellation. And we would say 'we don't know'. We don't know because the constellation itself hasn't proven yet to be at the reliability and availability level and the quality level they need to do safety. So let's see what happens. But you know they [Inmarsat] did it right with SwiftBroadband. I can't see why eventually that might not happen on GX," said Nordstrom.
"Even though they [Inmarsat] may say 'no we are never going to do that' but you know, it's the robustness of the quality of the network and if it's got that availability to it, then those networks that have that availability – they are going to be able to do that. But that's a long ways off because things like safety-of-flight, they don't change quickly and the FAA, EASA, everybody, they are very conscious of not rushing off to do that. You know we have so many ACARS [operational] information that's going EFB but I don't think we are going to see safety right away."
He continued, "Another thing people lose sight of is safety is [a] very tiny part, actually, of the communication that comes from a flight deck. So people think of it as this huge golden nugget that we can bring to the back, it's not. So they need to rethink. Sometimes it's more of a marketing posturing and positioning then a reality."
Inmarsat's Mary McMillan made the same argument a few weeks ago to RGN. "She knows, she flies those aircraft," noted Nordstrom.
As has been well reported, Inmarsat increasingly wants prime position with airlines; it is even growing its portfolio of STCs as it forges those more direct relationships. The move begs the question of whether or not Rockwell Collins – and indeed other Global Xpress integrators and value added resellers – will alter their approach to the market.
Said Nordstrom:
I think right now Inmarsat is going through a reorg, at least at the higher levels, and we are going to have to see how that plays out to see if there is going to be a change in direction, to see if they are going to reassess how they are going to market. That's all right now up for discussion, I think. And I think we just need to sit back and wait and see what their decisions are. What I can tell you is we communicate, if not hourly, at least every other hour with them. We have a lot of communications and quality feedback, back and forth between Inmarsat and us. And you have to do that because they are an important partner to us, as a source for a network, but also we're important to them because we bring other insights and other objectives that they just still don't have yet.
Though its cabin connectivity offering is supported by Inmarsat Global Xpress, Rockwell Collins keeps a close eye on its options in the market. "I think it is ingenuous if I said we don't always reevaluate," said Nordstrom.
Readying for the future
OneWeb is among those options. On the antenna hardware front, Rockwell Collins has made strong headway in developing an electronically steerable array antenna, with no moving parts, to support OneWeb, but also GEO and MEO satellites if necessary (which is very much in sync with Intelsat's expectations for a shared GEO/LEO network with OneWeb). The antenna system was designed and developed completely in-house at Rockwell Collins. "We even designed the chips; we do it all and we can manufacture it also," noted Nordstrom.
The firm boasts "about 26 patents plus dual beam patents so we're very strong on the patent IP side of this. This is why we have been kind of quiet about it. Because we have been strengthening all this so that when we do go to market with it, it will have a very strong presence. This is disruptive technology for the industry," he said.
Before Rockwell Collins signed an MOU with OneWeb to develop antenna technology, the manufacturer was "already doing that technology on a small scale for military and government, and the key was to take this technology and take it from a very expensive one- or two- or three-off and really bring it to a commercial financial state and that is what we have been able to achieve through all of our research. Especially, it's the chips. The chips are the drivers in the price. They are very expensive typically, not just to create but to manufacture," said the Rockwell Collins executive.
"The other side of it is we have a very strong partnership with them [OneWeb] at the moment. We don't have a formal agreement; we have an MOU which is about ready to end and we are going to reinstitute that and strengthen our agreements with them going forward, with OneWeb. And in a LEO, they are a low earth orbit satellite system, they have to be able to have an antenna which can very almost instantly go from satellite–to-satellite (point, point focus, full power and connect). And that is very difficult if not possible in a mechanically steered antenna. So when you only have three minutes of sight to talk to that satellite, you have got to latch it, do it, and be thinking about 'here comes the next one, over I go'. It's a pretty complex dance, but we have been doing this for quite a while now so we have got the technology."
While the antenna will talk to OneWeb, it can also talk to GEO orbit as well "at the same time", noted Nordstrom. "And you can run television over this if you like…".
In terms of limitations, "when you are talking GEO, every antenna has a limitation when you approach 70 degrees North Latitude … so every antenna has that challenge. This antenna is no different when it's talking to a GEO` network," he said. "However we are able to raise some of our parameters on this to get us about another 4-5 degrees above that. More importantly, the initial design for this is around the LEO.
"LEO is worldwide, 100% [global coverage] so that is not an issue any longer once you are on a LEO. So you can use the LEO. You are not going to have a lot of flights up in the higher latitudes, I mean really north latitudes. You have them but you don't have a lot. And so the result is that you are going to be able to easily, on the LEO side, handle this, and when you come down into what you call higher-density pathways for flights, you can now start to call on the GEO and the LEO together if you need to."
He added, "It's very modular, it's flexible and it's agnostic to networks. In other words all we do is switch the modman out and it will work with any IP-based network."
Crucially, stressed Nordstrom, the antenna has been totally designed and built around aviation. "No others really have been designed to operate in an aviation environment," he said in reference to other aero antenna systems on offer.
There have been mixed reports about the current flat panel antennas on the market. Rockwell Collins believes its system is far superior.
The bottom line is that what you are seeing here has already gone through DO-160. We will be looking at 50,000hr MBTF [mean time between failures] on this. There is not an antenna on the market today that even comes close to that. This has already gone through [being] totally designed and built around aviation. None of those others really have been actually designed to operate in an aviation environment.
Though the timeline for offering the antenna is "really linked with OneWeb at the moment and maybe some other possibilities but what we are thinking now is that, you know in the next three years, these will be going on aircraft. Might be sooner, might be later but around three."
Intelsat and OneWeb are still talking about working together in a shared GEO/LEO network scenario, though a Softbank-backed merger didn't transpire. Noted Nordstrom: "Well they have to because Intelsat is an investor in OneWeb, and they have a good relationship, and we have a good relationship with OneWeb and Intelsat and also with Qualcomm and Hughes. So we are part of the network design group for OneWeb. You have to have an antenna as part of your network, to create a network."
But the new antenna system is hugely flexible, he added. "It's just a matter of deciding are we going to do Ku or Ka with this, or are we going to do LEO/GEO, or MEO/GEO or MEO/LEO. [It's] an amazing technology."
Focused on aero
Providing further colour about the antenna, Rockwell Collins pr electrical engineer Lee Paulsen – who has played a pivotal role on the program – told RGN: "So what we are looking at is a phased array antenna that is similar in outside appearance as some of the other technologies that are out there but it does its beamforming in a very different way than say, Phasor or Kymeta, as far as I know. I don't have any direct knowledge of what those guys are doing; they make a lot of white papers and things like that but it's hard to really say without having a sort of NDA in place, which we don't have with those folks.
"But if you think about the way Kymeta is doing their beamforming, for example, it's based on metamaterial structures and uses things like reverse holography which tend to be fairly narrowband. They are also using LCDs, for example. We are really not going down that path. We are taking an approach of starting with technology that we know will work in an airborne environment and that is consistent with our supply chain we already have and making sure that we can build affordable, cost effective, phased arrays in that supply chain that will survive in the environment and meet the customer's requirements. So the technology that's in there is really an evolution of work we have been doing internally for a number of years for other programs."
But now the commercial opportunities are becoming clear to airlines. "For the airlines it's really important to them, it's faster, it's lighter it's lower profile and it's thinner." And it will adhere to the new ARINC 792 spec. But it will also directly retrofit into a ARINC 791, so the upgradeability "is very simple. It's not a big deal."
"The other side is that you have to remember that once you start going to those parameter – lighter, smaller, higher throughput – you now have the ability to install faster, it's easier to install. Less time for the aircraft to be offline. There is a whole series of very positive things that waterfall down from that which bring better productivity, faster return of the aircraft to service. They are all good, they are all financially. The value propositions are excellent."
Related Articles:
Featured image credited to istock.com/shironoso