Guestlogix, the Toronto-based company best known for its point of sale machines, is pushing upstream after restructuring its operations, and helping airlines to develop a full commerce platform for inflight and indeed the whole day of their journey. Robin Hopper, Guestlogix' senior vice president for product and marketing, tells Runway Girl Network that he is keen to revolutionise onboard shopping by helping airlines act more like on-the-ground retailers in terms of how they sell and deliver to customers.
"Airlines have a captive audience through the course of the flight, and really through the day of journey. They should be able to market to them and let customers self-serve the way they can on the ground," Hopper explains, showing off Guestlogix' latest platform that combines passenger app, flight attendant functionality and extensive management information, integrated with the airline's frequent flyer system for points-based purchases.
The app, Hopper says, will be "branded for each airline, or it runs inside the airline's app. If I'm sitting at the gate, for example, and I want to make sure I get the sandwich or snacks that I like on this flight, I can just jump in to the catalogue, I can scroll through by different categories of the things I'm interested in, find a product that I like, I can get the details, and very much like on the ground with UberEats or other products I can order them."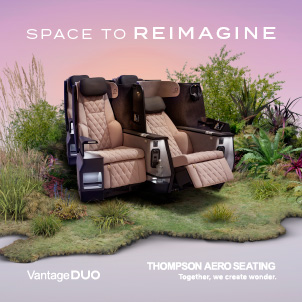 Demonstration some gamification and retail psychology options, Hopper says, "if there's any promotions or campaigns going on, I get notifications that I can take advantage of a discount on a drink, for example. I confirm where I'm sitting to make sure it gets delivered to me in the plane, and if I want I can change how I pay for that. Maybe I've got a bunch of air miles that I want to use up to do some earn and burn here."
Crucially, the Guestlogix solution doesn't actually charge a passenger until the flight attendant marks that their purchase has been delivered. That allows for a number of scenarios: a passenger might be intoxicated and so the crew shouldn't serve them any additional alcoholic beverages. "We keep track of how many you've ordered in the first place," Hopper notes, using a demo user named Mike as an example. "You can set thresholds — and when those alerts go out. If I decide that Mike's had two and that's enough for this flight, he's only getting billed for two, and we're not having to go through a whole refunding process."
The functionality also helps in the event that there is a disparity between the ordering system and catering loading, if there is spoilage, or in the event that cabin crew are unable to fulfil the inflight service owing to turbulence or other reasons.
On the flight attendant side, Guestlogix is largely technology agnostic with pro- or consumer-grade electronic devices, Hopper says, noting that both Android or iOS devices can be used. Hopper demoed the system to RGN, and it seems smart, with seatmap-based ordering and delivery using a simple and helpful user interface.
Upstream, robust management information enables decison-makers to make informed choices about product lines, delivery, specials, and a variety of other aspects of onboard sales, with useful graphical interfaces, charts and call-outs that feel like a real step change in this part of the industry.
And it's available now. "We're rolling it out with a number of launch partners in our existing customer base, so that'll happen through Q4," Hopper explains, "and then we'll be live to new customers in January 2018."
Related Articles: