Speed is not the first thing that comes to mind when your author thinks of Global Eagle's current Ku-band satellite connectivity service. As a frequent Southwest flyer – who ponies up for the Internet each and every time I fly – I am familiar with the pros and cons of the service. Am I able to clear through some work in-flight on what often feels like a Gogo ATG-4-quality connection? Yes. Persistence usually pays off for me. My seat mates aren't always as understanding about the lack of consistency, however, and I've even heard expletives used to describe the $8 connection.
Certain industry observers have long surmised that the quality of Southwest's service was a function of the carrier's disinterest in paying the price for the volume of Ku capacity required to ensure a solid connection, with the carrier perhaps reasoning for a spell that Global Eagle's TV product (a definite pro) would ably entertain its leisure clientele. Southwest even cited cost when it told RGN in 2015: "We're trying to [provide] as much bandwidth as possible, but it's so costly and what's the right balance to provide a good customer experience but not charge so much that it's not worth it for the customer?"
But in a world where the ability to connect is increasingly seen as a basic human right, where Southwest is successfully courting the business traveler contingent (your author raises her hand), and where the cost of Ku is coming down, the airline and its service provider know that the excuses made – whether by themselves or on their behalf – have worn thin.
It's certainly logical to assume Southwest opted to go dual-source on connectivity to keep Global Eagle on its toes – after all, that's how the game is played with airframers and engine manufacturers, and now #PaxEx. (To wit, Gogo's largest customer, Delta, is rumored to have issued a connectivity RFI for new aircraft; Delta would not comment). But in selecting Panasonic for connectivity, Southwest also enjoys the knock-on effect of having shifted the perceived blame for its service firmly to Global Eagle versus its own brand.
If Global Eagle is in any way miffed by this turn of events, it isn't vocalizing it. On the contrary, Global Eagle's Josh Marks believes Southwest's decision to tap Panasonic Ku "has been probably the best thing that could have happened to us". Has it lit a little bit of fire under Global Eagle? "It's more than a little bit of fire," he tells RGN.
As has been well reported, Global Eagle is boosting the Ku capacity available to Southwest's birds with the Telestar-12 satellite in inclined orbit, so passengers should see a near-term improvement in service. Meanwhile, the first Panasonic Ku-fitted Southwest 737-800 – featuring 15 channels of DISH television, mirroring the current TV offering – is to go live. And you can be sure that the savviest of humpspotting #avgeek travelers will be booking flights to compare the two services.
But even as these two Ku providers duke it out in the skies, Southwest management is being presented with another option from Global Eagle – the firm's new Qest-made Ka-band antenna, which showed its stuff during the week of the APEX EXPO aboard Global Eagle's Albatross testbed aircraft, channeling Ka service via Hughes Jupiter.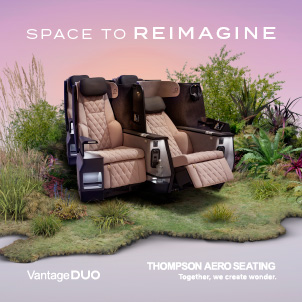 Notably, the design of the Ka antenna is compatible with Global Eagle's current installation architecture and STCs, and, management believes, meets the requirements for future linefit installations. However, Global Eagle's Mike Moeller confided that whilst Global Eagle would use the Boeing tri-band radome for linefits, the firm is on the hunt for a Ka-specific radome for retrofits. "Changing out the cap is likely for the new system to optimize the Ka performance," he said. Global Eagle is "looking at all options".
Though Global Eagle has decided not to pursue linefit offerability on widebody aircraft for the foreseeable future, it believes its focus on being "band agnostic" to meet the regional route needs of narrowbody operators is a feather in its cap.
The next step is to be "altitude agnostic", said Moeller, "so that it doesn't matter if it's LEO, GEO MEO."
Related Articles: