'There are too many players' in the inflight connectivity sector. And consolidation is 'inevitable'. This was a common refrain sung at the recent APEX EXPO in Long Beach, where virtually every major stakeholder serving the commercial sector was present, and analysts were available to add their two cents.
To be sure, the market is crowded. The most prominent players in the commercial airline space include Panasonic Avionics, which has offered Ku-band connectivity to airlines for years by forging agreements with Ku satellite operators around the globe. Gogo and Global Eagle also offer Ku connectivity, with the former now rapidly installing its nextgen 2Ku system on aircraft and the latter still serving Southwest Airlines, Norwegian and others.
Meanwhile, London-headquartered Inmarsat and its Global Xpress Ka-band value added resellers Rockwell Collins, SITAONAIR and Thales are seeing fresh momentum in connectivity as that near global service is brought to market. For its part, ViaSat offers a streaming class of service in the US with its proprietary Ka-band satellite system; it has also gone live on Qantas, and is readying to do the same on airlines in Europe and over the North Atlantic. And this does not even begin to describe the upstarts in the space – notably including SmartSky Networks – and the service provisioning landscape in business aviation.
Suffice it to say that airlines have some tough decisions to make, as they weigh the pros and cons of each system, provider and service via the RFI and RFP process. Most stakeholders agree that the connectivity business is a longs game – invest now, see the returns later. Gogo has said it will be cash flow positive in 2019. Global Eagle, which faces the threat of a NASDAQ delisting, is to provide more colour on its financials by 31 October, per a newly amended agreement with creditors.
Obtaining critical mass to both sustain investment and recoup investment is paramount for every stakeholder.
Embedded IFE stalwarts Thales and Panasonic believe they have an advantage in that they are not under the gun to see strong ROI in the near-term for their substantial inflight connectivity investments. Being either "big enough" or part of a group "that is big enough to constantly invest" is key, according to Thales Inflyt Experience CEO Dominique Giannoni. "It is true in IFE. But it is true even more in connectivity because the speed of evolution is even bigger, larger. So yes …  you look at the publicly traded companies and they are struggling and it paints a picture about the long-term viability of some companies."
Is the current paradigm sustainable? "I don't think so," he said. "I think that we, as an industry, we have many players [which] have invested a lot. They need to recoup their investment and some are going to have trouble or have trouble already before they can recoup the investment. We at Thales, we are here for the long term. The group is completely traded, [with a] profit of 20 billion dollars for the group and we have been in the long-term commitments for a long time. We are on the Airbus program, we are in defense, space programs. So you know that 10 years, 15 years is our scale of investment. So it's not the next quarter."
Even so, Thales is "not a charity", stressed Giannoni. "We want to make money, obviously."
Panasonic Avionics takes a similar position to Thales on this issue, with VP global sales and marketing David Bruner admitting that inflight connectivity is not profitable for the firm today. He suggested, however, that Panasonic Avionics can handle the current outlay. During the EXPO, Bruner revealed that Panasonic Avionics expects to see $2.5 billion in revenue from inflight entertainment and connectivity for fiscal year 2017.
"And one of the reasons we bring this up is both from press and customers, I have people reach up and say, 'are you okay. Are you guys going away? Do you have any sales? Are you going to make it?' I think we're doing okay. We have a strong business; we have an extremely strong backlog. Inflight entertainment is not going away. The composition of our business is changing so connectivity is obviously growing at a very, very fast rate. The service revenue component of our business is growing."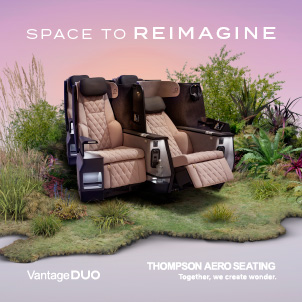 Continued Bruner, "As some of you have heard in the past, our Panasonic Technical Services, which is repair and line maintenance, is actually the fastest growing segment of our business. It's a very large segment. We're probably the largest cabin MRO in the world with service at over 70 airports. So this complexion of our business has multiple aspects – hardware, software, services and line maintenance and repair so it's a very, very well-balanced business and we'd like you to know that we're doing well. We're not going to pack up shop and not be here next year.
"What's important about that is there has been a lot of talk in the business about investment in connectivity and it's true that it's huge and we're really in this business for the long run. But we've done all of this through funding our own investment in this new marketplace. We've done that from our own profits from our inflight entertainment business. So we're very strong and stable and we think that's really important. When you're running a global network, you need to have that stability because it's a tremendously expensive endeavor and as an airline you want to make sure that your supplier is going to be around for a while."
Bruner has long predicted that the industry will see fewer players, be it via consolidation or a snatching of assets should any prominent stakeholder enter Chapter 11.
On this point, Thales' Giannoni agrees. "I think we are coming to a point where some situation I believe from what I read from their earnings calls or what I hear in the earnings calls, there [is] going to be a day of truth where okay the money, the money is not always there so it will cause consolidation."
What entity would take part in consolidation? Airlines? Satellite operators? "Because there is also discussion and you heard the rumors about some satellite operators being in talks," said Giannoni, "but I am not sure an airline would go there because there is still, even if there is consolidation – go from 10 to something like 5 or 4 – there will be still choices. The airline will want to keep the [market] competitive…."
Satellite operator and inflight connectivity service provider ViaSat attests that market forces will, quite simply, win out in the end, and airlines will gravitate towards connectivity technology that they see as future-proofed.
Don Buchman, vice president and general manager of ViaSat's Commercial Mobility business, said the current paradigm "doesn't feel like it's sustainable".
He continued: "Something kind of has to happen. There are some fundamental product shifts. What JetBlue has done – even through they've been doing it for 3.5 years and now Qantas with 'fast and free' – that's a model that, even if you don't want to do it today, you have to have the ability to do that."
Buchman suggested that "most" other connectivity providers cannot "do full fast and free. Even [free] text messaging does not include pictures. Doing 140 character text messages is not going to cut it." The millennial traveler, who is tomorrow's business person/traveler, will demand more, he added.
Does ViaSat have any interest in acquiring any provider that was present on the APEX EXPO show floor? Said Buchman:
All of our acquisitions are generally strategic. We're going to bring in a skillset that we didn't have before. Arconics was that way. When we acquired WildBlue, we got a retail-to-consumer model in that, so all of our acquisitions over time have been strategic in that sense.

…To acquire somebody who has a customer base that doesn't have anything close to our technology, it wouldn't be synergistic from that standpoint. So we like the growth path we're on. We really like the customers we have, we like the reasons they're buying us is the reason we want to be bought. Our system. We really believe over time that wave will go our way.
By the same token, if an airline sought to swap out a satellite connectivity system with ViaSat's system, the company would work to accommodate that carrier. "We always try to. We always try to make it easy for the airline and that just gets into, what is the install, who owns the design, and can we adapt our design to what's already in place to make it easy," said Buchman.
Weighing in, Canaccord Genuity analyst Ken Herbert said the market is "clearly evolving. Clearly some of the technical issues are getting worked out. I think there is customer demand. I think you are going to continue to see shake out, and evolution in this marketplace."
Related Articles:
Featured image credited to istock.com/shironoso