Alaska Airlines' decision last month to adopt Gogo 2Ku across its Boeing and (Virgin America) Airbus fleets was certainly a coup for the Chicago-based inflight connectivity provider, and a disappointment for ViaSat, which is understood to have fitted eight Virgin America A320s with Ka and an additional six with the hybrid Ku/Ka system (also, the two A321neos should have Ka to boot).
Analysts had long believed that the competition for Alaska's business was down to ViaSat and Gogo. From this vantage point, Gogo's superior coverage appears to have played a material role in clinching the Alaska deal, given the carrier's unique route map, but Gogo cited "coverage, reliability and performance" as the reasons why Alaska and other operators are adopting the 2Ku solution.
"We feel we have the best technology on the market and we feel it is proving itself out on the market with each new aircraft win for 2Ku," said Gogo VP public relations and communications Steve Nolan. For its part, Alaska boasted that it will be able to provide "20x more bandwidth + more coverage + gate to gate wifi" with Gogo 2Ku versus its current ATG-4 reality. Pricing will be disclosed closer to launch.
Installation of 2Ku on Alaska's 737s will begin in the first half of 2018, with 40 to 50 planes expected to be completed by the end of the year. "Many [installs] will take place in Greensboro, but there will be numerous locations," Nolan told RGN. "We are definitely comfortable in saying that the first will be live in 2018." Suppliers to the 2Ku program say they're ready for the ramp up.
The remainder of Alaska and Virgin America's mainline fleet "will be fully satellite-equipped by early 2020", according to Gogo. Alaska is expected to operate at least some of its (largely-leased) Airbus narrowbodies through 2024, as Flightglobal reported in March, but a firmer picture on the future of the Airbus fleet is expected to be clarified by management before the end of the year.
Alaska has outstanding orders for a raft of Boeing 737NG aircraft, including orders for the MAX 8 and 9, though deliveries of the latter have been pushed back. But Gogo is nonplussed at the idea that 2Ku is not yet linefit offerable. It has "still to be determined" if any Alaska 737 new deliveries will be installed with 2Ku at the factory, said Nolan, adding that it's "too early to say".
"However, if you look at it, the aircraft will be installed whether linefit or retrofit,"
For Gogo, obtaining linefit "isn't the gating item for some of these airline deals, though I think it gets played up an awful lot. It's helpful to have it but it's not necessarily that airlines will say 'oh, it's not linefit, we're not going to do it'. These airline deals are really happening based on the merits whether this is linefit or not. [Linefit] is a factor, but it's not a huge factor," suggested the Gogo executive.
That's certainly proving to be true for Delta Air Lines, whose senior principal engineer, cabin avionics engineering Mark Sorensen recently revealed to your author on LinkedIn that the carrier has decided to install 2Ku on the remainder of its A350 deliveries, after the first two were retrofitted at the Airbus Corporate Jet Center. RGN understands that Airbus' retrofit slot availability (or capability) did not impact Delta's decision to move the work in-house. And just today, Gogo announced it has received supplemental type certification for 2Ku on the Boeing 777, allowing for retrofits to begin on the type.
Given Delta's TechOps prowess, one can easily opine that self-installs make financial sense for the airline. Indeed, it can be argued that operators such as Delta, and other healthy US carriers, have more options than, say, some of the more financially strapped foreign operators that are using a variety of financial vehicles to finance aircraft purchases. In short, airlines which are hurting financially may obtain better financing opportunities if they're able to simply tick the linefit box with airframers – and order everything, all-in-one – versus fund separate post-delivery retrofit modifications.
Interestingly, in the linefit versus retrofit argument, London-headquartered satellite operator and Global Xpress Ka-band connectivity provider Inmarsat has found itself on the same page as Gogo, which is rare.
"I really think this is largely a distraction," suggested Leo Mondale, president of Inmarsat Aviation. "Whether you have to do 10 aircraft of retrofits out of a 40-aircraft fleet delivery or six aircraft, it's not what materially drives an airline selection of a connectivity provider so what I'm trying to say is airlines are not being forced to pick a provider in a way that they had to a couple of years ago."
Back then, he said, the "game" saw some competitors touting "I have linefit you don't, and I can pay extra money to move forward in the line – and that is pretty much fading into the past."
The same is "probably true" for Gogo as well, "which means the focus is turning more to the qualities and capabilities and service offering, and less towards the tactics of dates of offerability," said Mondale.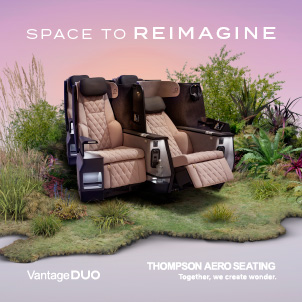 He continued, "I think that is something you would expect out of a maturing market and with over 1,200 aircraft under contract [for Global Xpress] now – and expected to be more than that under contract – obviously we have a significant base now from which to work and we've had to work out linefit and retrofit arrangements on a wide range of aircraft, when you have a base that wide and large."
A number of airlines have RFPs right now that do not insist upon linefit offerability. Some carriers believe it would be helpful and some don't think it matters because they can install on their own. Interestingly, in-house MRO abilities can also give a carrier leverage when negotiating with airframers (one is reminded of how Lufthansa boasted the same a few years back; it carries a big stick, via Lufthansa Technik).
Finally, the Alaska Airlines announcement makes Hawaiian's disconnected reality all the more glaring; will it reconsider it's intractability on the issue?
Related articles: