LONG BEACH — Remember when Gogo saw seatback entertainment headed for the history books, and streaming to passengers' personal electronic devices as the future? Well, it seems that — with what Gogo SVP Dave Bijur tells RGN is under ten percent of passengers streaming video via Gogo Vision — the IFEC provider over time has had a change of heart. Gogo is to provide the backbone part of a seatback embedded tablet IFE solution for Delta's forthcoming Bombardier CSeries aircraft, which will use Hitachi tablets customised (and crucially certified) by Delta's in-house product team. The product will be deployed on the CSeries as they are delivered from 2018, if indeed the news of this week does not scupper that order.
But Gogo is only providing the backbone part. Gogo is responsible for content loading, which will be sneakernet physical loaded as the initial phase, and for what Bijur says is "approximately two" wireless access points that will be dedicated to the embedded tablets. Gogo is not involved in any way with (and declined to comment on) the key part of any embedded tablet solution: the mounting, power, certification, delethalisation and specifically head injury criterion testing for the large glass screens that make up today's tablets.
Gogo did not provide comment or information from Delta or Bombardier during Bijur's briefing to RGN, referring all questions beyond Gogo's limited scope within the project to those companies' press offices. Neither has yet provided RGN with responses to those questions — a full 48 hours after Bijur's interview with RGN and despite repeated requests.
In terms of wireless streaming to airline-provided tablets, numerous companies have, of course, tried this route before, from various parts of the Lufthansa Group to BAE Systems. The benefits of a wireless streaming IFE system are naturally attractive around upgradeability, cost, technology, second-screening and user-friendliness, and have been outlined at length over the last seven years since the iPad was released.
RGN asked Bijur how Gogo will succeed where others haven't, and why at this moment. "It's not practical, in my mind, to think that a company's going to come out of the woodwork and build a seatback wireless IFE product and succeed because we've seen examples of companies that have not made it doing exactly that," Bijur said. "That's because it's not enough to be its own thing. It's actually just an add-on to an IFC system. This is not some sort of behemoth that we're creating out of thin air. It's just like a feature that we add, just as we have other features that we sell airlines all the time for 2Ku. So that's how we look at it."
"If you look at what American [Airlines] has said in their comments about that in the media, it was mostly around, 'Well, we think people are bringing their own devices, and that's going to be sufficient' — which I guess is all true, but I'm willing to bet that if the price had been right, if the modularity felt correct, if they didn't feel like they were going to be beholden to a set of rules that they didn't really need to be beholden to, maybe that decision would have gone down differently," Bijur continued. "We've been working on this for a long time, I'd say we've been working on this for two years, and perhaps we should have been more in front of it than we were. But the CSeries is the right platform for us to start this. Delta's the right airline for us to partner with on this."
Gogo may well have a leg up thanks to its involvement with Delta and a guaranteed customer, but it is unclear precisely which is the tail and which is the dog being wagged in this situation. Gogo's dependency on Delta for a substantial part of its commercial revenue is well-established and it would be surprising if Gogo were to decline product requests from Delta. Earlier this year, Gogo chief operating officer John Wade indicated the firm was warming to seatback IFE, with an emphasis on the C, telling RGN:
I think that for the reasonable future, IFE as a seatback component is going to remain. It's obviously going to be an airline decision based on the economics. But I know that in my own home I don't have cable anymore but I have the same number of screens.

Is the industry poised to change from being IFE with a "C" component, to IFC with an "E" component? Does the screen actually just become an extension of the communications structure? So if there is a pivot, we think it's more along those lines.
It is surprising that Gogo — previously a company keen on vertical integration of its products to the extent of securing exclusivity agreements — is content to simply provide the backbone, and a very non-specific backbone at that. It would also be surprising if Gogo's executive team (let alone its media professionals) were unaware that the first question from industry media would naturally be around certification. It is also notable that Gogo was not able to line up either a written statement or a named executive for interview from either Bombardier or Delta for an announcement that the company claims is "set to disrupt the wired IFE market".
Those claims, on balance, feel very much a stretch. It is possible to count the number of companies providing similar WAP-plus-content-loading services and run out of fingers, if not toes too. And while Gogo's entrenched position with Delta and its roles as a content service provider and connectivity provider give it a way in, neither are unassailable positions as many of its competitors have learned to their peril. The key question is: why Gogo? And there are more questions too.
The questions around the quality and choice of streamable content remain. It is also unclear how Gogo intends to make money from this venture, as the provider of simply the backbone and potentially some or most of the content. Bijur's answers to RGN's questions on this topic were not especially persuasive.
There are questions too as to whether Bombardier is prepared to offer a full embedded inflight entertainment system at delivery.
Bombardier's press team was not primed to respond in detail or at speed to questions, with a spokesperson telling RGN after a delay of almost an entire business day (on the day of the embargoed Gogo announcement), "As recently announced, the C Series team is also working with Gogo and Delta Air Lines to certify Gogo's 2Ku Connectivity System as well as the Gogo Vision Touch wireless seat-back IFE solution for delivery in 2018.  The C Series benefits from a flexible architecture that supports integration of multiple IFEC solutions, in parallel, within such a short timeframe."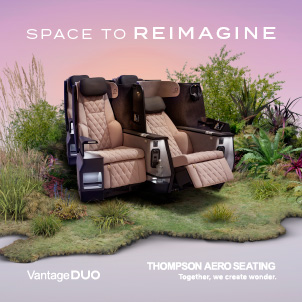 Gogo also appears to be behind the curve on personalisation and integration, with no Emirates-SITAONAIR style frequent flyer login, nor Singapore Airlines-Panasonic type companion app, nor any kind of blue-sky Apple CarPlay or Android Auto integration thinking on the table.
And questions abound too about content loading. Gogo will not offer LTE connectivity, Bijur says, citing the congested cellular networks around airports as a reason. After the physical loading process with which Vision Touch will début, Gogo will move to satellite content loading, which is an expensive proposition.
Lastly, Gogo's pivot to streaming-to-embedded-tablet fundamentally comes as a surprise. It remains incredulous that a company with the pedigree of Gogo would make an announcement like this without either the on-site involvement or remote agreement to provide pertinent statements from its hardware, airline and airframer partners.
Delta spokesperson Kathryn Steele — nominated by Gogo as the press representative for all non-WAP hardware questions for the system — refused to answer any RGN questions about the airline's and its Delta Flight Products subsidiary's role. Gogo and its partners need to say how they will overcome the problems that have proven insurmountable for many other experienced players in this market: flammability of lithium-ion batteries; availability and heat dissipation of power supply; crash testing, including the head injury criterion; durability; and other reasons.
Related Articles: