Although Monday morning's Education Sessions at the APEX EXPO in Long Beach were totally devoid of female panelists, things changed considerably after lunch with the Content Track's Airline Advertising & Sponsorship Ancillary Revenue: How to Monetize the Passenger Journey session.
Co-moderated by Global Eagle's VP advertising & sponsorship, Kim Creaven and Spafax's media sales director US, Mary Rae Esposito, the session focused on the recently formed Airline Advertising Ancillary Revenue Committee's (ARC) goal of bringing relevant, timely advertising to the airlines via their digital and out-of-home media channels.
Not only did the session include female co-moderators but it also featured a female panelist in the form of Buzz Products' senior director, Americas, Kara Rich, which meant that for the first time all day, women outnumbered men on a stage at the APEX EXPO. Even cooler than that was the story behind how Creaven came up with the idea to launch the committee in the first place.
Realizing after 16-plus years in the airline media industry that there were things she loved and things she thought could definitely be improved upon, Creaven took a cue from her DIY-minded 11-year-old daughter, Emily, and took matters into her own hands.
"About eleven months ago, when Fidget Spinners were the craze my daughter wanted to buy one," remembered Creaven. "So, I went on Amazon Prime and they were two dollars, but they were nine dollars to ship. I was like, no way! I'm not spending eleven bucks on a Fidget to ship. So, Emily went downstairs into the garage and undid her skateboard and the casing inside the wheels are the same thing. Then we just added three bolts with hot glue and … it's the fastest spinning Fidget you could have. And now we have homemade Fidget Spinners everywhere!"
Inspired by her daughter's novel approach to problem solving, Creaven decided to spin a little magic of her own on the APEX committee front.
"If it's not there, then built it," said Creaven of the lesson she learned from Emily. "Alexis [Steinman] and I had a conversation at Global Eagle and I do think there's a lot of people who have thought of doing this and really wanted to do it, but you just get too tied up in your jobs. But this is my world and it's what I love … so, now it's just time to make changes. I mean, you see what's going on with [advertising and sponsorship] in the outside world and I know we can do it. I know there is an immediate impact [the ARC] can make today, tomorrow, this year, and I know there's a long-term impact too, but things have got to change."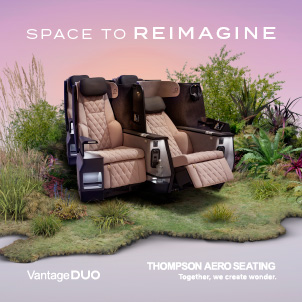 Also important to Creaven are changes of a different ilk.
"There were no women on this morning's panels at all. Did you notice that?" asked Creaven immediately following her and Esposito's session. "Well, we have three women up here. But really, it was really important, quite honestly, to see Spafax and Global Eagle on the same panel and Mary Rae and I co-paneled today because we thought it was important to show our competitors that we really exist neutral. It's not about me or you making the most money it's really about just changing everything.
"The committee has some short term goals and some long term goals but at the end of the day it's really about trying to standardize this industry and make it relevant and valuable for advertising agencies to bring ancillary revenue to the airlines. And when we talk to the airlines we don't want to know proprietary information just that you're on board and just as a general consensus, are you on board to change things and will you let us do it?"
Related Articles: