NEW DELHI – Every so often, Runway Girl Network likes to check in with Boeing to learn its thoughts on the evolution of inflight entertainment and connectivity (IFEC), and to ask if it would ever get back into the service side of "C". The question takes on a new significance when one considers that Boeing intends to compete with avionics providers (and nextgen avionics will require more bandwidth) and that United Technologies now intends to acquire Rockwell Collins, much to Boeing's consternation.
During a recent visit to India to deliver an optimistic 20-year aviation outlook for the country, Boeing SVP, sales, Asia Pacific and India Dinesh Keskar assured RGN that while the airframer sees demand for high-speed connectivity, the likes of which it previously offered through Connexion by Boeing, "we will not have our own".
"We have shifted our focus from providing the connectivity systems ourselves to partnering with the best in the industry. We currently work with numerous connectivity suppliers around the world to provide the latest technology and capabilities to our airline customers," said Keskar.
Interestingly, Boeing touts its ability to facilitate a variety of different systems, whether via linefit or retrofit, with Keskar noting that, "With regards to Wi-Fi systems, Boeing's airplanes are designed with optimal wireless access point placement and cabin interior materials. As a result, the airlines can choose what type of service to make available for their passengers. They would be best to speak about what they offer and which system they use."
On the linefit front, however, Boeing is expanding the broadband options for airlines. ViaSat recently confirmed that the first installations of ViaSat's inflight Internet equipment on El Al's new 787s "are expected to be completed directly out of the Boeing factory in early 2018".
In the interim, El Al is taking delivery of the 787s with provisions to accommodate the ViaSat system, inclusive of the Boeing-provided radome. Keskar noted broadly that, "The question is how Boeing looks at them [connectivity solutions] and tries to create a standard."
The Boeing executive also confirmed that Gogo 2Ku is in line for offerability on the 787, noting that the airframer is seeking to accommodate "any airline using the Gogo [2Ku] service". This is in sync with Gogo management's assertion that the firm is making good progress for linefit on Boeing platforms, and expects the first "Boeing factory fit install on a 787" to take place around the end of this year, with "full linefit optionality in 2018 or 19 for Boeing".
But Boeing is being selective. "We don't want to certify a large number of systems. We want to find the best."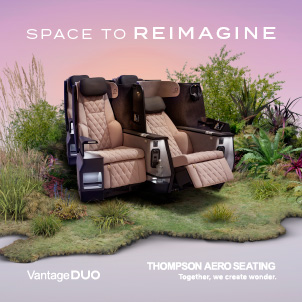 Beyond the 787, Boeing is now working on "how we can assist [for the] 777X that will have newer technologies. Our folks are working on lesser weight of antennas," said Keskar. Would Boeing extend its provisioning to antennas? Its Defense unit was previously tapped by Panasonic to deliver a phased array antenna for the commercial market, though that work did not progress as planned.
With deliveries of the first 777X twinjets scheduled for around 2020, the airframer also anticipates that some airlines will go the same route for the 777X as that of Scoot on the 787 – i.e. adopt a BYOD approach for inflight entertainment. Airlines could start to look to save money "by removing IFE screens that have high maintenance costs when new planes are ordered", he said matter of factly.
Pressed by RGN for more details on 777X in-seat IFE, Keskar said, "Seats are selected by our airline customers. If a customer choses a seat without IFE, as some do on our airplanes currently in production, that is what we would install."
Twin-aisle aircraft are still overwhelmingly ordered with embedded IFE systems, however. Global Eagle, the dominant content service provider to airlines, last week shared some install figures. Company chief commercial officer Walé Adepoju said the market "remains heavily concentrated on twin-aisle aircraft" with 92% of long-haul aircraft fitted with the IFE systems "needed to play our content".
Panasonic Avionics holds the largest market share for embedded IFE systems, followed by Thales and Zodiac Inflight Innovations.
Meanwhile, streaming entertainment offered aboard any widebody must be able to accommodate passengers' viewing needs, most especially in a wireless-only environment, according to Boeing's Keskar.
"Connectivity is not just Wi-Fi, it is also streaming [entertainment]. As flights get longer – for instance, Perth to London just around the corner – people will need to be occupied more, and people really get annoyed if the system doesn't work and they cannot get programs on the phone," he said.
Additional reporting by Mary Kirby
Related Articles: