LONG BEACH — British seatmaker Acro, newly purchased by Chinese seatmaker ZTC as part of a plan to enter the airline seating market, has updated the well-received Series 7 recliner seat it is currently offering as a single-aisle business-first and twin-aisle premium economy product with wider seats, more privacy, and several changes arising from the certification process as it moves towards linefit offerability on the Airbus A320 family.
Senior vice president of sales Alan McInnes sat down — quite literally, in the Series 7 seat at the Aircraft Interiors Expo Americas show — to update Runway Girl Network on progress with what has become one of this journalist's favourite currently offerable premium economy seat products.
First up: some design changes to the console system that will result in a wider seat. Acro's initial idea with Series 7, from the very first mockup-on-a-plinth in Hamburg up until the most recent iteration, was to offer a second console to make the most of the Airbus A320's 7"-wider cabin diameter. "Wverybody we've shown it to gets the idea of using the Airbus space," McInnes explains. "But everyone says, 'Can we just have a wider seat?'. We'll just go for the single console."
Also in the latest iteration are a wider, more flared seatback, which is driven by two factors, McInnes says, explaining that in earlier versions of the product, passengers had a direct line of sight to the tray table of the traveller diagonally in front of them. In addition, airline customers intending to position Series 6 or Series 3 economy class seating immediately behind Series 7 without a bulkhead would encounter head injury criterion issues as the notional seat dummy's head passed through the larger space between the less wide seatbacks.
"We do see premium economy as a very attractive market space for us," McInnes says, noting that it is "dual purpose, though, because our Series 7 seat will launch as a single-aisle proposition, enabling us to do a two class LOPA [layout of passenger accommodations] on a single-aisle."
"Series 7 is important for Acro, not just because the seat itself is excellent, but because the company can now pitch airlines for a full-aircraft sale. We're not going to get thrown out of an RFQ because the airlines say 'I only want one seat vendor.' We've now got a solution for twin-class," McInnes notes.
That will be increasingly important with the new generation of re-engined narrowbodies, McInnes explains. "What's really, really exciting us is the capability of the A321 airframe with a new engine, and the MAX airframe now, in terms of what we're doing, both in terms of range and mission length. We're keen to understand the value proposition."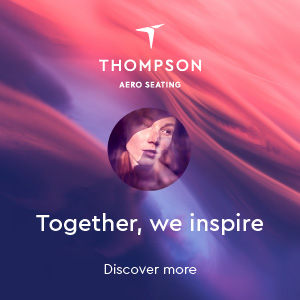 It also opens up options for the increasing number of spin-off or startup long-haul low-cost carriers operating aircraft like the Airbus A330, where a small front cabin of premium economy seats sits in front of many rows of economy seats, which often offer a variety of features in extra-legroom or semi-premium product categories.
The size of the narrowbody and widebody markets are very similar, McInnes tells RGN when asked for his personal view on the industry. "I think if you do the value analysis, everything that we've looked at tells us the size of the prize is about the same. I think, my own personal opinion, within the long haul market we will absolutely, with airframe developments, see the rise of the point to point international, rather than the hub and spoke international. There are very few airports that can command a full business class, first class proposition."
Would Acro get into the market for proper international style business class seats? McInnes suggests a potential 2023-2025 timescale, although changes are certainly possible with new ownership of the company. It would certainly be welcome to see Acro's strong design principles applied to this most competitive of markets.
Related Articles: