If you haven't noticed already, the race is on for inflight connectivity providers to be among the first to see Boeing 737 MAX aircraft factory-fit with their broadband systems and delivered to airline customers, and ergo made available to passengers.
Who's on first?
The first connectivity system to be formally made "offerable" by Boeing for its 737 MAX catalogue was none other than Panasonic Avionics' eXConnect Ku-band system; and the first delivery of such is planned for next month to Canadian low-cost carrier WestJet, Runway Girl Network can confirm.
Prior to being designated as offerable for the re-engined type, Panasonic eXConnect also held the distinction of being the first connectivity system made offerable on MAX's predecessor, the Boeing 737NG, according to the IFEC giant.
Though it gained offerability on the MAX after Panasonic, rival Global Eagle is the first to see its linefit 'Airconnect' Ku-band system fitted to an aircraft, as customer Southwest Airlines is gearing up to begin service with MAX twinjets starting this fall. Asked by RGN if the first aircraft are coming factory-fit with Global Eagle Ku connectivity, Southwest communication lead Michelle Agnew said, "I've confirmed the MAX aircraft is wifi-equipped."
In a statement issued last week, Global Eagle was cautious with its wording, saying, "The equipment is the first catalog-offerable linefit connectivity system available for installation during assembly of the 737 MAX."
For close observers of the inflight connectivity space, Global Eagle's accomplishment does not come as a big surprise. Last year, Boeing brought MAX number 4 to the Farnborough Airshow. The aircraft was already configured for commercial operations, featuring Southwest's new interior as well as Airconnect, including an upgraded server and other performance enhancements from Global Eagle.
As reported by RGN, the Ku-band connectivity system is certified for gate-to-gate operation, and Global Eagle lays claim to being the first to be certified for this functionality after meeting cooling requirements.
It remains to be seen if Panasonic will secure any MAX linefit connectivity business from Southwest. In January, the low-cost carrier revealed it is taking a dual-source approach to connectivity, tapping Panasonic for its eXConnect system, whilst still working with incumbent Global Eagle. The carrier expects to test eXConnect "beginning late 2017 on select 737-800 new delivery aircraft", said Agnew at the time.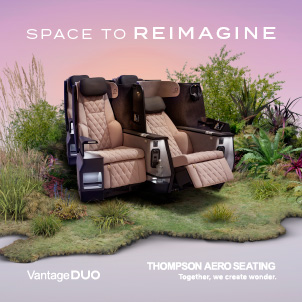 Even so, Global Eagle doesn't mince words when it says that 737 MAX offerabilty "is big" for the company. "We are thrilled to have the capability within Boeing; thrilled with the future possibilities. It offers a big upside and big competitive advantage," said company VP communications and marketing Michael Miller.
"There are other possibilities for future projects like this with Boeing," he added.
Southwest's rival in Dallas, American Airlines, meanwhile is readying to press its first MAX aircraft into service on 29 November. As confirmed last week, the aircraft will offer ViaSat's Ka-band service to passengers from day one. "The 737 MAX is going to probably be the single most popular mainline single-aisle aircraft going forward so that's great that we got that one done first," declared ViaSat CEO Mark Dankberg.
Widebody landscape
In terms of obtaining linefit offerability on widebody aircraft types, Panasonic holds a commanding lead over Global Eagle and ViaSat. Panasonic's eXConnect system has been part of Boeing's 777 and 787 catalogues for several years. Obtaining offerability for the latter was no mean feat. The 787 has unique structural considerations due to its composite frame. Across the pond, Airbus offers eXConnect as a factory-fit option for A330, A350 and A380 operators. The European airframer also offers Inmarsat Global Xpress-powered Ka-band connectivity as a linefit option across types, and through various integrators.
But this early lead for Panasonic gave the company a tremendous advantage in terms of winning widebody connectivity business. By the spring of this year, a total of 1,600 aircraft (inclusive of widebodies and narrowbodies) around the world had been fitted with eXConnect. And Panasonic said it holds orders for "thousands" more.
For its part, Global Eagle is actively working towards linefit offerability on the 787, though nothing has been confirmed as yet. RGN understands that Norwegian's 787 connectivity business is still in play. And Global Eagle, which currently provides connectivity to the low-cost carrier's 737 fleet, is among the providers bidding for the business. But there is no shortage of competition. Norwegian, like Southwest, has taken a dual-source approach to connectivity and tapped Rockwell Collins as integrator for Inmarsat GX service.
ViaSat tells RGN that it will have an update on its linefit activities this quarter. Meanwhile, Gogo is making progress with 2Ku installations on widebody aircraft, even as it awaits full linefit offerability from airframers (i.e. inclusive of antenna). Company CEO Michael Small says the firm expects the first "Boeing factory fit install on a 787" to take place around the end of this year, with "full linefit optionality in 2018 or 19 for Boeing".
In an exchange yesterday on LinkedIn, Delta Air Lines senior principal engineer, cabin avionics engineering Mark Sorensen revealed that whilst the Airbus Corporate Jet Center fitted Delta's first two A350s with 2Ku via post-delivery retrofit modification, "the remainder will have 2Ku fitted at DAL", i.e. the airline.
As Gogo awaits true linefit offerability on the A350 – which will require Airbus to uncouple IFE and connectivity on the type – the company is barreling towards offerability on the A320, A330 and A380, per an April announcement at the Aircraft Interiors Expo in Hamburg.
Related articles: