Wireless IFE provider Lufthansa Systems is gearing up to announce deals with no fewer than three more airlines, Jan-Peter Gaense, director project & certification BoardConnect, tells Runway Girl Network.
Two of the undisclosed airlines will adopt Lufthansa Systems' BoardConnect Portable solution, and one of these clients will take delivery of a brand new add-on to power the portable unit, obviating the need for battery operation. The so-called Power & Safe solution has been developed by Lufthansa Technik, which will provide "the information, the details and the hardware and the airline will install themselves", divulges Gaense.
The third operator intends to adopt Lufthansa Systems' retrofittable BoardConnect option. Further details about all three programs will be revealed at the forthcoming APEX EXPO in Long Beach, California.
Lufthansa Systems was among the first to roll out wireless IFE several years ago. Among its customers, Lufthansa, El Al and Virgin Australia have integrated the retrofitted BoardConnect solution with inflight connectivity (Lufthansa with Inmarsat Global Xpress, El Al with ViaSat and Virgin Australia with Gogo 2Ku). "Our whole idea was to be an open platform; bring open technology into aircraft and now having three connectivity providers integrated into BoardConnect, that is something I'd say," says Gaense.
Despite gains such as these, though, the overall market for wireless IFE was initially tepid at best. "Now it seems like there is announcement every month about a wifi solution," he says. "I think in the end all the airlines will want to have connectivity on board, the question is how long [will that take]? I don't know. The cost is still very high, and not every airline has all the money to invest in that type of service so putting a wireless IFE with portable or fixed [tides them over] until connectivity becomes cheaper. There are solutions out there that everyone talks about, the European Aviation Network is one of them."
But even when more airlines are ready to get connected, Lufthansa Systems will already have its foot in the door having given its customers "a really good IFE solution, [which] gets all the hardware on board. At the same time, [it will] give them a platform that opens up operational applications and the ability to plug connectivity into the network at a later time, whenever that may be in the future."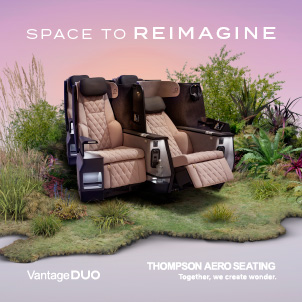 Though Lufthansa Systems remains connectivity agnostic – it's willing to interface with any IFC solution – its preferred partner is Inmarsat. "We have a great solution with GX and EAN; that remains our preferred solution. The Lufthansa relationship with Inmarsat is a great showcase for success," suggests Gaense.
"75% of all narrowbody aircraft in the US are connected whereas in Europe. we're still far behind on that one, and the EAN definitely has the capacity of changing that."
The Lufthansa Systems executive doesn't believe that ViaSat, Eutelsat and Panasonic will be successful in their lawsuit against Inmarsat over what they believe is an unlawful use of its S-band satellite license for terrestrial service. "We're pushing ahead on the European Aviation Network. Of course all the competitors try to stop it, but personally I don't think they will stop it in the end. That is my personal opinion and of course I want Inmarsat to succeed."
On the content front, Lufthansa Systems works with a variety of content service providers (CSPs). But it also now sells content itself. "So we will more aggressively enter the space of content sales because smaller airlines who don't have relationships with CSPs [can be served] and because we can offer cost-efficient packages of Hollywood content. And we have our vast partner network where we can integrate any partner into our portable [unit] because we opened the platform, are using standard APIs and standard deployment." The open platform, known as BoardConnect 5.0, was unveiled at the Aircraft Interiors Expo in Hamburg.
"The vision we're having on that one is we want what people are used to on the ground – in terms of integration and flexibility – [to be brought] into the aircraft. Airlines all talk about digital transformation, bringing digital service to passengers. We can provide a good level of infrastructure to give the airline space to [do that]."
Lufthansa Systems is not the only wireless IFE provider going direct as a CSP. Job Heimerikx, the CEO of rival portable wifi provider, AirFi, tells RGN that AirFi has "transitioned this year from a 'box provider' to a full service portable wireless IFE system provider and are now providing not just hardware and software but direct content services across multiple content types (movies, TV, digital publications, viral videos, games and many more), bringing genuine innovation to content available on wireless IFE." Recently AirFi launched into passenger service Mashable viral content and ITV Catch Up & Boxsets TV programming. Its incumbent CSP partner for airline clients is West Entertainment (it says it is no longer working with Inflight Dublin). In-seat, portable and wireless IFE provider digEcor is also able to package content with its offerings.
As for the future of in-seat IFE, Lufthansa Systems' Gaense shares a somewhat similar perspective to that of ViaSat director Don Buchman. Referencing the long-haul market specifically, he said, "Initially you had a projector, then they moved to overhead, and then everyone was really proud to have in-seat IFE personal for every passenger. I don't see this going away anytime soon. People are too accustomed to it.
"The integration of such a screen with a personal device – being able to play your own content, Hulu or Netflix on the screen, as more and more hotels that I go to [are doing]; they say 'log on with your Netflix credentials' – once the bandwidth is there and adequate and acceptable pricing, I could see that happening in the air as well. But looking at the pricing and bandwidth capability I think we're three or four years off, realistically."
Related Articles: