Rocket Girl, aka coach Mary Doyle is spreading the word about a new UK campaign aimed at bringing equality to wheelchair users in aircraft cabins.  
Something wonderful is coming to The Base at Virgin Atlantic near London Gatwick Airport on 22 September. The inaugural Wheelchair in the Cabin Symposium, supported by the airline, is a groundbreaking new event for an important group of passengers. Spearheaded by new British activist Chris Wood, the symposium aims to engage stakeholders in the aviation industry and the accessibility world to discuss the possibility of creating a wheelchair space on board commercial aircraft.
Wood describes the 'Flying Disabled' campaign in a powerful new video:
Around 750,000 people use flying as a means of transport every day in the UK. But disability rates are also increasing, with over 13 million people in the UK having at least one disability. Air travel for the mobility impaired has been relatively unexplored, but with increasing rates of disability and passenger numbers, more research is needed to ensure the industry is prepared.
The UK Disability Discrimination Act 1995 did reference transport but not airlines specifically, and I expect this is why it has been so hard to invoke change for disabled flyers (although I am not a lawyer, this is my own opinion). This act has since been replaced by the Equality Act 2010, and from my own basic research, it appears again that air travel is not explicitly included.
As a disabled passenger who travels by air, I can tell you that it is a complete lottery as to whether my chair will make it to my destination without damage or even total loss.
Through Flying Disabled, Wood wants to work with the airline industry, government bodies, wheelchair users and designers to not only ensure that wheelchair users can remain in their own power or manual chairs in-flight (removing the pain of transfers, and the use of unsuitable aisle chairs that don't support some delicate back conditions), but to mitigate the very real risk of wheelchair damage when chairs are placed in the hold.
Wood also wants to see an improvement in onboard toilet facilities, which are extremely difficult to use due to restricted space, especially if a personal assistant is also required to work in that tiny space. This alone would be an amazing change, improving the experience for all passengers.
Wood is a single parent to his son Jordan and daughter Tayla; both children are disabled and powerchair users, and have a real zest for life. Following a 2015 trip to Mexico with his daughter, during which he watched her struggle to access the aircraft and then sit in discomfort in an airplane seat for many hours, Wood decided to research why air travel is so far behind travel by land and sea.
Though only two years old, Wood's Flying Disabled campaign has already engaged some of the greatest business leaders in transport, customer experience and government, and it's a pleasure to support him by sharing this Op-Ed piece. Safety is of course paramount, and it's good to know that future air travel could be safer for disabled passengers without the transfer and the "walk of shame" on board whereby you're trussed up like a public menace.
Being an airport enthusiast, initially I was very excited by the Flying Disabled project, but I was also skeptical about how much could be achieved. Wood reminded me just how far public transport has improved access for disabled people in the last 20 years. Although not perfect, taxis, buses, railways and the London tube network have made key improvements.
Wood has also seen progress from design hackathons. These marathon brainstorming sessions encourage people who are competing/collaborating to create prototypes that innovate on a theme or improve upon an existing project. These hackathons are often held at educational establishments to generate ideas, and Wood is connecting with many of these universities.
He shared a recent and interesting study with me: "Open Access" is funded by the International Association of Traffic and Safety Sciences, and tackles the experiences of wheelchair users as aircraft passengers. I am pleasantly surprised that this study even took place. It does give me hope that things can change for the better.
Some highlights:
Poor manual handling of wheelchair users has resulted in physical pain or injury.
Wheelchair users describe transfer equipment as being uncomfortable and providing poor trunk support.
A lack of accessible toilets on aircraft has resulted in tactics to avoid using the toilet.
Wheelchair users experience humiliation, embarrassment, pain and undue anxiety as a direct result.
The full report, "An exploratory study of the experiences of wheelchair users as aircraft passengers – implications for policy and practice", is well worth a read and can be found here.
For my previous career in payments software, I travelled for business, worldwide, for 20 years, often alone. This is a project very close to my heart based on my own experiences, personally and professionally, and those of my exploring friends.
I am also aware of multiple complaints and lawsuits in progress against some airlines, and I too have encountered shocking treatment on three separate occasions, which caused me to boycott one particular airline for a decade.
For now I want to celebrate what Chris is proposing, since the Flying Disabled campaign is fascinating to me as it has started the dialogue, and is making progress in three important areas: the comfort of wheelchair users, the safekeeping of our precious wheelchairs, and the accessibility of the onboard toilet.
These potential changes in aircraft interiors would be a landmark in accessibility for future generations. This would also be extremely useful given the population is living longer and therefore more age-related disabilities will exist.
The conversation has only just started. We need further discussion on the other types of disabilities passengers have, and how their travel experiences could be improved by re-designing other parts of the aircraft, or introducing adaptive technology. We must consider people who have visual or hearing impairments, communication difficulties, or any disability. I have been very fortunate that I am highly mobile, resilient and tenacious, and I would love for other disabled people to be able to travel the world in comfort (and indeed style). This is an exciting time for airline travel, and Chris Wood is a pioneer in a much needed space.
If you would like to offer your support by lobbying your MP, creating awareness or simply giving a financial donation please contact Wood online. If you want to attend the symposium, details are also online. You can also follow Chris Wood on Twitter at @flyingdisabled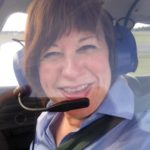 About the Author
Related Articles: