With more than 600 publications from 41 countries in its ever-growing digital media library, e-paper specialist Media Carrier is enjoying robust take-up in the travel industry for its Media Box solution, including across Lufthansa Group airlines and in more than 1,000 luxury and five-star hotels worldwide.
But providing travelers with access to the world's top magazines and newspapers via their electronic devices isn't just about informing and entertaining them, and driving brand loyalty. It gives airlines the option to rid themselves of the paper equivalent on board, creating savings in terms of logistics, weight and fuel consumption.
Media Carrier explains its solution thusly:
Media Box is web-based and can therefore be used with any Internet-enabled device – iPhone, iPad, Android or tablet PC and notebook. The user does not have to install an app or register personal data but simply connects the device to the local WLAN. The start page offers a link to Media Box, where the newspapers and magazines are to be found. The desired publications can then be downloaded with a mouse click.
So for example, Air Dolomiti passengers have access to Media Box via the Air Dolomiti website three days before their flight. There, they can choose their preferred titles from a range of 100 different national and international newspapers and magazines, and download them as a PDF file.
Speaking to Runway Girl Network, Media Carrier managing director Phillip Jacke says the biggest attraction to Media box for airlines "is cost savings and an increase of service for their passengers because in the print world, they usually have only newspapers or not-so-common magazines [on] offer. But with our solutions they can have all the big brands of newspapers and magazines on time, and the right amount for each and every nationality traveling with the airline.
"So it's a cost savings factor because airlines only have to purchase just what the customer is requesting. And the second thing is, of course, the increase in service because we can reach out to every publisher and provide every kind of publication that they have. And, additionally, an airline can provide their own publication [via] our solution as well."
Does Media Carrier believe airlines will replace their inflight magazines with digital solutions? Not necessarily, says Jacke, who notes that the in-house paper magazines provided in aircraft seat pockets are seen as offering an important distraction for fearful flyers.
With that said, given that "modern gate-to-gate wireless IFE systems can provide them with digital reading material right away as well", Media Carrier does include inflight magazines, as well as inflight shopping magazines in its portfolio. "Lufthansa has six different publications [of its own] that we have in our portfolio, like Lufthansa Woman's World, and all these other publications that are not displayed onboard so an opportunity to display their magazines as well," says Jacke.
One of the biggest advantages of the solution, he adds, "is that it is bespoke for each and every customer when it comes to appearance as well as implementation as well as the portfolio". Oman Air last year became a Media Box customer, so Media Box brokered agreements with publishers in Oman to cater to the airline's needs. It is now able to offer these titles to others customers, thereby bolstering its own portfolio of titles.
Once an airline has adopted Media Box, integrating the the solution into its IFE app is the natural next step. But offering the content over wireless entertainment systems on board aircraft – i.e. stored on a server and streamed to passengers own devices – is also an option pursued by some carriers.
"We have a few implementations in the wireless IFE for Lufthansa Systems' Boardconnect," says Jacke. "So this is working pretty well. Of course, it's a difficulty because especially when it comes to newspapers, you have to bring the content everyday on board and this is a little bit of a complex solution but we got it done.
"We figured it out on Lufthansa Systems [and] did a great job there, but the timeframe to bring the content on board with each and every aircraft is … very limited especially in the non-connectivity IFE [realm]."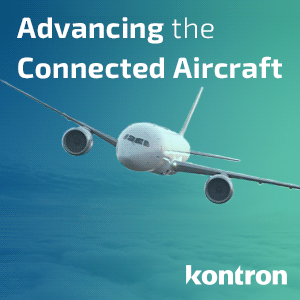 In the transportation industry, Media Carrier does not limit itself to the aviation sector. "This is a huge advantage that we have. It's not only the airline industry that we are covering, we also have more than 1,000 hotels that we equip with it. We have a couple of train companies that we are servicing, and cruise ships as well. So these are the major areas that we are covering," says Jacke.
In terms of growth, Media Carrier – which has a strong position in Europe – sees more opportunities in the Middle East. And it recently opened up an office in New York "so of course the North American market is also" a target, says Jacke. "So these are the major areas that we are covering and the biggest advantage of our solution is that it is bespoke for each and every customer when it comes to appearance as well as implementation as well as the portfolio."