Entertainment and connectivity giant Global Eagle continues its progress in restructuring the business to better integrate the dozen companies it acquired in recent years. The firm recently announced a new brand, PRIVA, to address high net worth individuals across their assets, be it "on land at their private villa or island, at sea on their yacht, and in the air on board their private jets". The goal is to deliver a unified entertainment and connectivity product, serving the unique and exacting needs these customers present.
Global Eagle already provides yacht connectivity via its legacy brand MTN, which was bought as part of the EMC acquisition. PRIVA replaces the MTN brand, and will see Global Eagle push out from there. Company EVP connectivity Joshua Marks spoke to Runway Girl Network about the more challenging content demands of the PRIVA segment, suggesting it "strongly values delivery of premium entertainment over the connectivity system. The Hollywood side of the business has access to new release content, television, sporting events, all of which is very valuable to this clientele."
As both a content creator and a content service provider, Global Eagle is uniquely positioned to provide bespoke entertainment packages to PRIVA customers. Indeed, the PRIVA plan is about negotiating access to custom content that may not even be readily available via OTT streaming television applications (Netflix, HBO, Hulu, etc).Ku
"Of course there is going to be demand to stream, but I think the market pushes in a much more premium direction than where today's OTT services are," says Marks. "If you look towards bespoke content, all of those are areas where Global Eagle excels and where this market is willing to pay."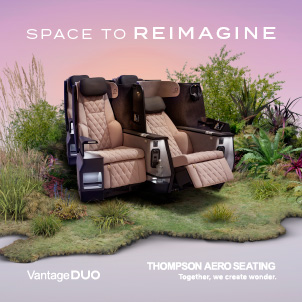 Global Eagle SVP aviation Per Noren adds, "Innovating needs to be combined with who is going to consume that connectivity and content."
This market segment of high net worth individuals will also contribute significantly to Global Eagle's broader aero connectivity developments, both in driving technical decisions forward and helping to justify the firm's R&D expenses. For the mega-yacht owner who also owns a smaller private jet (i.e. not a BBJ or ACJ), sourcing a sufficiently efficient antenna is the largest barrier.
Marks describes this as a "core challenge" to the industry overall, as mechanical antennae are simply too large to fit on the fuselages of most private jets. As such, Global Eagle will take input from its PRIVA customers as it eyes future solutions. Says Marks:
Building the relationships and the sales channels to understand what the return on our engineering investment can be in the private jet market gives us a very disciplined way to think about how to attack that market segment.
Does that mean phased array antenna solutions? They are one option, though Marks suggests that there is still a long way to go before they are ready for the business aviation market. "The footprint has to shrink, the weight has to shrink, the cost has to shrink. That's going to take development [investment] on our side." Other stakeholders, including Intelsat, have been touting progress with its antenna partners on this front, however.
Though Global Eagle is committed to Ku today – given the global footprint of satellites, redundancy and the antennae on the market – management reiterates it is not married to Ku. "Longer term – 5+ years – I think private jets will exploit the availability of hybrid networks. They'll look to some combination of LEO/MEO/GEO to provide the level of service transoceanic as well as over land," says Marks.
Global Eagle chief technology officer Wale Adepoju suggests that "there isn't one technology solution for a connectivity". He says,
I think focusing on the pipe is a distraction. We have an industry that is responsible for carrying people across the planet. We are keeping them on an aircraft. We [are] duty bound to provide them with the information, communication, entertainment that they're entitled to at home and so connectivity is a means to an end and for us. That connectivity allows us to be able to give airlines better economics and better relationships with their customers.
Meanwhile, high net worth customers are a profitable market in their own right, with high demands but also a willingness to pay for those bespoke services. Global Eagle's other market segments, including commercial aviation, will benefit from the technical advances driven by that market; eventually everyone wins.
Related Articles: